Blogs

The opinions expressed in these blogs are solely those of the people who wrote them, and do not represent the views of WPSU or Penn State University.
Posted by Emily Wiley on 08/25 at 04:36 PM
Taste over 200 wines from around the world. Learn the simple science of food and wine pairing. And purchase fine, local works of art. WPSU's Second Annual Wine Celebration has something for everyone.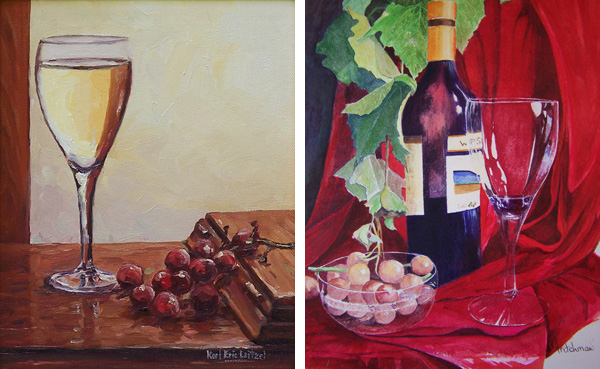 Left: "A Glass of Pinot Grigio" by Karl Leitzel. Right: "A Red in a Glass" by Holly Fritchman.
Karl Leitzel
Karl Eric Leitzel has been painting for over thirty years – from realistic to impressionistic to plein air. He is the founder and director of Landscape Artists International and the current president of the Farmland Preservation Artists of Central Pennsylvania. Karl recently completed a large commissioned painting for Penn State that hangs in the lobby of the Nittany Lion Inn.
Karl's donation to the Wine Festival: "A Glass of Pino Grigio on the Artist's Old Singer Treadle Sewing Machine," oil on canvas panel, 10" by 8", 2010.
Holly Fritchman
Holly Fritchman is a rapidly rising plein air artist who was inducted into the Philadelphia Sketch Club last year. She is self-taught with an interest in oil, watercolor, and graphite. Her work has been displayed in the Art Alliance Juried Show, at the Gamble Mill, and inside the Humboldt Institute in Maine.
Holly's donation to the Wine Festival: "A Red in Glass," watercolor on paper, 2010.
WPSU Wine Festival
Purchase your ticket today for the September 19th event and for your chance to win these works of art plus more from Laura Winn Kane and Jennifer Shuey.
Author: Emily Wiley
Bio: WPSU Multimedia Producer | Wife and Mother | Lover of Food and Photography | One-Half of The Culinary Couple