Blogs

The opinions expressed in these blogs are solely those of the people who wrote them, and do not represent the views of WPSU or Penn State University.
Posted by David Walker on 11/24 at 08:48 PM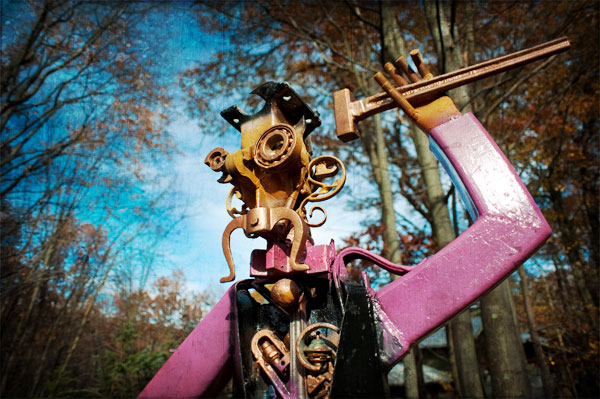 A very meticulously detailed sculpture stands outside the Hill Home Forge Bed & Breakfast that overlooks Jim Thorpe. The sculpture is made from a concoction of car and clock parts, bearings and lawn equipment to name of few items. I stumbled upon this great piece of art while I was "going exploring' a few weeks ago on my motorcycle. I took a wrong turn and while backtracking found a mountain road that looked interesting. I'm glad I took it.
"Getting lost is just another way of saying 'going exploring.'" - Justina Chen Headley (North of Beautiful)
Every now and then, we all end up taking a wrong turn in our travels. The GPS stops working, google maps directs you to a road that doesn't exist or we simply lose track of where we are. Some people become angry while others terrified in these moments of confusion. The fear of being lost overcoming every rational thought in our brains that we drive a little faster, our hearts beating slightly faster, as we try to find our way back to safety. We are so involved in the big picture – getting from point A to point B – and so shy of the unknown, we miss some of the very neatest details of a trip. A lot of the times, it's worth it to get lost, to go off the beaten path and see the little things.
Author: David Walker
Bio: David Walker is a Penn State graduate with a degree in biochemistry and molecular biology. He is currently pursuing a part-time career as a portrait photographer while he waits for the economy to turn around. He started his photography adventure back in 2003 while deployed to Iraq using a point-n-shoot HP camera. Since then, he has moved up to a Canon G5, a Nikon D40 and now to a Nikon D700. If you would like to purchase prints from this blog, please see his online gallery.