Blogs

The opinions expressed in these blogs are solely those of the people who wrote them, and do not represent the views of WPSU or Penn State University.
Posted by David Walker on 11/16 at 03:45 PM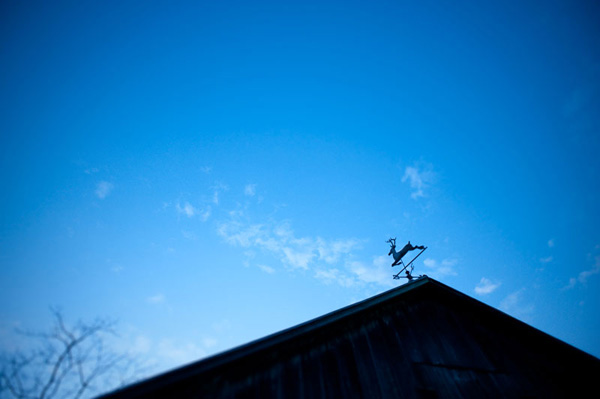 A weather vane on top a country farm garage along route 54 blows in the wind.
"Autumn begins with a subtle change in the light, with skies a deeper blue, and nights that become suddenly clear and chilled. The season comes full with the first frost, the disappearance of migrant birds, and the harvesting of the season's last crops." - Glenn Wolff and Jerry Dennis
I love fall in Pennsylvania. If you have ever done any traveling, you'll quickly realize that we have an amazing amount of farmland and forests in Pennsylvania. That means nearly anywhere you go during the fall season, you'll be able to enjoy the colors, smells and food of autumn. It's not just for a week or two either. It's a slow change from summer and lasts for weeks. When the beginning of October rolls around, fall has snuck right in along with it and pleasantly surprises me. My morning coffee has an even fuller aroma and my evening hot chocolate, more indulgent. The landscape around us comes alive in the misty mornings with the bold contrasts of yellows, reds, oranges and greens. Jack-O-lanterns start to litter front porches followed by pumpkin pies on Thanksgiving day. It's easy to find music in the woods or in the fields with the rustling of dried leaves and warming fires. All because of fall.
But alas, the wind is again starting to change with the hint of arctic air. The trees have all bronzed their limbs and the night air continues to darken more each day. Soon all the pumpkin pies will be gone and all the dead leaves burned. The last of the cornfields will be harvested and fall will have to give way to winter. I guess that's ok – we do get to drink eggnog come December.
What do you like best about autumn?
Author: David Walker
Bio: David Walker is a Penn State graduate with a degree in biochemistry and molecular biology. He is currently pursuing a part-time career as a portrait photographer while he waits for the economy to turn around. He started his photography adventure back in 2003 while deployed to Iraq using a point-n-shoot HP camera. Since then, he has moved up to a Canon G5, a Nikon D40 and now to a Nikon D700. If you would like to purchase prints from this blog, please see his online gallery.