Blogs

The opinions expressed in these blogs are solely those of the people who wrote them, and do not represent the views of WPSU or Penn State University.
Posted by David Walker on 11/09 at 01:01 PM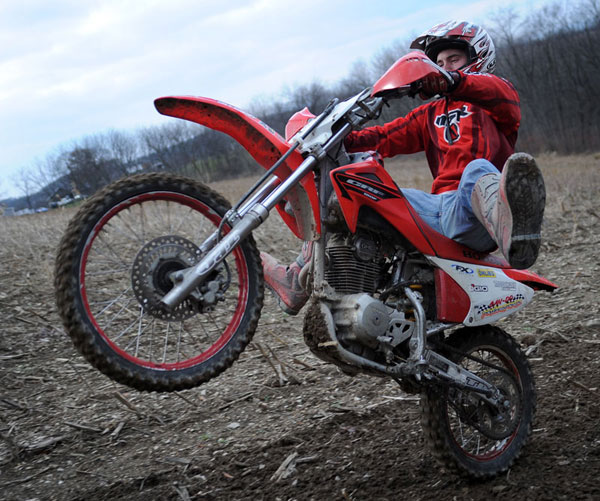 Perry Shank of Danville pulls a no-footed wheelie during a neighborhood dirt bike competition. Each year, kids who ride dirt bikes in the area hold a friendly contest called Dirt Bike Wars with parents and friends judging each segment. "It's competitive - not serious" say the riders, "you just try to do better than the last time...hopefully you learned something over the summer."
Adventures. Ever since I graduated high school, trying to find my current address has been a nightmare for a lot of my friends and family (and sometimes the IRS, too.) In those 10 years, I had made camp in many states including Missouri, Colorado and Tennessee. If I wasn't moving, I was exploring any place my budget would take me. And I worked many jobs to fill that budget. Draftsman, cook, mover, hospital worker, soldier, photographer. Anything that would let me see the world.
In short, I love adventures. I love finding new places, new people, new stories.
This past summer though, something new happened. No more dorms, friends spare bedroom, barracks or apartments. I have become a permanent resident of Pennsylvania once again! Great, so what now I've lived in Pennsylvania throughout most of my childhood, what does PA have to offer me this time? Haven't I seen it all and met them all? Or have I taken for granted this state I called home? G.K. Chesterton, one of the lesser known great writers of the early 20th century, once said - "The whole object of travel is not to set foot on foreign land; it is at last to set foot on one's own country as a foreign land." Funny to think that what I see as ordinary may look like the next big adventure to someone else. So for the next few months, armed with my trusty nikon camera, I will step foot into my own backyard and see what I've been missing. If there is a road I've always been curious about, I'll follow it. A plaque on a stature I've never read before, I'll read it. Everyday as a new day here. So follow along each week as I post a new picture from my travels and rediscover Pennsylvania with me.
Author: David Walker
Bio: David Walker is a Penn State graduate with a degree in biochemistry and molecular biology. He is currently pursuing a part-time career as a portrait photographer while he waits for the economy to turn around. He started his photography adventure back in 2003 while deployed to Iraq using a point-n-shoot HP camera. Since then, he has moved up to a Canon G5, a Nikon D40 and now to a Nikon D700. If you would like to purchase prints from this blog, please see his online gallery.