Posted by Jamie Oberdick on 07/01, 2014 at 11:55 AM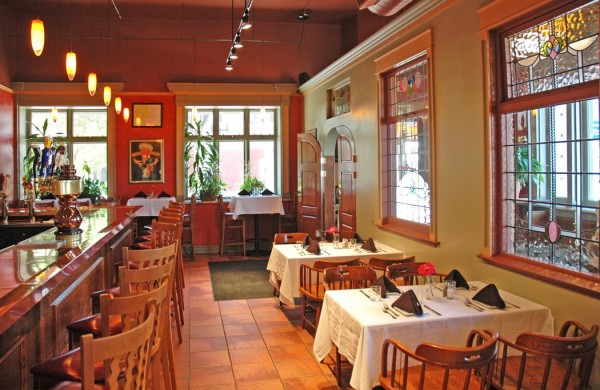 WPSU's recent episode of "Our Town" featured a visit to Ebensburg. Part of the episode looked at the food scene and featured an interview with Penn State Altoona employee and part-time pastry chef Julie Fether. I recently chatted with Julie and learned more about a growing local food movement in Blair and Cambria Counties.
When Julie Fether moved back to her hometown of Ebensburg from Oregon, she wasn't anticipating a thriving local food scene like she had in Oregon. But what she discovered was a growing local food community in her old stomping grounds.
Fether has become part of that local food scene herself. Along with her role as a project coordinator for the Center for Community-Based Studies at Penn State Altoona, she works part-time as a pastry chef at the Ebensburg destination restaurant, Amichi's Ristorante. She notes that Amichi's is not only a fantastic fine-dining experience but also a place to eat local. "They work very closely with couple of local farms," Fether said. "They also buy from the Johnstown Farmers Market and the Ebensburg Farmers Market. The perk of working there is local farmers will come with produce and give out samples."
Fether gave local lettuce as an example of good local food served at Amichi's. "The feedback from customers they can tell the difference," she said. "The texture is lighter, it seems fresher, and a lot more taste and flavor."
The Hill Farm, in Mineral Point near Johnstown, is one of the sources Amichi's uses for local produce. For example, in June, Fether said, local strawberries and garlic scapes are plentiful from Nichole Hill and David Thompson, owners of the farm, and they are used in a variety of dishes. "Also, in late May, we had baby artichokes," she said. "Anything coming in from the farm, Amichi's will use."
"We also have an egg supplier with wonderful fresh eggs from Brady's Farm in Blair County," Fether added. "I can tell that the eggs are different as a pastry chef. The yokes are bigger, more yellow, which means the chickens are getting good feed on a natural free-range system on the farm. I can taste the difference."
Amichi's not only sources from local farmers, but they also have their own garden. "I've had the pleasure of being their farmer, helping to weed, plant, and harvest," Fether said. "We have all sorts of herbs. We will be able to use them, plus the other produce we have growing in our backyard, like artichokes, peas, beans, and tomatoes from back there. As for the herbs, we are currently using chives from our garden in a vinaigrette for fish dishes. It's nice to be able to go back there and gather things for the restaurant."
For more casual local food dining, Fether said Ebensburg offers Everyday Gourmet, owned by married couple Chef Charles and Mindy Heinrich. Everyday Gourmet incorporates local food into daily specials. "Charles has an extensive background working with local foods, particularly in Florida where he did his training and work," she said. "So he's used to creating European classical foods using as many local/regional products as possible. Right now he's starting to work with a farm that's part of the Juniata Farmers Market here in Altoona, Sun and Moon Creations. Tammy Wolf is the farmer, she is known for making natural and soy candles, but she has started to incorporate a lot more farming off her land and is providing restaurants with produce."
Everyday Gourmet's offerings are in tune with what is in season, with the owners going to farmers markets to see what they have. "It makes it very creative and exciting to go to the farmers market because sometimes you don't know what is going to be there and it can make your table that much more exciting," Fether said.
Along with the restaurants, the area in and around Ebensburg has a variety of farmers markets for those seeking a local food fix. The Ebensburg Farmers Market is held Saturdays starting July 12 through September 20. Located at the Penn Eben park in downtown Ebensburg, the market features vendors such as Michelle's Herbs, Hummingbird Bakery, Butterball Farmette, and a variety of roadside vendor-style farmers selling all sorts of produce.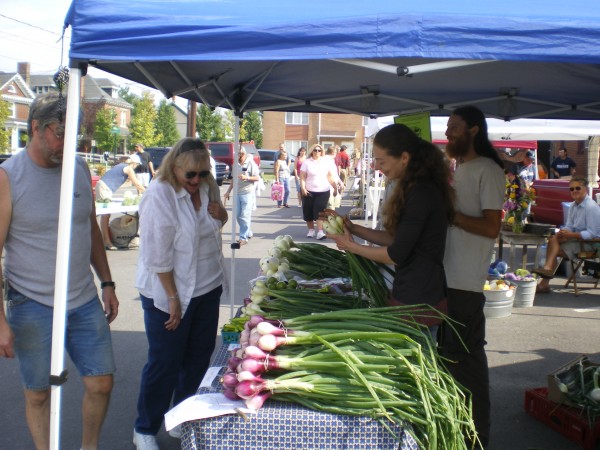 Ebensburg Farmers Market

Fether has access to a great source for local food right in her work backyard, the Juniata Farmers Market on Penn State Altoona's campus. The Juniata Farmers Market is supported by the Blair Conservation District, the Altoona Chamber of Commerce, and Penn State Altoona's Sustainability Council. The market is held Thursdays from 2:00-6:00 p.m. at the Rider Parking Lot. "One of my favorite vendors at the market is Clover Creek Cheese," she said. "We have Green Acres Farm, Rispoli Farm, Cherry Hill Farm, we have some natural bathing products from Bath Natural, we have bake shop bakes, and Star Mountain Ranch, including grass fed oxen. We have some very good fresh squeezed orange juice at the market."
Along with these markets, Fether noted that Altoona has a farmers market which is located near the Amtrak station, and there's also the Johnstown Farmers Market in Central Park Fridays from 9:00 a.m. to 2:00 p.m. They also have one on Tuesdays at Cambria City, she said.
There is also an interesting local food event in Cambria County that celebrates the fact that its the number two county for production of potatoes in Pennsylvania. "PotatoFest is a wonderful event held the last Saturday in September," Fether said. "Last year was my first year to attend. It is packed full of arts and craft and any food you can imagine from a potato. It's just a wonderful event to bring people out into the community."
Along with great tasting eats, Fether strongly believes that local food is vital for her community. She noted that Blair County needs more healthy food options. "Blair County is 51st in the state for unhealthy lifestyles, for obesity issues, for health-related issues from unhealthy habits," she said. "Supporting the local food scene is important as it offers a source for healthy food. Also, it keeps the dollars in the community, it supports farmers who work so hard to grow wonderful food and sustain themselves via a good living. I find that any local community that keeps supporting the rest of the community, that's a win-win."
Fether also works with the Health Blair County Coalition via her Community Based Studies program, and works with Let's Move Blair County, a local spinoff of First Lady Michelle Obama's initiative. "One of the things I do is demonstrate how one big healthy salad a day is great for health," she said. "I take a very laid back approach to healthy eating, not preachy. I want to get them excited about salad, something that's easy to do with local food sources."
Author: Jamie Oberdick
Bio: Editor, Local Food Journey | Passionate about supporting local food in Central PA