All Posts including "chicken"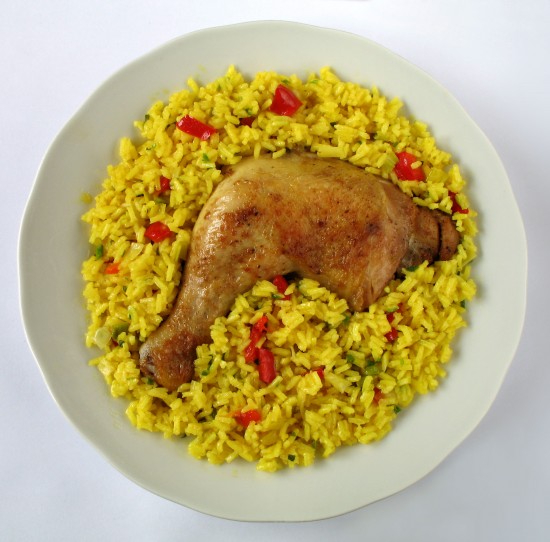 It's cold and miserable outside, which is another way of saying "January in Central Pennsylvania." Hearty food, aka "comfort food," has always been something people turn to during the dark cold eves of winter.
While comfort food for many Pennsylvanians is a pot of stew or a roast chicken dinner, for some Pennsylvanians it's food from their much warmer homeland. Pennsylvania has relatively large population of Puerto Ricans, and this includes my hometown of York. I had Puerto Rican friends growing up who introduced me to food from their sunny island, such as mofongo, tostones, and arroz con pollo, which means chicken with rice in English.
Arroz con pollo is a caldero dish, which means it is made in a large pot or dutch oven. A caldero, a kind of dutch oven, is a standard item in the Puerto Rican family kitchen.
Continue Reading: Fight winter blues with some tropical comfort food: arroz con pollo
Posted by Jamie Oberdick on 01/11, 2017 at 05:22 PM
Tags: ethnicfood | recipe | recipes | chicken | rice |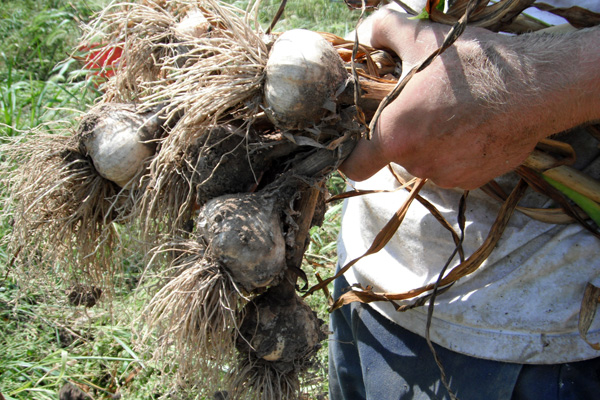 Attention garlic lovers: This is your day. Today is National Garlic Day, a celebration that salutes that key ingredient for so many fantastic cuisines. The pungent cloves are crushed, roasted, minced, sliced, and liquefied in a wide variety of dishes, from Thai to Chinese to Italian to Mexican, and everywhere in between. To celebrate here on Local Food Journey, we'll share some fun facts about garlic and a classic garlic dish, the famous 40-clove garlic chicken.
Continue Reading: Celebrate National Garlic Day with a classic dish
Posted by Jamie Oberdick on 04/19, 2016 at 02:25 PM
Tags: garlic | recipe | chicken | NationalGarlicDay |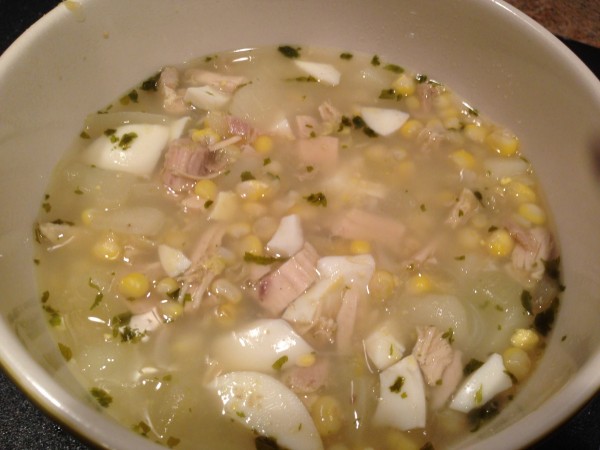 Growing up in York, I was exposed to a lot of Amish cuisine. My mother cooked a variety of Pennsylvania Dutch dishes, such as pot pie, pork and sauerkraut, and perhaps my favorite, chicken corn soup.
Believe it or not, chicken corn soup is considered a "summer soup." Made to take advantage of the bounty of fresh corn in southcentral and southeast Pennsylvania, this corn was a July-August staple in my house as a kid. My mother would make it year 'round, however, and I always looked forward to it. It's a simple soup, with subtle flavors.
Continue Reading: A summery soup for a winter evening
Posted by Jamie Oberdick on 02/05, 2016 at 04:07 PM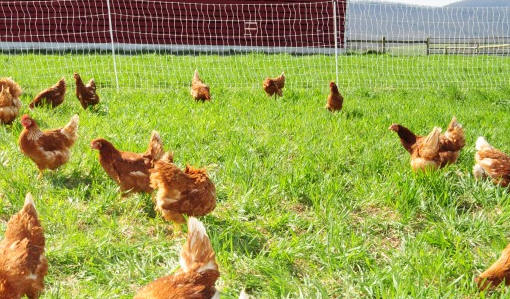 Eggs are cheap and plentiful in the grocery store, so one might wonder why you'd venture out to a local farmer's market to buy pastured eggs. An egg is an egg, right? Well, as it turns out, there are vast differences that all go back to how the chicken is raised.
I raise laying hens on pasture just outside of State College, and I just love selling that first pastured dozen to someone who tells me they've only bought eggs at the grocery before. I know exactly how much of a surprise they are in for! (I should note that "free-range" at the grocery store means that the hens are not caged and have access to the outdoors at least part of the day. How much space they have outdoors or what the surface is made of is not specified. "Cage-free" hens are raised entirely indoors, but are not confined to cages.) Here are a few surprises you might encounter if you've never tried a pastured egg before.
Continue Reading: Five very good reasons to buy pastured eggs at farmers markets
Posted by Kim Chase on 05/29, 2014 at 12:31 PM
Tags: ChaseFamilyFarm | chickens | eggs | cage-free |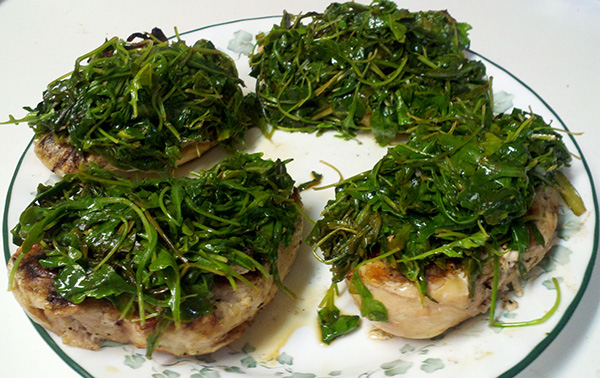 Well, what do you know. During the last several days the weather finally began to resemble spring after what was a pretty cold March, followed by a chilly start to April. Yesterday was especially nice and really got me thinking spring, a time of year that I just plain love.
There are two local-food related things that I love about spring time—the first fresh greens of the year and breaking out the grill. While a spring greens salad with a grill burger made from local beef is a nice way to kick off the spring season, I decided yesterday to try to combine greens and grilled meat in one dish.
Continue Reading: Tasting spring with grilled chicken with lemon-garlic arugula
Posted by Jamie Oberdick on 04/08, 2013 at 12:59 PM
Tags: spring | grilling | chickenbreast | arugula |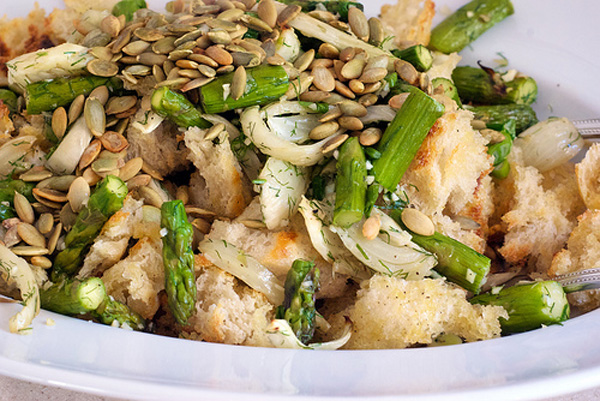 There are certain recipes that have nearly cult followings online, and the Zuni Cafe Roast Chicken and Bread Salad is one of them. I've never had it in person, but have heard so many people rave about it that I decided to put my own spin on it.
Continue Reading: Grilled Chicken Bread Salad with Asparagus and Fennel
Posted by Kristin Camplese on 06/05, 2012 at 10:59 AM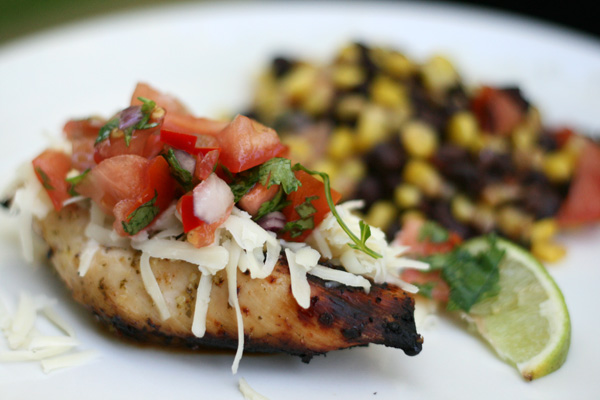 Just in time for your Cinco de Mayo celebration: chicken marinated in a mixture of tequila, limes, garlic, jalapeno, and cilantro. Serve with scoop of guacamole and a side salad of corn, tomatoes, and black beans. And don't forget about the sangria, or choose from a variety of margaritas at PBS Food.
¡Salud!
Continue Reading: Tequila Lime Chicken
Posted by Emily Wiley on 05/04, 2012 at 04:34 PM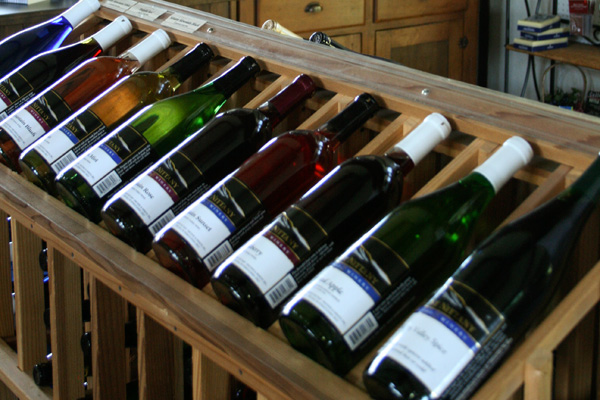 After chatting with Sandy Alexander from Mount Nittany Vineyard & Winery, I decided I had to cook with wine. It was a new and intriguing challenge that I took head on. My three friendly "guinea pigs" tasted this creation and agreed it was a hit. If you like your sauce to be a tad creamier, you can add a tablespoon or two of flour while it's cooking. But I prefer the fluid texture against the rice and chicken.
Continue Reading: Chicken in Mushroom White Wine Sauce
Posted by Michele Frank on 09/01, 2010 at 06:03 PM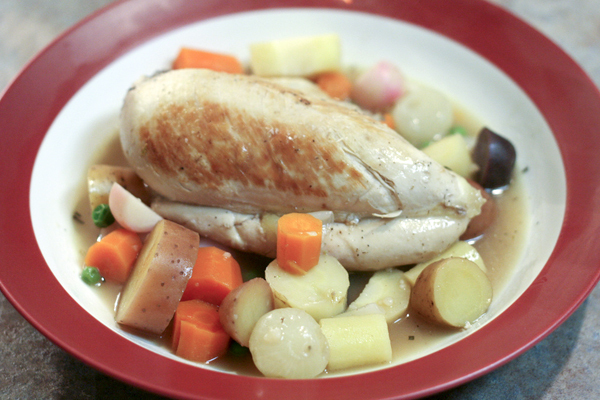 Winters in central Pennsylvania can feel endless, especially those that bring several feet of snow. But fortunately we live in a state where temperatures and food choices change with the season.
And so we anxiously anticipate the first signs of spring: dogwood trees and flocks of robins and farmers markets.
Continue Reading: Braised Chicken with Spring Vegetables
Posted by Emily Wiley on 06/01, 2010 at 07:15 PM
Tags: recipe | spring | chicken | carrots | parsnips | radishes | potatoes | onions | peas | parsley | market |
Page 1 of 1 pages