Posted by Emily Wiley on 06/01, 2010 at 07:15 PM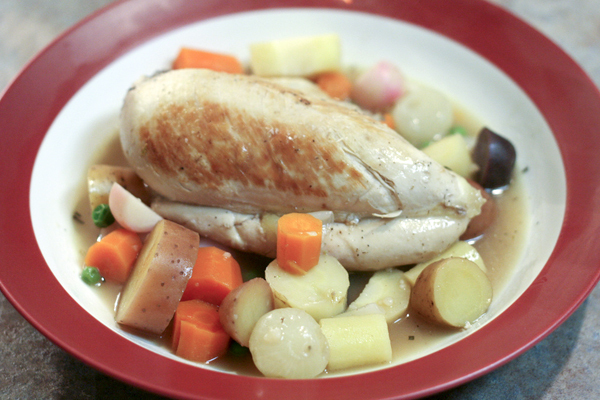 Winters in central Pennsylvania can feel endless, especially those that bring several feet of snow. But fortunately we live in a state where temperatures and food choices change with the season.
And so we anxiously anticipate the first signs of spring: dogwood trees and flocks of robins and farmers markets.
When visiting local markets, it's important to know what's in season. You'll pay less and leave with higher quality produce.
During this time of year in Pennsylvania, you will find bunches of greens like lettuce, arugula, and spinach. Other vegetables include asparagus, peas, carrots, radishes, artichokes, parsnips, and potatoes. Rhubarb and strawberries sweeten the stands, and garlic, thyme, and parsley round out the mix.
This recipe is an ideal combination of what's available now, including chicken from a certified organic meat producer like Cow-a-Hen Farm in Mifflinburg. You can find their pasture raised, free-range products at the Boalsburg Farmers Market from 2-5pm on Tuesdays.
Ingredients
2 Tbsp butter, divided
2 bone-in chicken breast halves, skinned
2 bone-in chicken thighs, skinned
2 chicken drumsticks, skinned
1/2 tsp salt
1/4 tsp freshly ground black pepper
2 (14 oz) cans low sodium chicken broth
1 cup dry white wine
1/2 tsp chopped fresh thyme
8 parsnips, peeled and halved
8 radishes, peeled and halved
2 carrots, peeled and cubed
8 fingerling potatoes, peeled and cubed
10 pearl onions, peeled
6 fresh flat-leaf parsley sprigs
2 bay leaves
2 Tbsp all-purpose flour
3/4 cup green peas
2 Tbsp chopped fresh flat-leaf parsley
Directions
Melt 1 tablespoon butter in a Dutch oven over medium-high heat. Sprinkle chicken evenly with salt and pepper. Add chicken to pan and sauté 5 minutes on each side, or until browned. Remove from pan.
Add broth to pan and cook 1 minute, scraping pan to loosen browned bits. Add wine and next 6 ingredients (through bay leaves). Stir to combine. Add chicken back to pan, nestled into vegetable mixture, and bring to a boil. Cover, reduce heat, and simmer 20 minutes, or until chicken is fully cooked. Discard bay leaves and parsley sprigs. Remove chicken and vegetables from the pan.
Bring liquid in pan to a boil. Cook until reduced (about 5 minutes).
Melt remaining 1 tablespoon butter in a small skillet. Add flour, and stir until smooth. Add butter/flour mixture to cooking liquid. Cook 2 minutes until slightly thick, stirring constantly. Return chicken and vegetables to pan. Stir in peas. Cook 3 minutes until thoroughly heated. Garnish with chopped parsley.
(Adapted from Cooking Light Cooking Through the Seasons)
Purchase Cooking Light Cooking Through the Seasons: An Everyday Guide to Enjoying the Freshest Food. Support WPSU
WPSU is now a member of Amazon's Associate program. When you make purchases from Amazon by following links from our website, WPSU will receive a portion of the sale with NO extra cost to you.

Buy Cooking Light Cooking Through the Seasons: An Everyday Guide to Enjoying the Freshest Food.
-or- Click here to support WPSU through any purchase from Amazon.com
Author: Emily Wiley
Bio: WPSU Multimedia Producer | Wife and Mother | Lover of Food and Photography | One-Half of The Culinary Couple