Posted by Emily Wiley on 11/30, 2010 at 05:25 PM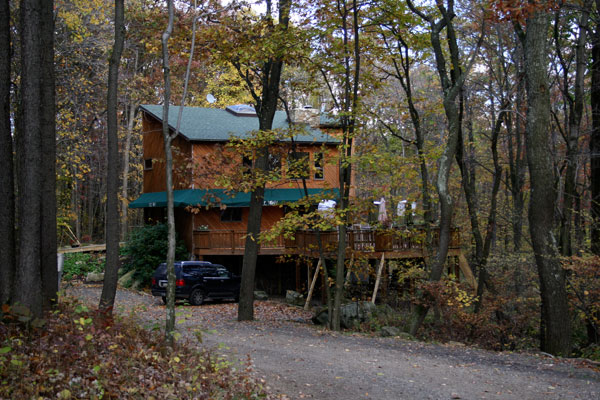 Polymath Park is nestled in the woods of the Laurel Highlands. Three Frank Lloyd Wright-inspired homes sit on 100 acres of tranquil forest, and down a narrow driveway barely visible behind tall trees, is Tree Tops.
I first discovered the restaurant during a culinary tour of the Laurel Highlands, organized by The Fork and The Road.
Jodi Henry, wife of Executive Chef Mark Henry, cheerfully greeted our group on the stairs of the appropriately named restaurant. The rustic scenery followed us indoors with tall framed windows, a stone fireplace, and handcrafted wooden chairs. It was cozy and warm and sweet-smelling, thanks to Chef Mark.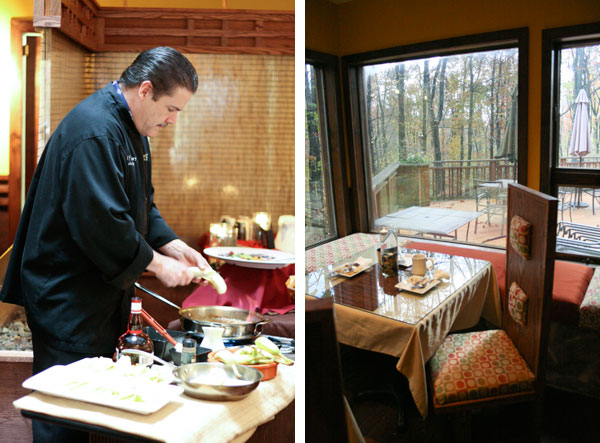 Henry has close to 30 years experience as a chef, restaurateur, culinary instructor, and ice carver. Yes, prior to garnishing desserts with molded chocolate and crystallized sugar, he sculpted ice into artwork.
When we arrived, Henry already had on display a tray of sliced chocolate truffle and his award-winning goat cheese cheesecake. The creamy cake topped with raspberries and candied pecans and served inside a praline shell took dish of the year at Savor Pittsburgh 2010.
As if that wasn't enough, Henry also flambéed bananas foster for us.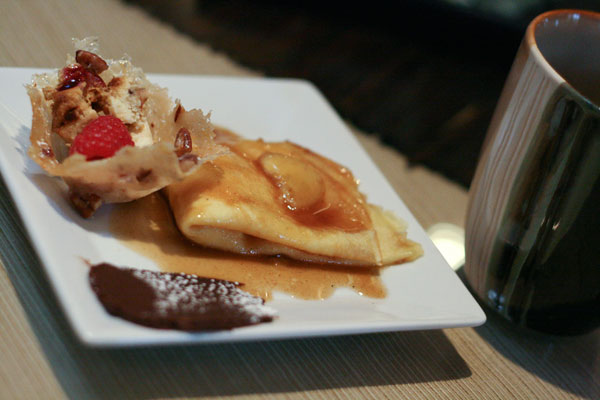 In addition to decadent desserts, Tree Tops serves a variety of appetizers and seasonal entrees like cedar plank salmon with honey and bourbon and tenderloin tips finished with mushrooms and gorgonzola.
Tree Tops is a fine dining gem in western Pennsylvania that focuses on fresh and organic ingredients. It would be a lovely treat to try this holiday season. Reservations are recommended, and the restaurant may be reserved for private parties. Chef Mark is also available for catering.
Read more about my culinary tour of the Laurel Highlands.
Hours:
Thursday 4-10pm
Friday and Saturday 4-10pm
Sunday Brunch 11am-2pm and Dinner 2-6pm
Tree Tops Restaurant at Polymath Park
187 Evergreen Lane
Acme, PA 15610
(877) 833-7829 ext 3
Author: Emily Wiley
Bio: WPSU Multimedia Producer | Wife and Mother | Lover of Food and Photography | One-Half of The Culinary Couple