Posted by Naomi Elle Schwartz on 07/10, 2012 at 09:26 AM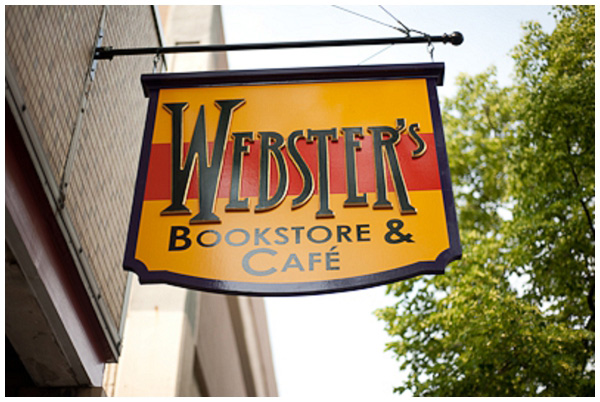 Webster's Bookstore & Cafe has been around for years and years. Longer than I've been a coffee-lover, but definitely during the years when I was a book-lover. I treasure hunted through their shelves several times and obtained some interesting vintage children's novels (my favorite kind!) to add to my overflowing home collection. I also obtained a beautiful hard cover version of The Complete Poems of Elizabeth Barrett Browning.
Webster's disappeared from the State College area for a little while when they had to move from their downtown location, then into and out of another location (where the Callao Cafe is now located!). But they have finally found a perfect space to combine book-browsing and cafe-eating for State College patrons.
Speaking of eating, we shall start with food and coffee. There are many, many choices in the food and drink arena of Webster's. They specialize in vegan, vegetarian, and local foods. You can be sure that they use super fresh foods grown nearby, and that makes the choices all the more delectable.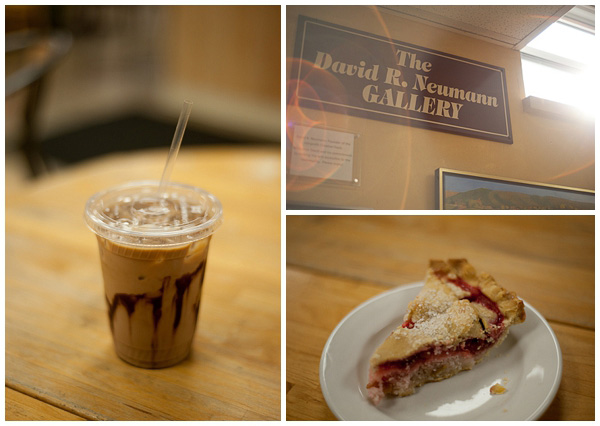 On the blazing hot summer day that we visited Webster's, it seemed fitting to start out with an iced "brown cow." The Brown Cow is a Webster's specialty. Espresso + Meyer's Dairy chocolate milk + chocolate syrup. Meyer's Dairy is just outside State College, and you can see the cows which produce the milk from the dairy store. This is about as local as you can get! It had just a touch of chocolate flavor, not-too-sweet, and very refreshing. And so good that I drank the majority of it before my husband even noticed. Oops.
Webster's coffees are organic, shade-grown, and fair-trade. If coffee just isn't "your cup of tea" (I know, lamest pun ever), they also stock over 90 loose-leaf teas! However, since we adore coffee, let's talk about that.
Webster's espresso was perfection in a cup. Motivation for a second, third, and fourth visit. It's a good thing that this place is nearby because we're going back. Their house blend was equally impressive: bold and flavorful.
We chose to try the Strawberry-Rhubarb Pie. Flaky crust, moist fruity filling with that signature rhubarb tartness. It reminded me of summertime as a child, when I would go outside to the rhubarb patch shaded by tall pine trees to harvest our own rhubarb. This pie inspired me so much that the next day I purchased some rhubarb from a local farmers market and baked up some strawberry-rhubarb goodness for us!
Taking a look around the space, I was continually impressed. When I realized that this would be a semi-basement space, I was expecting dark, dreary, and little musty. But there is blessed sunlight streaming in through the windows! Webster's created a pleasant place for reading, browsing, and otherwise engaging with other book enthusiasts.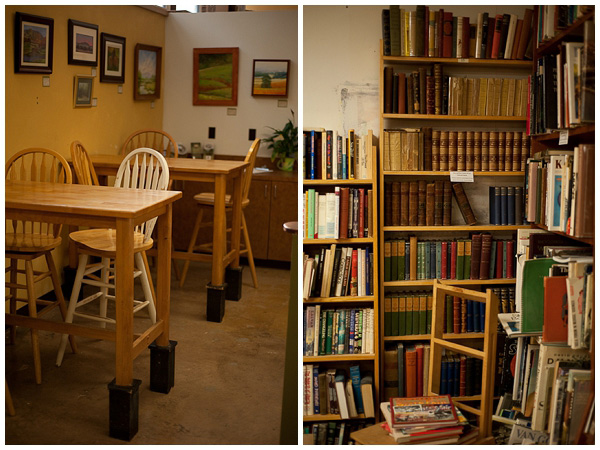 Webster's is also kid-friendly! The children's area is just messy enough to know that several "little people" enjoyed pawing through their favorite books recently. This is controlled chaos, adoring literary playtime and space for imagination to abound.
Maybe it's just me, but I've always considered books to be the best decor material available. In a home, the bookshelves tell the story of who a person is, what they love, and what comforts them. The environment of a bookshop can be the same way. It can take on many forms. In Webster's, it felt comfortable, relaxed, like a place one could hide away from the world's troubles for an afternoon and bury yourself in book for a little while.
For the coffee, the books, the vinyl, the local food… It doesn't matter your reason, you simply should visit Webster's!
133 East Beaver Ave • State College, PA
Check out their website and keep up with the newest happenings on Facebook!
Author: Naomi Elle Schwartz
Bio: Wedding Photographer | Coffee Adventurer | Local Life Photojournalist | Newlywed | Naomi Elle Photography