Posted by Naomi Elle Schwartz on 05/08, 2012 at 12:40 PM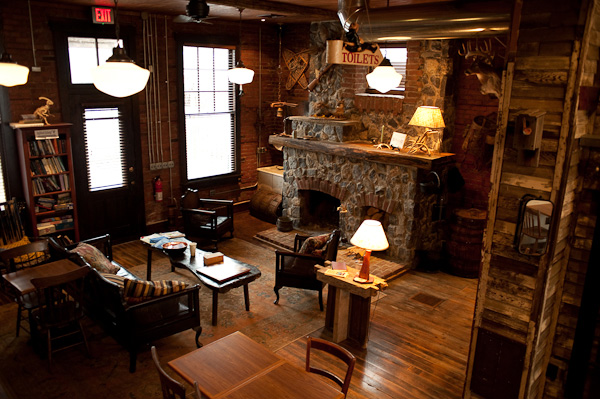 One of my favorite things about independent coffee shops is how they're grafted into the fabric of a community. They're more than shops or restaurants; they are gathering places. They're not just another "Starbucks" (no offense to my dear Sbux, I'm going back for a mocha one-a-these-days!); they're a snapshot of small-town life. And even if a local coffee shop has only been around, say "just over a year," when things are done right, it feels like the place has been around forever.
Welcome to The IngleBean Coffee House. A place that looks and feels like small-town Pennsylvania. What does small-town Pennsylvania feel like, you say? A customer walks in, greets the barista by name and orders "the usual." Someone else orders his breakfast and coffee and says he'll return in a few minutes and can he pay when he gets back? The answer is, "of course!"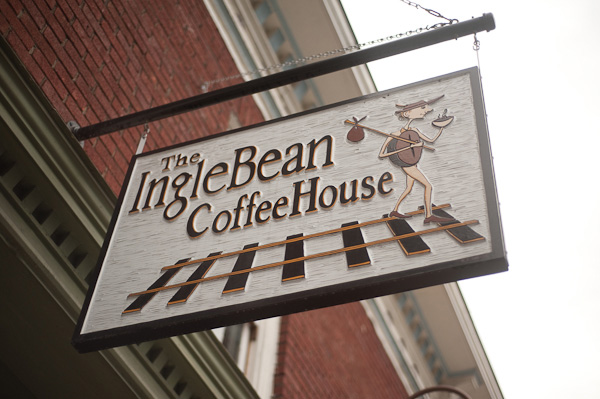 And the atmosphere? Be prepared for my rave reviews, because I am in love with this place. Exposed brick walls, old wood floors, a deer head and stuffed fox, traps. A massive stone fireplace. High ceilings and a loong beautiful wooden staircase that leads to the Triple Creek Lodge's guest rooms!
IngleBean's building was once a General Merchandise store, circa 1890s, and it has been restored in such a particularly rustic-beautiful way. I walked up and down the floors, around and around, looking here and there, just enthralled with all of the little decorating touches that make this place unique. Seating options that call your name—whether for eating a light lunch, rocking the day away, snuggling with your sweetie, or curling up with a good book. A deer antler light fixture. A canoe. On the ceiling!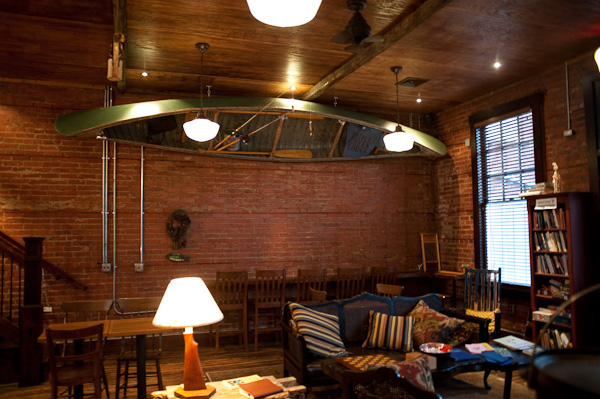 All I can say is SUPER KUDOS to the decorator of IngleBean. After a bit of research, I learned that one of the owners of the space (and Triple Creek Lodge) is also an interior designer, hence the excellent choices. I fully appreciate the skilled decorator who is able to take such simple inanimate objects, and make them sing a welcoming-song to each and every customer.
Now let's talk about their coffee! Inglebean proudly buys their coffee from Standing Stone, the only exception being that they use their own espresso blend, which is very nutty. The Inglebean blend is about three-fourths Central and South American beans and the other fourth is African–Kenyan, to be more specific. The house coffee is Etheopia Sidamo, with tasting notes "peach aroma." #Toptenmostinterestingcupsofcoffeeinmylife. We went back for refills and added a super fresh homestyle apple bar straight out of the oven. Amazing.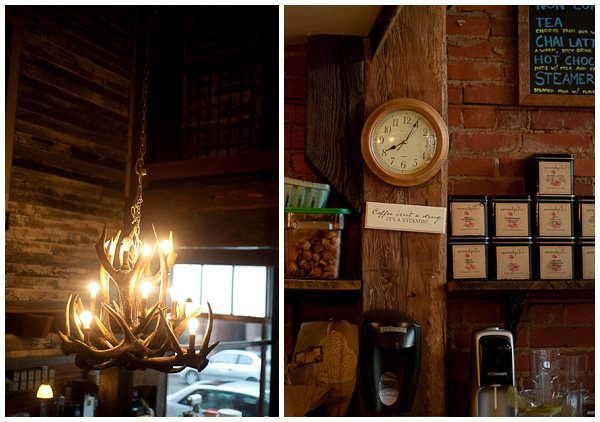 You should visit here. Definitely.
106 East Main Street • Millheim, PA • 814-349-4898 • Monday - Saturday, 7am - 4pm
Also, follow their Facebook page and makes plans to attend one of their upcoming events: film screenings, jam sessions, Christmas gift-wrapping nights.
Now go! Support your local coffee shop!
Author: Naomi Elle Schwartz
Bio: Wedding Photographer | Coffee Adventurer | Local Life Photojournalist | Newlywed | Naomi Elle Photography