Posted by Naomi Elle Schwartz on 04/24, 2012 at 09:02 AM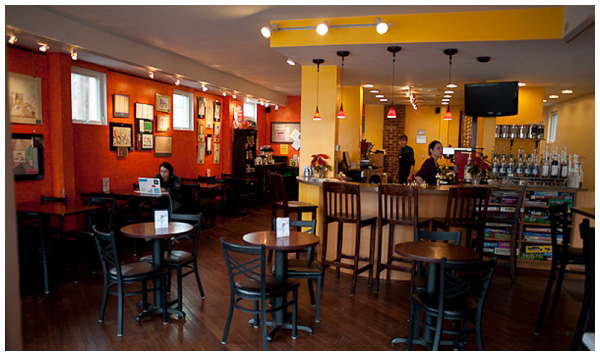 There is a "welcoming feeling" that permeates Standing Stone Coffee Company in Huntingdon. Like a bear hug you get from your big brother after being away all summer. It's nice and warm and all-kinds-of-happy. It says "I'm glad you're here! Sit down and stay awhile."
The color scheme of Standing Stone is truly unique. Yellow = vibrant, happy, invigorating. Orange = warm, fiery, and yet mellow enough to not be obnoxious. Combine that with the polished hardwood floors and black accents, the decor is a little bit modern and altogether a recipe for success. Including a couch. And while local art is a coffee shop staple, this is the first time I have seen local knitting.
Before we get to coffee, I need to rave about this mini carrot cake. Hands-down, the BEST baked good we have ever had at a coffee shop. Carrot cake is my personal favorite, and the tiny carrot on top was too adorable. But seriously, it was moist and flavorful, with the perfect amount of frosting and rolled in walnuts. OHHH. LOVED IT.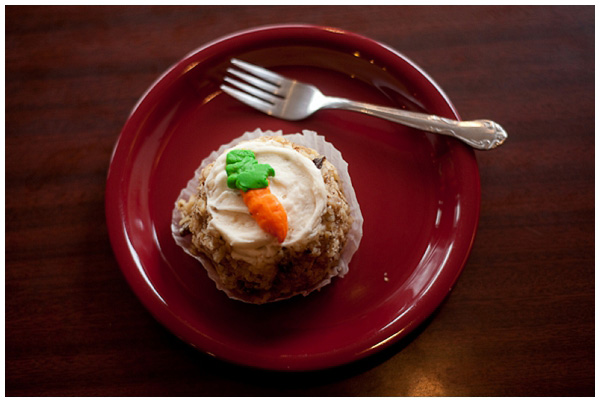 Standing Stone is exactly what they say they are: a coffee company. If you have any doubts, take a look at the monster of a coffee roaster in the bricked back room. Not only do they sell and serve their own blends, they also supply to another coffee shop in Pennsylvania (local loyalty prevails). It's good. Really good. Their espresso is focused and could be described as a fudge brownie topped with walnuts.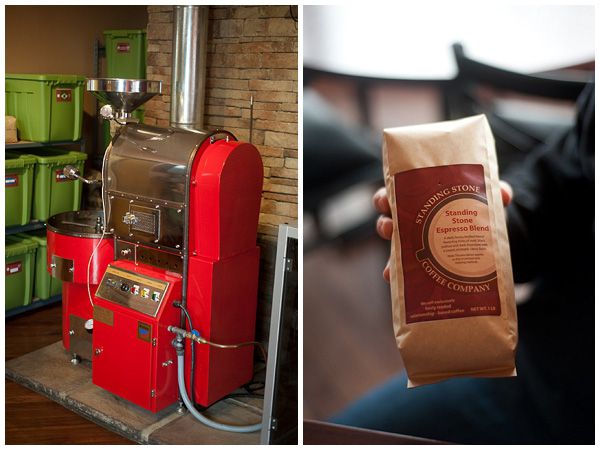 We tasted a South American roast for the standard joe. It was wonderful and nutty enough to be perfect with that heavenly carrot cake. And the mocha. One of the standard ingredients of Standing Stone's mocha is caramel. With a little chocolate, espresso and steamed milk, it made a high quality mocha that I quite enjoyed.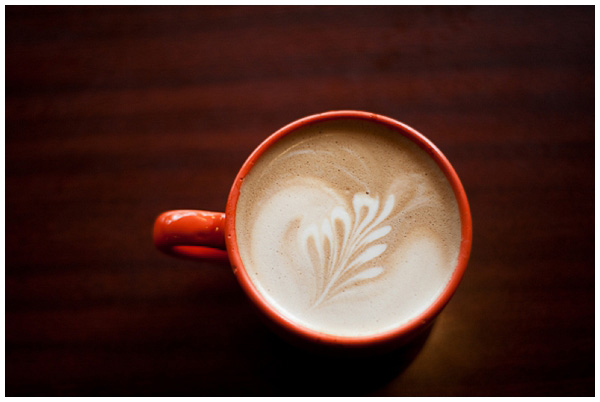 One last note about the wonders of Standing Stone. They have the craziest hours of any coffee shop I have visited. Really. Open until midnight on Fridays and Saturdays? I'm in awe. This place is determined to be the place where residents of Huntingdon hang out – whether soccer moms or local teenagers or college students slinging Macbooks while taking a study break or dropping their Vera Bradley purse on the table before lunching with their pals. I love when coffee shops' missions become something greater than food or drink. Something like community.
Want to be welcomed at Standing Stone? Visit their website and find them on Facebook.
1229 Mifflin Street • Huntingdon, PA • 814.643.4545
Author: Naomi Elle Schwartz
Bio: Wedding Photographer | Coffee Adventurer | Local Life Photojournalist | Newlywed | Naomi Elle Photography