Posted by Naomi Elle Schwartz on 04/17, 2012 at 02:37 PM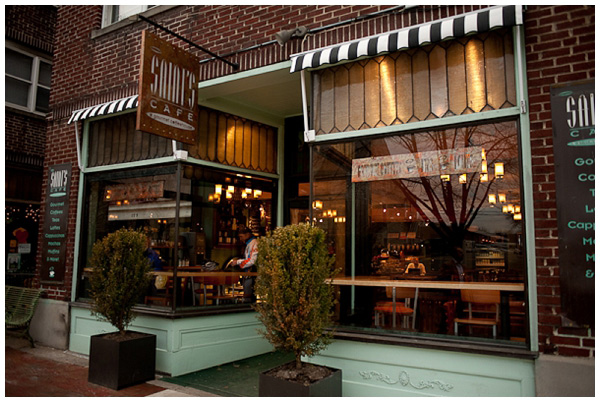 When you talk to any State College resident about locally-owned coffee shops, Saint's Cafe is without-a-doubt the first place they mention. And it's no wonder; it's been voted State College's Best Gourmet Coffee for years!
My husband and I drive by Saint's Cafe on our daily commute, and we're always amazed at its popularity. People practically tumbling out the door all of the time. And so it would be Saint's Cafe and their obvious success that determined our visiting time at 7:00 am on a Friday morning. We arrived before the place opened and were the first ones through the doors.
Saint's Cafe is pleasing to all of the senses. Delicious coffee aromas teasing your nostrils. Big-band music with Dean Martin's romantic voice in the background. The attention to detail and continuity throughout the decor. I would call it "understated European." The dark green walls and various brown furnishings bring a vibe that says, cozy and comfortable, *sigh*-worthy and relaxing, work-place and meeting place. There are a variety of seating options, including one leopard print sofa that tickled my fancy.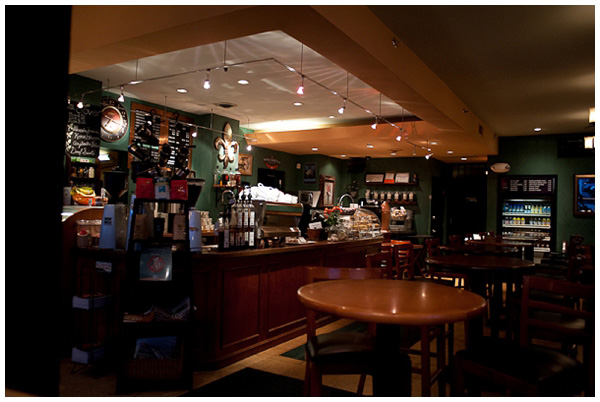 Saint's Cafe: A Gourmet Coffeehouse.
They are gourmet, without being pretentious. When gourmet means "really good." Their espresso is African in origin—mostly from Kenya and Ethiopia with additional South American undertones. The acidic emphasis paired perfectly with an iced lemon poppy-seed muffin. And since we were on a roll with the citrus baked item, we also had to try their mocha with orange syrup. Orange syrup is in short supply in coffee shops on this adventure thus far, and we were curious. Orange and bitter chocolate (in the best way) made a very nice dessert coffee. Even their house coffee warrants a visit.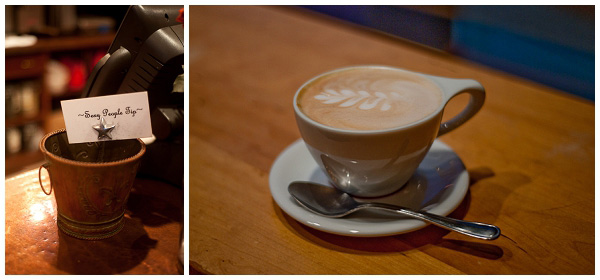 We began to understand why the people of State College love this place. Saint's Cafe offers gourmet coffee + fresh baked food stuffs + fabulous Europe-in-America ambiance. Take a stroll to downtown State College, and you might find a new favorite gourmet coffeehouse.
123 West Beaver Ave • State College, PA • 814.238.5707
Author: Naomi Elle Schwartz
Bio: Wedding Photographer | Coffee Adventurer | Local Life Photojournalist | Newlywed | Naomi Elle Photography