Posted by Naomi Elle Schwartz on 05/22, 2012 at 09:24 AM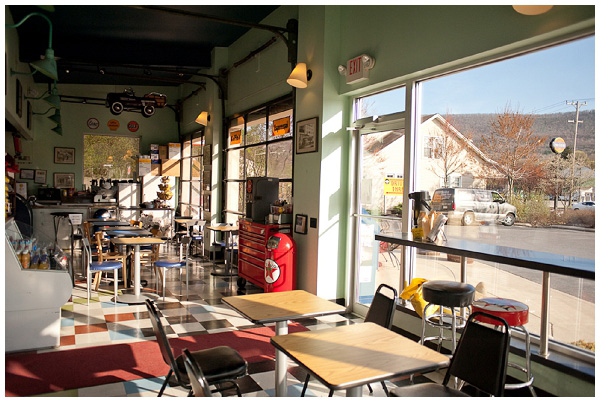 Welcome to the Pump Station Cafe. One of the only free-standing cafes that we have visited, it stands out among the rest. It's just past the only stoplight in the middle of Boalsburg, near the Pennsylvania Military Museum and the bronze statues of three ladies who founded Memorial Day in this historic small town.
While the Pump Station does not memorialize fallen soldiers like the historic attractions surrounding it, the cafe seems to memorialize the long-lost time of gathering by the gas station for a chat with neighbors and friends. This place has a happy sort of nostalgia. A little gas station/garage that used to shelter cars in need of repair now takes a turn as a place for human refueling, refreshing, and restoration. Massive windows encourage the sunlight to flood in, which we all know gives us necessary vitamin D and improves our moods!
And you know what else improves moods? That's right – coffee! The Pump Station's coffee may not be the restaurant's focus, but it's quality enough to compliment the great food stuffs. They offer an authentic Italian espresso. And the house blend has a hint of deep fruitiness, which doesn't sound like it would work with the MONSTROUS chocolate chip cookie that we consumed. But it really, really did! And we ate it up (with coffee) in record time.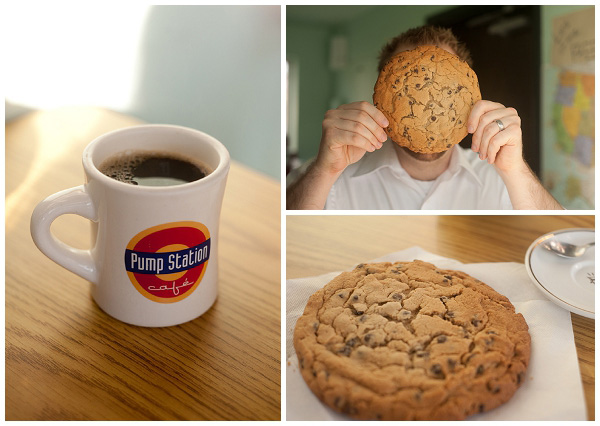 Breakfast. Brunch. Lunch. Late Lunch. Second Breakfast. Second Lunch. Afternoon Snack (with a sandwich involved). Who cares what you call it. You can get real food here at the Pump Station and leave fully satisfied. One of their specialties is a chicken salad sandwich. It's the owner's personal recipe and they go through 135 pounds per week. That is A LOT of chicken salad. Which reminds me, I need to get back over there and try some of that chicken deliciousness! Maybe pair a chicken salad sandwich with a throwback glass bottle of Coca-Cola. Sounds like a perfect refreshing summer lunch.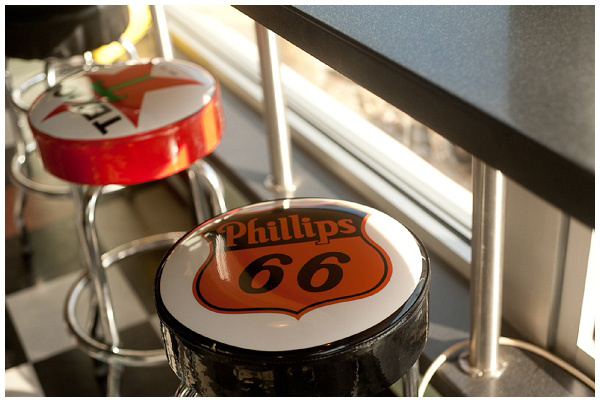 The Pump Station Cafe is most certainly a "theme" café, reminiscent of the 1950s. But instead of being the typical 50s-diner, Pump Station goes the pleasantly unexpected route of casual cafe. And while the theme may be cars and all things automotive, this place rocks it out without being kitschy or overdone. It's truly interesting. Innovative. Even the lunch menu had a little fuel-for-thought.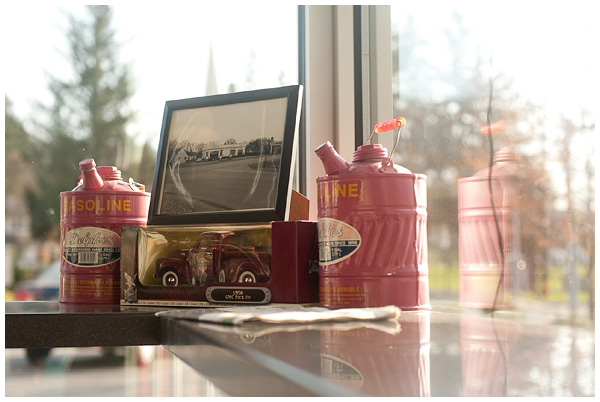 P.S. There are to-go mugs for the high-octane customer. And a DRIVE-THRU!
Pump Station Cafe • 130 East Boal Avenue, Boalsburg, PA • 814-466-6202 • Find them on Facebook.
Author: Naomi Elle Schwartz
Bio: Wedding Photographer | Coffee Adventurer | Local Life Photojournalist | Newlywed | Naomi Elle Photography