Posted by Naomi Elle Schwartz on 06/05, 2012 at 07:00 AM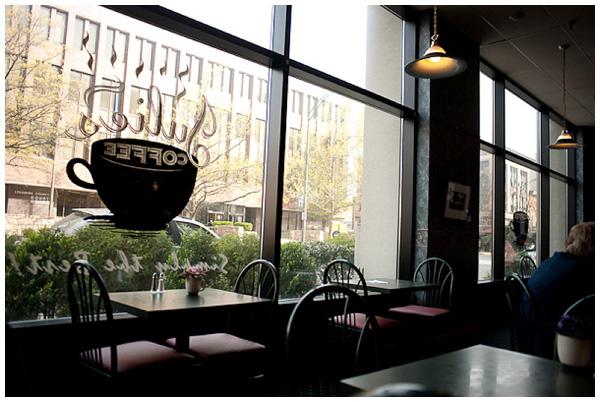 In the business district of Williamsport, there is a coffee shop always bustling with hungry customers. Large windows and wide-open spaces fill Julie's Coffee with sunny light and good cheer.
Meeting the folks for breakfast? Looking for a cup of coffee and a baked good? That was our morning. While on a road trip with my parents, we stopped by Julie's Coffee on a cool and breezy Saturday. We were impressed by the number of happy people enjoying steaming-hot breakfast food. There were plenty of places to sit. Plenty of room for standing and staring at the menu for before ordering.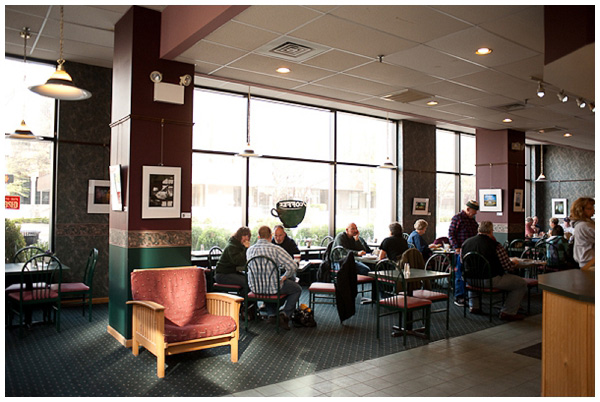 We met Jim (the owner), and he was super-enthusiastic and very involved in the business. He has owned Julie's Coffee for about eight years, and is now retired from another occupation and spending a lot of time in the coffee shop. He seems to truly enjoy chatting with customers, delivering food and enthusiastically sharing about this place. He revealed that their focus is mainly a breakfast/lunch spot with premiere coffee available. Julie's Coffee prides itself on being able to get the lunchtime patron in and out in under 30 minutes. And any cubicle-dwelling office worker can certainly appreciate that.
Now let's talk coffee! Julie's serves Panache coffees, a roaster out of Portland, Oregon. The espresso was very bold with a spicy flavor. Jim told me a story about a family from Germany that visited the café and ordered the espresso. Any European in your coffee shop is enough to make you nervous—they don't play with coffee over there. The group noted that the espresso was the best that they had ever had in America, and I think Julie's made a great choice to serve Panache. Their Breakfast Blend was light with a mild flavor, a perfect match with Julie's breakfasty food offerings.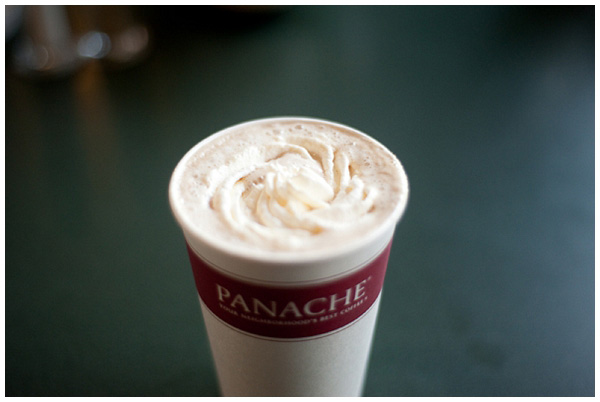 We selected the specialty drink of an Easter-y Coconut Cream Egg Latte. The standout feature of this very Easterly latte was what I would like to call the togetherness of the drink. And by that, I mean that all the ingredients played well with each other. Like a Mounds bar dipped in coffee.
Iced lemon bread was our baked good of choice. Moist, citrusy, with drizzles of super-sweet icing. I ate it up so fast that I hardly remember anything—-besides its delectable flavor. That wasn't the only option available (by far). Like chocolate-covered gummy bears!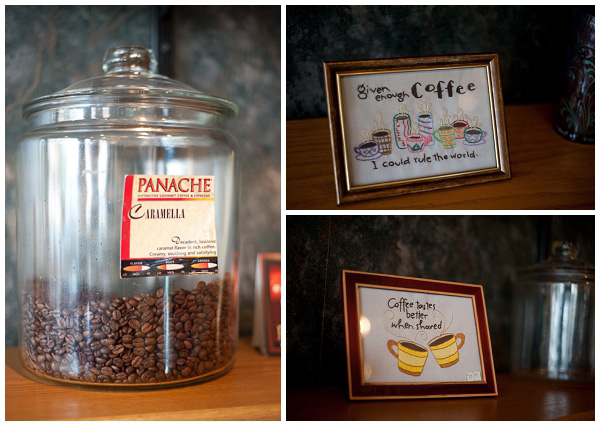 There's a relaxed, unpretentious, stress-free feeling about this place. Maybe it's the coffee, or the outrageous amounts of natural light, or the fact that we ate well and laughed lots… or maybe it's the coffee-themed decoration.
To say hello to Jim and the rest of the gang at Julie's Coffee, visit them at:
33 West Third Street • Williamsport, PA 17701 • 570.327.9527
Author: Naomi Elle Schwartz
Bio: Wedding Photographer | Coffee Adventurer | Local Life Photojournalist | Newlywed | Naomi Elle Photography