Posted by Naomi Elle Schwartz on 06/19, 2012 at 09:37 AM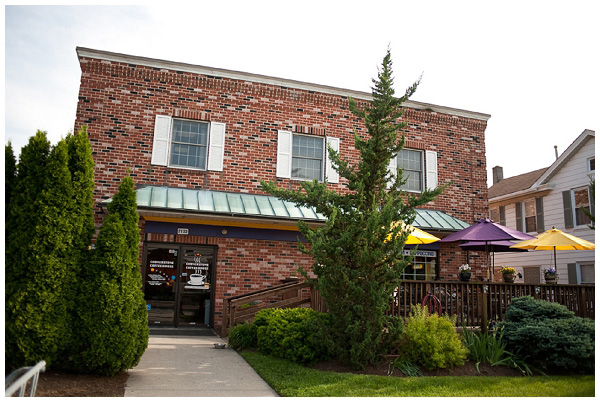 Located just across the river from Harrisburg, Cornerstone Coffeehouse offers a wide variety of food, drink, ice cream, and desserts. Correction: This place has a mind-boggling array of food choices.
Before we arrived, I visited the website and was fascinated by a panini called "The French Press." Roast turkey with tangy honey mustard, cheddar cheese and green apple slices. Grilled with baby spinach on sourdough. But alas, we missed the daily lunch specials. Sad faces all around.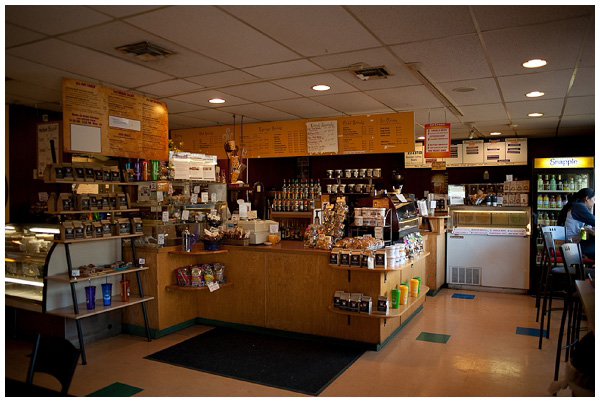 However, this place has creativity to spare in its menu choices, and a surprise awaited us through the back hallway. It's Cornerstone Culinary Kitchen—a private cooking instruction room. Elegantly decorated in the Tuscan style, this room plays host to cooking classes, intimate gatherings, and private parties. This is something I have not yet seen in any other coffeehouse. Bravo!
And now for the real reason we visit coffeeshops and cafes—it's coffee talk! For the first time ever on The Great Coffee Adventure, I was without my coffee-expert husband. He is the one who usually waxes eloquent about the nuances and individual strengths of each particular coffee offering, so forgive me if I am not as verbose as him.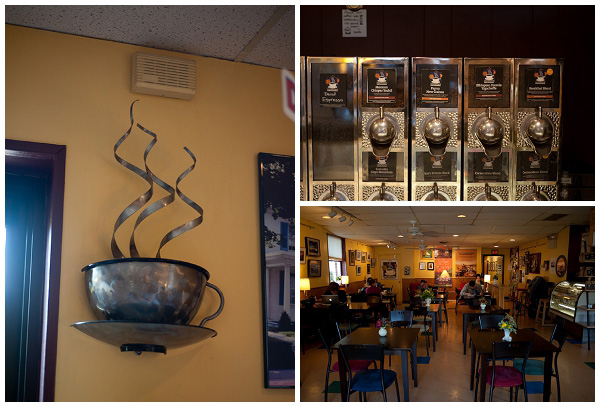 Cornerstone's espresso (at least to my over-sugared tongue) was very acidic. Acidic to the point of tasting sweet. Oxymoron, I know, but these are my tasting notes, and I'm sticking to it. The baristas paid special, serious attention to making their espresso, which is always impressive to me.
On the opposite side of the spectrum, if you're looking for a dessert drink without the overt-chocolateness of a regular mocha, order the White Ivory Mocha. Such a light touch and super creamy with measured sweetness. Seemed like a good drink for a study night in autumn.
On my way out the door, I ordered a cup of coffee. I went for the Breakfast Blend because honestly, after trying a double espresso, white mocha, and frappe, I was drinked out! I needed something enjoyable without too much bulk in my already-full stomach. The Breakfast Blend is (self-described by Cornerstone) as full-bodied with a medium-bodied smokiness that satisfies any time, day or night. Light roast for a light coffee drinker like me. Perfect for sipping on the long drive home.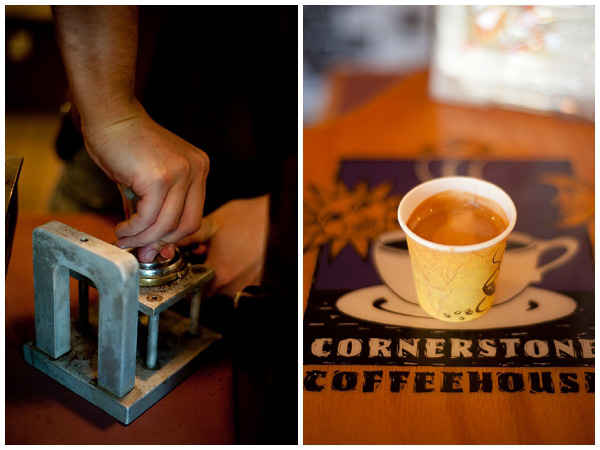 Hands down, BEST possible thing in this shop: Ghirardelli Double Chocolate Frappe. Almost as rich as a chocolate milkshake, but blended for a lighter mix. Perfect!
Cornerstone Coffeehouse's ambiance? Calm. Quiet. But not too quiet. People studying, snacking, talking, laughing, meeting friends, eating dessert, living life in the best way possible. If you stay until the weekend evenings (and I recommend that you do!), this place is always hopping with music and events.
2133 Market Street • Camp Hill, PA • (717) 737-5026
Visit their website and check them out on Facebook.
Author: Naomi Elle Schwartz
Bio: Wedding Photographer | Coffee Adventurer | Local Life Photojournalist | Newlywed | Naomi Elle Photography