Posted by Jamie Oberdick on 04/15, 2013 at 08:00 AM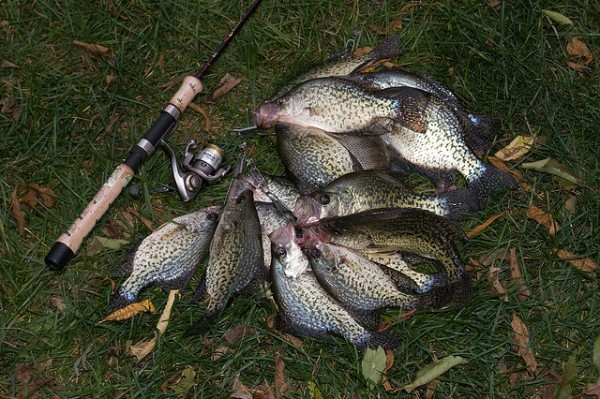 Saturday was the first day of trout season in Central Pennsylvania, and thousands of anglers hit Pennsylvania waterways in hopes of catching their own local food. While many fish for trout due to the fish's delicious flavor, there is another group of Pennsylvania fish that are as tasty and like trout are often caught in the spring - panfish. Panfish such as crappie, yellow perch, and bluegill may offer small fillets, but their sweet, mild flavor make them a welcome addition to the local food table.
Crappie, bluegill, and yellow perch are easy to catch, and the best time to catch these fish is right now. Since they are schooling fish, if you start catching one, you will likely catch more. They tend to be lake and pond fish, so you will find them in many local lakes or even farm ponds. Examples of where you can catch these fish include Sayer Lake at Bald Eagle State Park, Curwensville Lake in Clearfield County, and Walker Lake in Snyder County. The fish are scrappy and put up a surprising fight for their small size, so they are definitely fun to catch.
If you catch a mess of these fish (or if you don't fish are lucky enough to have a friend give you some), the natural thing to do is fillet them and have a fish fry. However, you might not want to deal with the messy oil and messy calories. No worries, you can still have a fish fry via your oven.
This recipe for oven-fried fish is tasty and lower in fat as it is baked with the only oil coming from a light coating of cooking spray. It's very simple and tasty, with a bit of zip from a taste of my childhood growing up 50 miles from Baltimore in York, PA—Old Bay seasoning,
Ingredients
2 lbs of panfish fillets
1 1/2 cups of flour
1 cup of yellow corn meal
2 teaspoons fresh ground pepper
1 tablespoon Old Bay seasoning
2 tablespoons dried parsley
2 eggs
1/2 cup milk
Cooking spray or other spray oil.
Directions
While panfish are a mild fish, I like to soak fish in milk for about 30 minutes, then carefully rinse the fish and pat dry. This eliminates fish smell and I think makes for a moist fish.
Mix all dry ingredients and separate equally into two plates. Beat eggs and mix with 1/2 cup milk in bowl. Set up on a table the following order: first flour/cornmeal plate, egg/milk bowl, second flour/cornmeal plate, baking sheet. Spray baking sheet with cooking spray to coat lightly. Dredge fillet in first flour/cornmeal plate, then dip in egg/milk mixture, then dredge fillet in second flour/cornmeal plate, then put on cookie sheet. Repeat until all fish is breaded.
Spray fillets with cooking spray. Put fish on middle rack in oven preheated to 375 for 15 minutes, then flip carefully and bake an additional 10 minutes, or until fish flakes easily.
Serve with local hot sauce, such as Grounds for Divorce from Red Hawk Premium Peppers in Reedsville or Habanero Peach from Sweet Heat Gourmet in State College.
Author: Jamie Oberdick
Bio: Editor, Local Food Journey | Passionate about supporting local food in Central PA