Posted by Jamie Oberdick on 09/03, 2013 at 12:16 PM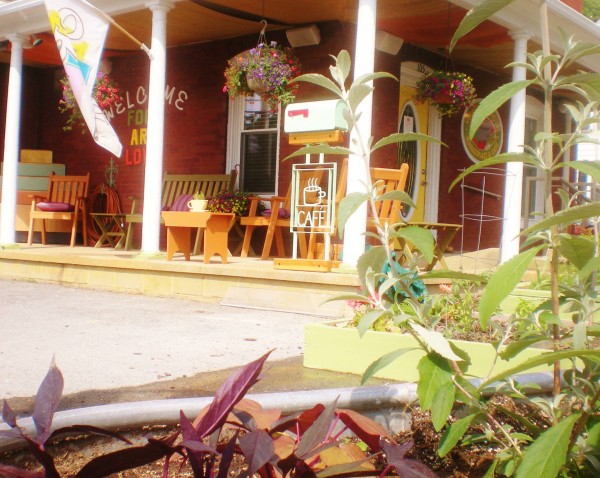 The Village Eatinghouse has a fairly long history as a stalwart of the central PA food scene. It was originally started in 1985 in Boalsburg by Clay and Melanie Phillips as a small restaurant and catering service. However, in 1996 they decided to focus solely on catering and their line of food products. Then in 2006, they focused on specialty food products and out of catering, but that changed in 2012. "We realized that our lives worked better for us and our marriage when we worked together and we decided to re-open the Village Eatinghouse in the town that we live in, Pleasant Gap, in early Sept of 2012," Melanie said.
Today, the Village Eatinghosue is a combination restaurant, catering business, specialty food market, and showcase for local artists. In the one year of their existence, they have become a must-go place for breakfast, lunch, or an early dinner. And local food certainly plays a part in their business. "The Marketplace and Cafe idea came about through our love of this area and its abundant local entrepreneurs producing everything from homemade salsa and jams to handmade arts and handicrafts," Melanie said. "We believe in the local economy succeeding by utilizing the local resources and supporting locally owned small businesses."
Those locally owned small businesses make up a big part of the ingredient sources in the restaurant food and specialty food products the Village Eatinghouse serves up. "We offer handmade soups, salads, sandwiches and desserts including amazing comfort foods. We source our meats from Rising Spring Meats in Spring Mills. Our specialty coffee is roasted for us by the folks at Standing Stone Cofffee Company in Spring Mills," Melanie said. "Our ice cream is made in Martinsburg at Ritchey's Dairy and we also offer Bonfattos' Spice Cream as an option. We offer Hartley's potato chips, Hank's Root Beer from Trevose, PA and A-Treat Sodas out of Allentown, PA. We use Fasta Pasta fresh and frozen raviolis. We use local honey, local jams, and hot sauces. Our fresh veggies are sourced from a farm in Centre Hall, The Garden, and also from our planting beds out front of our place. We make everything homemade and fresh for eat-in and take-out."
Those local ingredients produce some unique and tasty menu items. Their specialty sandwich and salad creations include the Thanksgiving Sandwich, a creation that feature in-house roasted turkey breast, cooper sharp cheese, horseradish, dried cranberries, mayonnaise, and lettuce on an onion kaiser roll; and the Happy Portobello Salad, featuring balsamic marinated portobello mushrooms, seasoned roasted vegetables, cucumber, tomato, red beet pickled egg, croutons, and roasted red peppers on a bed a fresh spinach and romaine, with their own Marvelous Poppy Seed Dressing.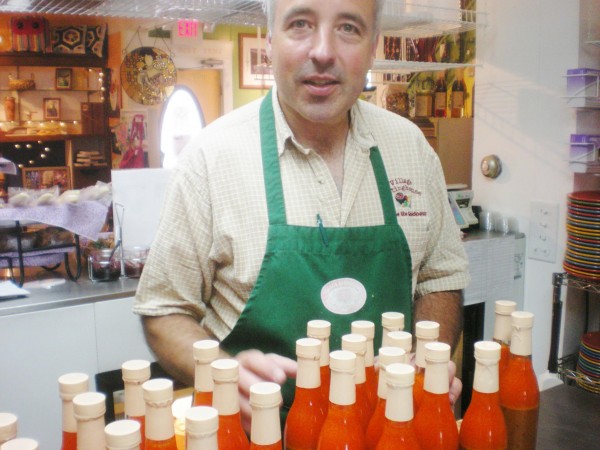 Co-Owner Clay Phillips with Village Eatinghouse's signature Sultry & Smoky Grilling and Glazing Sauce, freshly bottled and ready for labels.
You can enjoy this food in an atmosphere that is both artsy and homey in a way that is typical of many of the best eating places in central Pennsylvania. The art, in fact, is part of the attraction of the Village Eatinghouse. "We consign with more than 60 local artists to share their wares with our guests," Melanie said. "Everything from handcrafted jewelry and books to stained glass and woodworking, painting and photography, music, and fabric arts."
"We have had many local musicians play in our space for events and just for the heck of it. We will be featuring Biscuit Jam again for our one-year Anniversary Party on Sept. 7," Melanie added. "This band played for our Grand Opening last year and are excited to be back with us this year. Monica Brindle and friends will open for them that afternoon. We will have a local hula-hopper performing as well. Many of our artists will be set up in booths in our parking area offering a "mini-arts fest" to our guests."
After the Anniversary Party, there's another fun event coming up in October that's fitting of the season. The first Ghost Tour and Feast will be held Oct. 20. Attendees will enjoy autumn-style foods at the Village Eatinghouse, then join members of the local paranormal research group Nightwatch Paranormal and Jeff Frazier, author of the book Ghosts of Penns Woods. Traveling through Penns Valley and Nittany Valley, attendees will visit the Eutaw House, Swamp Church, R B Winter State Park, Harry Johns State Forest, and will end the evening at the Hublersburg Hotel for dessert, coffee, and a personal tour of the haunted Inn and tavern.
Author: Jamie Oberdick
Bio: Editor, Local Food Journey | Passionate about supporting local food in Central PA