Posted by Jamie Oberdick on 04/25, 2013 at 11:37 AM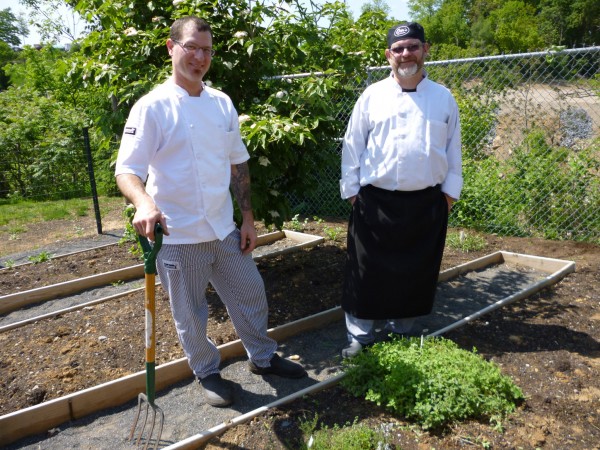 Otto's Pub and Brewery finds a lot of what they serve both on the plate and in the pub glass from local vendors, but one source can be best described as hyper-local—a couple of onsite gardens. These onsite gardens may entail some work—when I talked to Pete Herncane, head chef of Otto's, for this post he had just came in from weeding their garden—but they offer a source of very fresh herbs and vegetables for their local food menu.
"We have an herb garden that we keep back by our one parking lot," Pete said. "During the summer we are almost self-sufficient with herbs."
Along with the herb garden, they also grow some other things as well. "We are also growing some beans and hearty greens back there that we are going to using on our Wednesday vegen/vegetarian specials," Pete said.
They have even expanded a bit and got creative about where they garden, given their limited space. "We have a microgreen garden on the roof," Pete said. "We put that in last year."
A restaurant cannot be totally self-sufficient unless they have room for a full farm, which despite Otto's larger parking area and more space at their new location than their previous one, they don't. So, they start thinking about and planning what they will serve in spring and summer during the previous autumn, and work with their local partner farms.
"We sat down with farms, like Greenmore Garden and Tait Farm, in the fall and told them what we are looking for in our menu," Pete said. "We are looking for certain menu items for our vegan night that we do on Wednesday, stuff like that. Plus, throughout the season we are in contact with our local farms and vendors on a biweekly basis."
"We have a great relationship with Tait Farm," Pete added. "They have grown some special peppers for us and we buy so much lettuce from them that they put in a special patch for us."
For the seasonal menu items, they plan throughout a season on a regular basis to keep the specials they serve fresh and different. "Myself and my sous chef Steve Spanelli will have a brainstorm session every couple weeks, to get ready for the following weeks," Pete said.
Otto's has built a reputation for serving good food from lots of local sources, but they also use some local items during the brewing process for their tasty variety of beers. "Occasionally we use local hops, plus local honey and local elderberries have been used in various years," Pete said. "It just goes along with our local theme so we try to brew with local stuff when we can."
To see a complete list of Otto's local partners—way too many to list here—please go to their local food partner page.
Author: Jamie Oberdick
Bio: Editor, Local Food Journey | Passionate about supporting local food in Central PA