Posted by Jamie Oberdick on 08/07, 2014 at 08:42 AM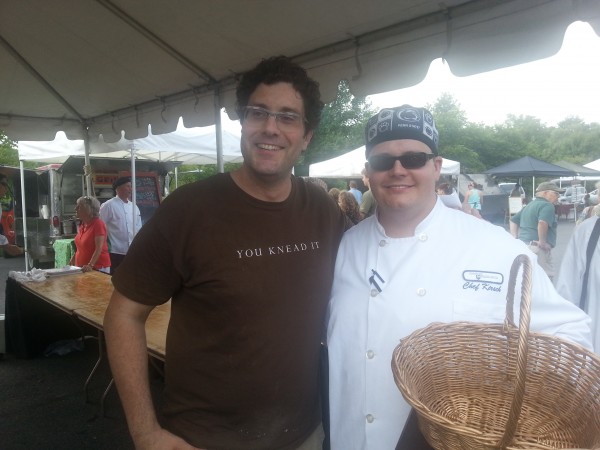 So, my only prior knowledge of guinea fowl was via a bait and tackle shop in rural Washington County, which I used to visit when I lived in Pittsburgh. No, they didn't use them for bait. There were a ton of the noisy things wandering around outside of the shop, and the reason they were there was apparently due to their propensity to control ticks by eating lots of them.
I tried not to think of my previous experience with the critters as Kirsch McMaster, a la cart sous chef at the Nittany Lion Inn, brought out a plate that featured a remarkable dish called "Guinea Fowl, Two Ways" to the judges' canopy at the annual Boalsburg Farmers Market Golden Basket Award, held Tuesday afternoon. I was one of the six judges seated under that canopy, joined by State College Magazine editor Kate Delano, State College Mayor Elizabeth Goreham, Health and Neighborhood Services Director Kevin Kassab, local food writer and Friends and Farmers Coop board member Michele Marchetti, and WPSU television producer and personality Patty Satalia.
By the time we got through the food brought to us by nine chefs, my dining companions and I were in what could best be described as a blissful food coma, but the Nittany Lion Inn efforts stood out enough through the flavor haze to win this year's Golden Basket. McMaster basically split the guinea fowl, from Cow-a-Hen farm, into a dark meat recipe and a white meat recipe.
The challenge with guinea fowl, McMaster noted, is it tends to be a tough bird. So, McMaster slow-cooked the guinea hen's leg and thighs in vacuum sealed bags in an interesting kitchen device known as a Sous Vide immersion circulator. The food is slowly cooked in this water bath, basically marinating the food in its own juices at the same time. For the white meat, he made roulades and stuffed them with spinach from Clan Stewart Farm, smoked ham and golden raisins. This was served over cheese grits and accompanied by baby leeks from Jade Family Farm that were poached in apple cider from Good Intent Cider, out of Bellefonte. As a gardener and home cook, I know how good baby leeks can be and this was a fine example of that.
As for what guinea fowl tastes like, I will not fall back on the old cliche, "it tastes like chicken." I found it to be more flavorful than chicken, and quite good.
McMaster's team clinched the Golden Basket prize with crepes stuffed with homemade ricotta from Byler Dairy goat milk, and a blueberry sauce made with Way Fruit Farm blueberries and wine from Bee Kind Winery. If I had an entire meal of this, I'd call it one of my favorite all-time dining experiences.
Other prize winners included:
- Bulldog Burger, Sean Kelly, Kelly's Steak and Seafood: This burger is named in honor of the volunteer firefighters with Boalsburg Fire Company, and it brings a nice level of heat via Hungarian wax peppers and Stone Meadow Farm Jalapeno Jack Cheese.
- Best Use of a Fruit or Vegetable, Craig Hamilton, The Village at Penn State: Chef Hamilton broke it down for us with a Deconstructed Peach Cobbler that featured fresh local peaches, pecans and local maple syrup. This was just a very nice summer dessert.
Best Vegetable Based Side, Zach Zorber, Penn State Altoona: Chef Zorber has impressed me two years in a row, this year with a prize-winning apple beet salad and these plain fantastic pickled zucchinis that has inspired me to try this with my surplus of zucchini from my garden.
Best Use of a Fried Ravioli, Harrison Schailey of Harrison's Wine Grill: Okay, this one wasn't a real award, but my fellow judges and I lobbied for Chef Harrison's inspired dessert to get an honorable mention after we finished his fried ravioli, peaches, and cinnamon sugar creation.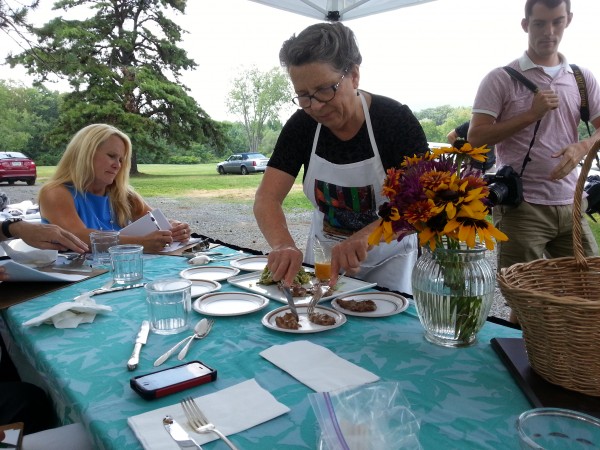 Local food writer, chef, and cooking instructor Anne Quinn Corr serving up the next taste to the judges.
Other fantastic tastes from the event that I will remember is a refreshing peaches, wine, basil, and honey cold soup from Gamble Mill Inn's Jonathan Forshey; an arugula, beets, and sun gold tomato salad from Fasta Pasta's Jeremiah McClanahan; a wonderful triple-threat of bison, beef, and eggplant parm sliders from Adam Sluzis and Brandon Gibboney from Foccia Luna; and a peaches and white wine shooter from Mark Johnson from Zola. But really, any of the dishes we tried would definitely not be sent back if we got them in a restaurant.
And I would be remiss if I did not mention the key role that Anne Quinn Corr, a Centre County food writer, cooking instructor, and chef, played in making the entire show run smoothly. Anne organized our plates and utensils, made sure chefs' dishes kept flowing to our table, dallied out the samples to each of us to ensure we got a true ratio of items in each dish, and finally really helped as a sounding board/unofficial sixth judge, which Patty Satalia noted to us.
To me the two goals of the event are to showcase our local chef talent, and to inspire the community to use farmers market ingredients to up the game in Central Pennsylvania kitchens. I know it has inspired me. Now, off to find some guinea fowl.
Author: Jamie Oberdick
Bio: Editor, Local Food Journey | Passionate about supporting local food in Central PA