Posted by Jamie Oberdick on 03/13, 2015 at 12:00 PM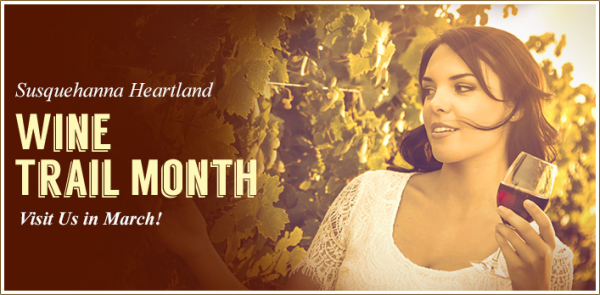 Here are some local food notes for March 13:
Bellefonte Farmers Market has vendor openings: The Bellefonte Market has openings for dairy and meat vendors. The season begins in late April and runs through October. Contact Lois at .(JavaScript must be enabled to view this email address).
Lemont Farmers Market Vendor Openings: The Lemont Farmers Market has a new manager, Anna Kochersperger. There are still vendor openings for this season, which begins on May 20. Fees have been lowered, and there is an option for vending one Wednesday a month. Email .(JavaScript must be enabled to view this email address) for an application.
Pennsylvania CSA guide: Can't make up your mind about what CSA to choose, or just needing to find one? The Pennsylvania Association for Sustainable Agriculture (PASA) has a handy guide that lists lots of Pennsylvania CSAs, including those in our area: http://pasafarming.org/resources/pennsylvania-csa-guide.
Susquehanna Heartland Wine Trail continues in March: The Susquehanna Heartland Wine Trail (SHWT) was founded in 2003 when five wineries located near where the Susquehanna River and the Juniata River tributaries joined together to market their unique region of Pennsylvania. The SHWT has grown to included 13 wineries. As grape growers and wine makers, the SHWT benefits from the unique soil and climate of this region which produces a variety of award-winning wines. Our region offers a slice of Americana with its small town atmosphere and affinity for local business promotion. Enjoy a long weekend or a short day trip by jumping from winery to winery, all while shopping in between to explore local restaurants and shops. Tickets to this annual, month-long event in March are $20 per person and can be purchased at any of the participating wineries. Wineries provide wine tastings daily, and some provide food and entertainment on the weekends. There are also opportunities to win prizes. Click on the link above to learn more.
Author: Jamie Oberdick
Bio: Editor, Local Food Journey | Passionate about supporting local food in Central PA