Posted by Jamie Oberdick on 04/11, 2013 at 10:30 AM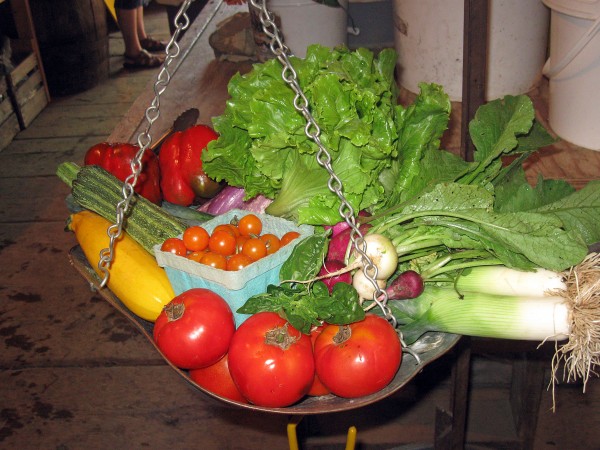 Participating in Community Support Agriculture - you probably know it as a "CSA" - is a lot like subscribing to a farm like you might a newspaper or magazine. You buy a subscription, or as it is better known, a share, at the beginning of the year. This helps participating farms, as they can establish their operating budget for the year, and gives the farm a known market for the produce, meat, eggs, dairy, etc. that their farm will produce that year. In turn, people with CSA shares get a regular source of the best food their local farm can offer. So, how do CSA farms manage this system? How do they plan the growing season and work with the community each year to give them a bounty each week or month? To find out, I talked to Kim Tait of Tait Farms.

"As far as planning our planting, we have a standard set of veggies that we expect to offer people," Tait said. "You need to be constantly planting to ensure you have enough food on a weekly basis."
Tait Farm plants a balanced list of what people want, and some interesting things that one might not find at a regular supermarket. "For example, we grow some exotic things like different Asian greens, dragon's blood carrots, those sorts of unusual vegetables," Tait said.
CSA subscribers enjoy finding new things to try but how do people know what to do with something they've never seen before in a market? Tait Farm offers a helping hand with recipes, suggestions, and other information on their site and in their weekly email to subscribers. For example, Tait said, people often have no idea what to do with kohlrabi but last year they offered the community several ideas on how to use this tasty and unusual vegetable.
As for what they have to offer right now in early spring, Tait sums it up by simply calling it a "roots and shoots time of year." For the roots part, they offer rutabagas, carrots, potatoes, and the ugly-as-sin-yet-delicious celeriac. The "shoots" refer to the greens they grow in their high tunnels, such as lettuce and spinach. This can vary depending on weather. "This year's spring is much much different than last year's spring," Tait said.
The full share for Tait Farm CSA subscribers is year-round, bi-weekly, so Tait Farm really does have to plan carefully to make sure they have enough good produce to go around. "We have to stagger the plantings, both in the greenhouse and our direct soil planting," Tait said. "Plant what we think we'll need plus 50 percent more, just in case anything happens. You have to play it safe in farming."
As a certified organic farm, keeping organic adds to the challenge of farming but they use different methods to control pests and weeds. For example, Tait said they cover rows with black plastic to keep weeds in check.
While many CSA subscribers have their share delivered to them, at Tait Farm they do it a bit differently. People come out to Tait Farm to pick it up, and often bring the entire family for a visit to the farm. Along with vegetables, they often offer their prepared foods such as chutneys and preserves, especially in the winter. To sign up, Tait recommends people call them, come to the farm, or visit their website.
Along with Tait Farm near Boalsburg, there are plenty of other CSA's scattered across central PA. You can find CSA's and other farms via Local Harvest's web site. They have a handy search function where you enter your location, and choose "CSA" and hit "search." There is also another CSA list to be found here.
Author: Jamie Oberdick
Bio: Editor, Local Food Journey | Passionate about supporting local food in Central PA