Posted by James Gherardi on 10/14, 2010 at 06:30 PM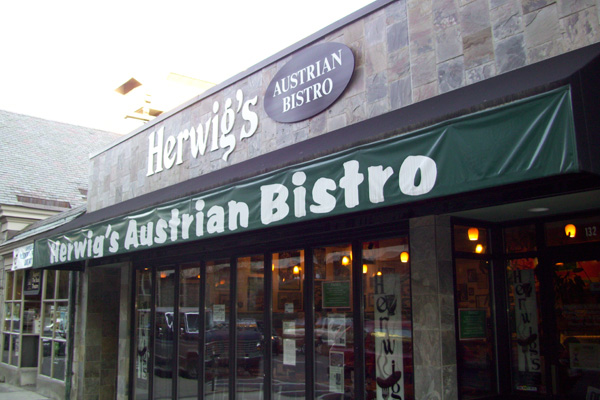 I've passed Herwig's Austrian Bistro on College Ave. at least a hundred times and never considered going inside. Then a friend told me the food is unbelievable. So, the other day, my brother and I finally decided to give it a shot.
Herwig's in State College offers extreme authenticity in their food. All menu items are classic German and Austrian favorites like Wienerschitzle and Bratwursts. The restaurant encourages strangers to sit together at long dining tables, and the décor makes all who venture inside feel welcome. The owners expect all customers to immerse themselves in the Austrian experience by pronouncing menu items in their best German accents. When diners don't finish what's on their plates, they are spanked with a four-foot wooden paddle—which is common, considering the portions are enormous. And beware, all menu items are cooked fresh daily and are made in batches—when they run out of food, they close for the day. To be sure they will have food when you arrive, it's best to call ahead.
My brother and I wandered in around 7pm and were fortunate enough to find that most menu items were still available. The menu—an enormous chalkboard to the right of the cash register—is the only list of food from which you can order. Take your time, read everything carefully, and make sure you know what you're asking for. All items must be ordered in German. Do your best and the owner, Bernd Brandstatter, who works the register and takes orders, will be pleased.
I decided on the Rosmarin Schweinsbraten: two thick slices of pork loin, flanked by sauerkraut and a potato dumpling. My brother went with the Bauernschmaus: a platter featuring one slice of the same pork loin, a bratwurst, sauerkraut, and a potato dumpling. We seemed to do pretty well; Bernd said we had excellent pronunciation.
Bernd told us our food would be ready in a few minutes and to take a seat at one of the communal dining tables. After no more than five minutes (not nearly enough time to finish the conversation we had initiated with our table mates), our immense portions arrived piping hot and looking unbelievably delicious. We dove right in.
The pork was sweet and juicy, and the sauerkraut—a far cry from the canned version we are all so accustomed to—had thick chunks of cabbage. My brother's bratwurst was different from any sausage I've tasted before. The natural casing was crisp and gave a nice snap when it was cut into. It was packed with big chunks of pork and coarsely ground spices. A cross-section of the sausage showed large pieces of meat and spice; nothing like the bland, monotone factory-made sausages that inundate supermarkets here in America. It was perfectly paired with a whole-grain, spicy mustard. There was plenty to eat, but my brother and I had little trouble finishing what was on our plates—Mom always said we were great eaters. As we sat awhile, digested, and talked, we pondered dessert, but soon realized we had zero room left for anything more.
The dining experience at Herwig's is a unique one, certainly different than any other in State College. The owners clearly have a commitment to providing diners with fresh fare and change the menu daily according to available ingredients. The staff loves what they do and tries to give customers as authentic of an experience as possible. I have never been to Austria, but I can only imagine that the food there is much like that at Herwig's.
Author: James Gherardi
Bio: James is a senior at Penn State majoring in broadcast journalism. He spent spring 2010 in Rome, and this past summer he worked for the NBC Washington Bureau in Washington, D.C.