All Posts including "pie"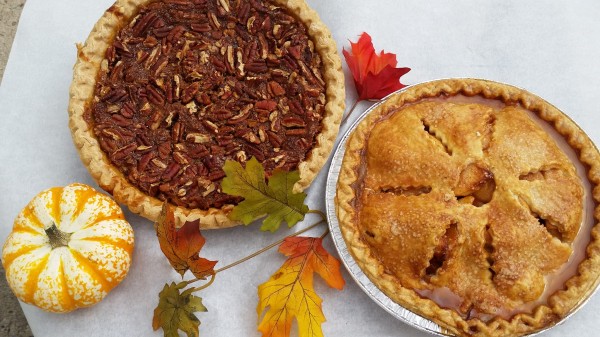 Time to dust off that amazing apple pie recipe you have stashed away for special occasions, because Way Fruit Farm is hosting its annual Apple Pie Contest on Saturday. Judging will begin at 10:30 a.m.
Entries may be dropped off at Way Fruit Farm on Friday during normal business hours (8 a.m. to 7 p.m.) and Saturday by 10 a.m. The event is sponsored by First National Bank.
Continue Reading: Attention all bakers: Way Fruit Farm Apple Pie Contest is this Saturday
Posted by Jamie Oberdick on 10/26, 2017 at 10:59 AM
Tags: applepie | WayFruitFarm |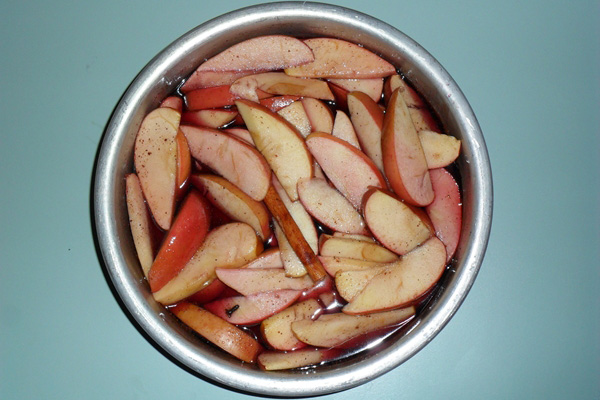 After everyone finishes their seconds tomorrow at the Thanksgiving table, you always have to make some room for dessert. After all, dessert is as much a part of the Thanksgiving spread as the turkey.
Back in late October, Way Fruit Farm held their annual Apple Pie Contest. I had the honor of judging around a dozen excellent entries and it was very difficult to decide on a winner. After the contest, I thought to myself, any of those pies would be perfect at Thanksgiving. So, I figured I'd share a few examples of the wonderful pies I sampled.
The winner, Jamie Liner of Port Matilda, and a runner up, Cathy Cohan of State College, were gracious enough to offer their apple pie recipes for you to use if you decide to bake an apple pie for Thanksgiving dessert. Enjoy!
Continue Reading: Winning (literally) apple pie recipes for Thanksgiving
Posted by Jamie Oberdick on 11/26, 2014 at 03:12 PM
Tags: applepie | recipe | Thanksgiving |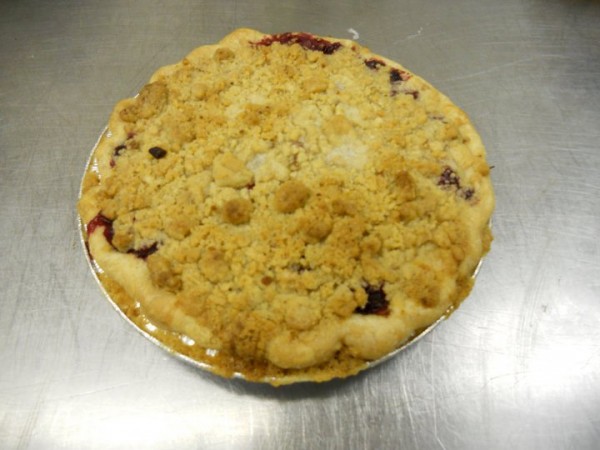 Gemelli Bakers has made a name for itself by baking wonderful bread. However, they also make some fantastic desserts. Gemelli is not as well known as a source for great baked desserts, but more and more people in the area are becoming aware of the sweet goodness that they offer at their downtown State College location, or at area farmers markets.
"We've been making desserts from day one," said Tony Sapia, owner of Gemelli Bakers. "A few examples of what we bake include Italian cookies like biscotti and macaroon, American-style cookies like oatmeal raisin and chocolate chip, apricot fruit bars, pies…there's quite a list."
Continue Reading: Sweeten up the holidays with desserts from Gemelli Bakers
Posted by Jamie Oberdick on 12/18, 2013 at 05:00 PM
Tags: Christmas | holidays | Gemelli | dessert | cake | pie | cookies |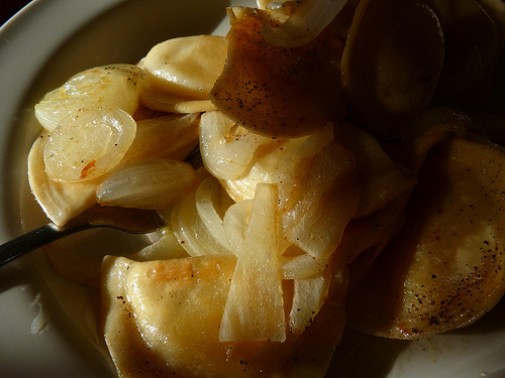 When I was but a wee lad…okay, who am I kidding I was never a wee lad. How about…when I was a young child my grandmother used to make pierogi by the dozens. She would make potato and cheese, sauerkraut, ones stuffed with meat, and even dessert ones. Being the ever inquisitive child I was (okay, okay, being the pain in the neck, nosy, kid that I was) I always wanted to help.
Finally, when they thought I was old enough, they put me on filing duty. I was supposed to place one heaping spoon of filling in the middle of each pierogi shell. Well, after the initial "one spoon for the shell, one for me" method I actually managed to do about two dozen pierogi. With my ever expanding stomach and boredom, the filling wasn't quite in the middle anymore but I was still working at it.
After another dozen, I came to realize this was more like work than play and didn't want to do it anymore. My grandmother made me stay and finish the job. I got the lecture about not starting something unless I was willing to finish it. I still have lesson ingrained into me.
Continue Reading: Pierogi memories, plus great potato and cheese pierogi recipe
Posted by James Sechrengost on 09/18, 2013 at 01:07 PM
Page 1 of 1 pages