All Posts including "pasta"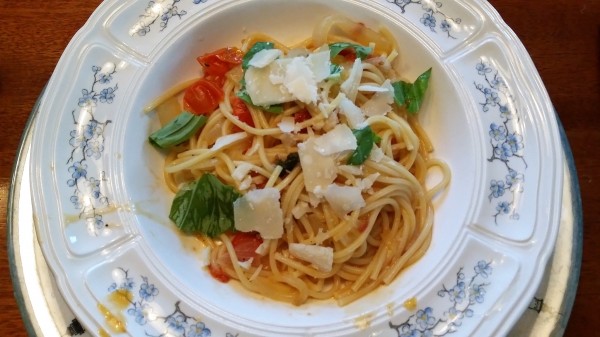 When you prepare for a beach vacation, there are so many things to think about that often, you are not thinking about that first meal you will eat when you arrive. You just tell yourself, "we'll just run to a restaurant or grab a pizza and take it to the house." Yes, a restaurant with your favorite fresh crab cakes or flounder! That's it!
But then reality hits—everyone is happy by the time you ditch the traffic and smell that sea breeze, but everyone is also ravenous! Waiting time for a meal at a restaurant will not work for little people who have been done with the day before dinner arrives. Even waiting for a pizza seems too long. What to do?
Continue Reading: A quick meal at the shore
Posted by LacCreta Holland on 08/02, 2017 at 11:29 AM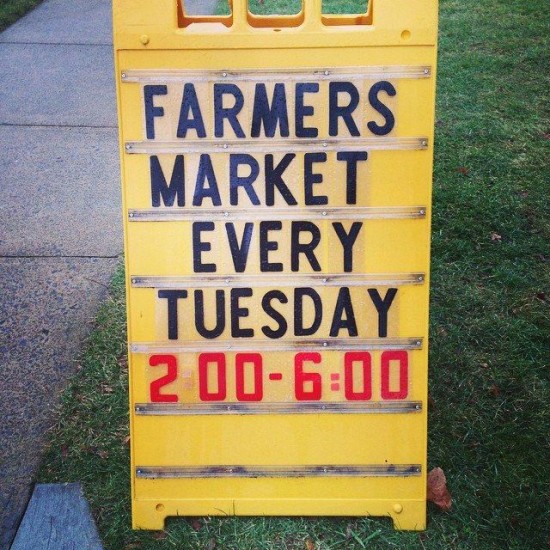 Farmers market season never really ends in Central Pennsylvania, it just shifts to a different season. The Millheim Farmers Market, Boalsburg Farmers Market, and the State College Farmers Market are all open until the opening of the "regular" summer farmers market hours.
They are, of course, all indoor, so you won't have to worry about braving snow and bitter winds. Like in the spring and summer, I find it definitely a good idea to plan out your trip and perhaps look for ingredients for a specific recipe.
This particular recipe is for a tasty Greek-style pasta bake that is quite good with some Gemelli Bakers bread on a cold night. This recipe includes ingredients from Boalsburg Farmers Market vendors.
Continue Reading: Warming greek-style pasta bake uses Boalsburg Farmers Market ingredients
Posted by Jamie Oberdick on 02/03, 2015 at 01:35 PM
Tags: recipe | farmersmarket | pasta |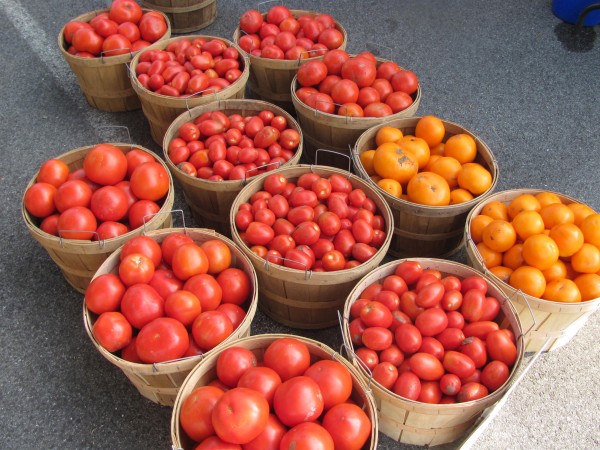 Summer is still producing my favorite veggies, but with a nip in the air, not for much longer! I shopped at the Tuesday Farmers Market in Boalsburg this week and found very good prices on the last tomatoes of the summer. I don't look forward to winter, so a basket of tomatoes right now really makes me smile. There are lots of ways I want to use them, now and in the future.
I like to use them fresh in pasta dishes. This angel hair pasta is mixed with grilled shrimp. Garlic and tomatoes sauteed in a couple of tablespoons of olive oil are added and a handful of julienne basil are mixed in. A very fresh tasting pasta for the end of the summer.
Continue Reading: Recipe: Roasted tomatoes offer a tasty way to say farewell to summer
Posted by Local Food Journey on 09/18, 2014 at 03:09 PM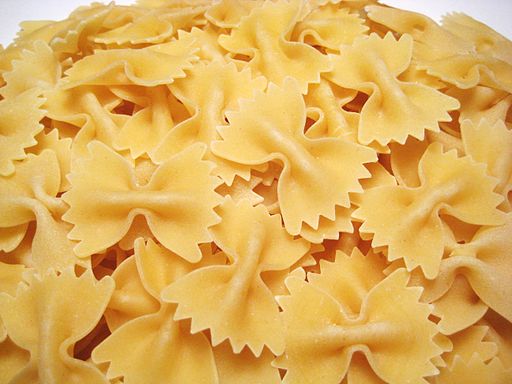 Pasta has to be one of my true passions. I love it in all the shapes and forms it takes, from the lowly elbow macaroni to the lasagna noodle. Maybe this is because when I was small child we lived in a neighborhood that was predominantly made up of people of Italian descent. All my neighbors, including the parents of the kids I played with, introduced me to pasta at an early age. I learned all the wonderful things that you could do with pasta from the mighty lasagna to simple, yet elegant, fettuccini carbonara.
One of my favorite and fun pastas has to be the farfalle or bow tie pasta. It is firm and holds up well to cooking and has many hidden creases to hold on to the sauce. I love this pasta for different pasta salads as it holds up to being in dressing for hours without losing any of its chew and texture. Below is a recipe for kale and pasta salad that I hope you will enjoy.
Continue Reading: The perfect summer side: kale and pasta salad
Posted by James Sechrengost on 07/09, 2014 at 12:11 PM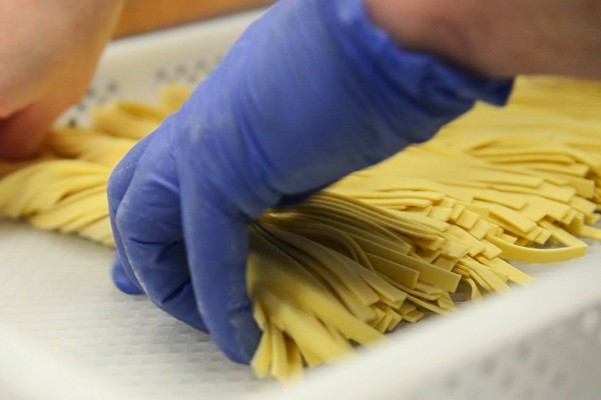 Dejay Miller, the pasta maker at Fasta & Ravioli Co., talks about the difference between supermarket and fresh pasta. Fasta & Ravioli Co. offers a variety of pasta types and flavors for easy meals.
Continue Reading: Local Food Video: Fasta & Ravioli Co.
Posted by Jessica Paholsky on 07/26, 2013 at 12:16 PM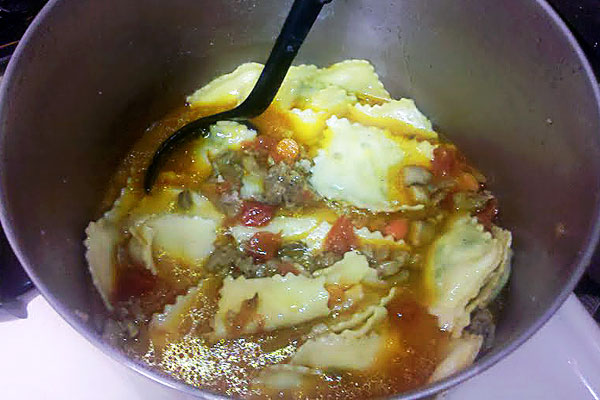 There's nothing more satisfying than a tasty soup to warm up a cold, snowy day. This flavor-packed soup will definitely do the trick, not to mention, it's very simple to make!
Continue Reading: Ravioli Soup
Posted by Christina Barkanic on 02/03, 2011 at 04:54 PM
Tags: recipe | winter | pasta | carrots | mushrooms | garlic |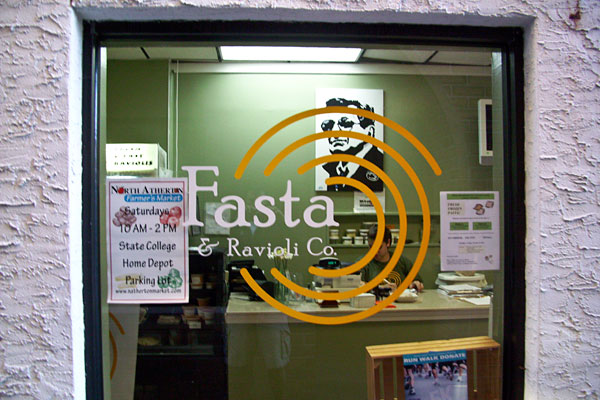 Almost a year ago, Bob Ricketts brought a new business to State College: a fresh ravioli and pasta shop. Today the Penn State alum and owner of Fasta & Ravioli Company caters to a surprisingly large niche market of students and locals. Ricketts offers customers homemade pasta and ravioli and a selection of sauces like tomato, vodka, and pesto. Products are available at the South Fraser Street storefront and at farmers markets and restaurants, as well. "Fast and Fresh" is the mantra here, a motto that Bob lives by. He was eager to share his story with me.
Continue Reading: Fasta & Ravioli Company in State College
Posted by James Gherardi on 09/17, 2010 at 03:06 PM
Page 1 of 1 pages