All Posts including "cheese"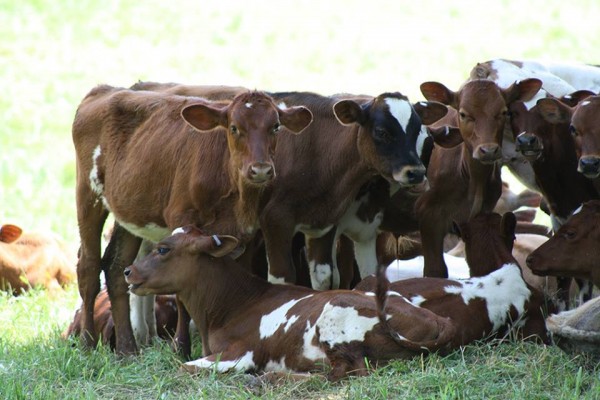 You might love cheese, but do you know how it's made? Ever wonder how the process goes that changes milk into delicious cheese, and how that process is done safely?
Our local food pals over at Friends & Farmers Cooperative recently visited Clover Creek Cheese Cellar LLC down in Morrison's Cove region of Blair County, and posted a photo essay that gives you a behind-the-scenes peek of the cheese making process from cow to counter.
Continue Reading: Friends & Farmers Cooperative finds out how the cheese is made
Posted by Jamie Oberdick on 06/28, 2016 at 12:52 PM
Tags: Friends&FarmersCoop | cheese | CloverCreek |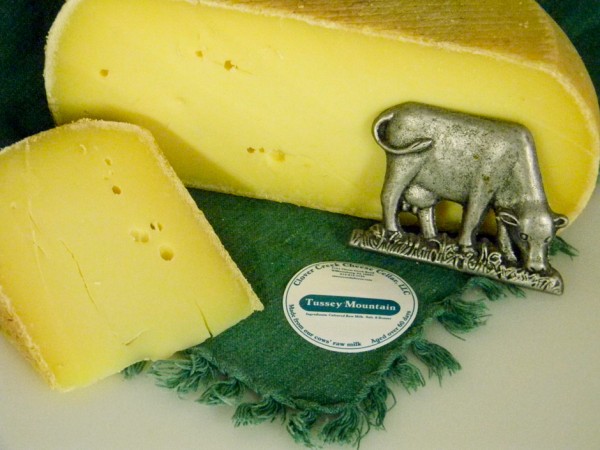 The comic Eddie Pepitone has a bit where he is complaining about how the hipsters have taken over his beloved Brooklyn, and laments that there's places like artisan peanut butter and jelly and artisan toasted cheese restaurants. After ranting about ridiculous the concept of artisan kid's food is, the punchline is that they're just so delicious.
While State College doesn't have an artisan toasted cheese cafe (yet), you can get your hipster on at home with a local food version of grilled cheese that is definitely not kids stuff. Think of it as grilled cheese, grown up. All the ingredients can be found at local farmers markets.
Continue Reading: DIY hipster-style artisan grilled cheese
Posted by Jamie Oberdick on 05/12, 2015 at 12:21 PM
Tags: recipe | grilledcheese |
Spring is here! (Sort of) While the weather has been chilly and even occasionally snowy, consistent mild weather will be here soon enough. While we are still over a month away from outdoor farmers market season, the indoor farmers markets in State College, Millheim, and Boalsburg are still operating. In fact, some signs of spring such as early season greens are starting to show up, including perhaps the ultimate spring green, spinach.
This recipe pairs spinach with other items you might find at a farmers market this time of year. Frittatas are an easy meal to make and are delicious for any meal, especially a weekend brunch. This frittata combines ham, smoked gouda, and spinach to make for a tasty and quick meal.
Continue Reading: Spring farmers market frittata
Posted by Jamie Oberdick on 03/24, 2015 at 11:45 AM
Tags: recipe | farmersmarket | eggs | cheese | spinach |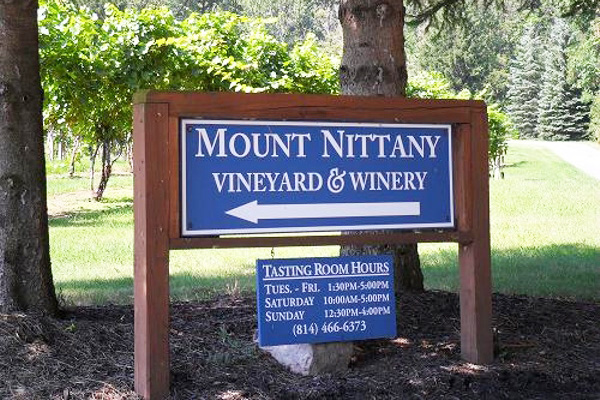 To celebrate June as "National Dairy Month," Mount Nittany Vineyard and Winery will host free wine and cheese tastings every Saturday in June from 12 noon until 5pm.
On Saturday, June 7, local cheese artisan Stone Meadow Farm will be available in the winery tasting room to provide samples and sales of their products. Stone Meadow raises milking and beef cattle in the beautiful pastures of Centre County, Pennsylvania. Their cheeses are made directly on the farm from fresh, whole unpasteurized milk which is dense with nutrients due to their farming practices and breed of cows. Stone Meadow makes a variety of hard cheeses: Cheddar, Swiss, Colby and Jalapeno Jack. In addition, seasonally they offer soft cheeses such as Camembert and Taleggio, as well as smoked cheeses.
Continue Reading: Wine and cheese tastings, every Saturday in June at Mount Nittany Vineyard and Winery
Posted by Linda Weaver on 06/04, 2014 at 02:41 PM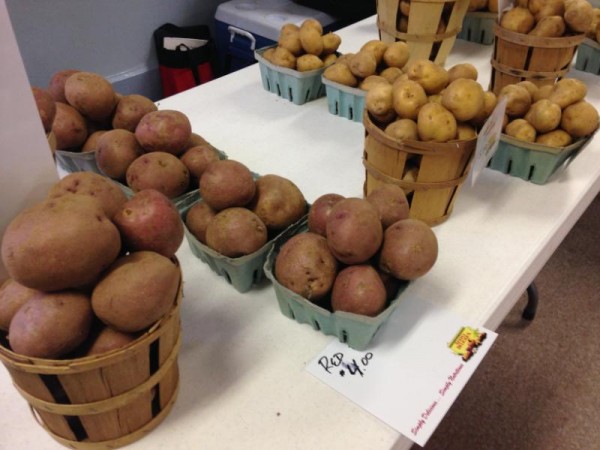 Winter certainly takes a toll on us here in Happy Valley. From below freezing temperatures to painfully bitter winds, winter weather conditions require us to adapt and prepare accordingly. While you may think that the months of December through March leave local farmers with little to harvest, this is not the case. In fact, farmers throughout Centre County are finding innovative ways to grow vegetables during the winter months, despite the chill that would typically inhibit certain plants to grow. Plus, you don't have to look far to find these vegetables available to you, for they're being sold every Tuesday at the Boalsburg Farmers Market!
Continue Reading: Taking it inside: Boalsburg market sets up shop in St. John's Church in winter months
Posted by Jordan Reabold on 02/06, 2014 at 02:03 PM
Tags: BoalsburgFarmersMarket | CloverCreekCheese | BeilerFamilyFarm |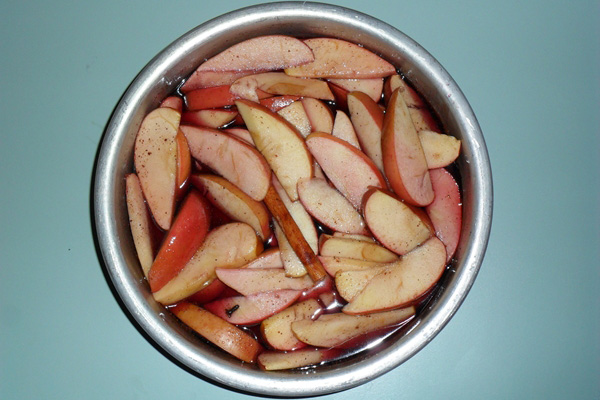 When you live in Southern California you start to miss some of the things from home. The thing I missed the most was the seasons. So-Cal had two seasons Hot and less hot. For the winter season they had some cooler days with occasional rain. So for Spring we had green. For summer it was brown. For fall more brown. Winter was brown and dreary.
Don't get me wrong, you don't have to shovel sunshine, so, I was happy for the most part. I did miss fall though. I love fall with its brilliant colors and cooler temperatures. It also has my favorite holiday, HALLOWEEN! Now I like the things that become available in fall for making pies such as apples, pears, sweet potatoes, and pumpkins. As you can imagine fresh apples were hard to find.
One day a friend of mine and I were talking about food, of course, when she asked me if I had ever been to Yucaipa. The blank look on my face must have told her everything she needed to know. So the next weekend she drove me over to Yucaipa, CA. Now Yucaipa has grown a lot since but back then they had apple orchards and had a fall festival celebrating apples. I was in my glory. Here was a place close by that had not only apples but seasonal leaf changes. For her help in finding this gem of the high desert I made her my Apple Cheesecake. I have included my recipe below but when ever I look at an apple my mind drifts back to that high desert city and it's hidden treasure.
Continue Reading: Fall recipe of apple cheesecake takes memory back to California high desert town
Posted by James Sechrengost on 10/21, 2013 at 12:28 PM
Tags: recipes | recipe | apple | cheesecake | fall |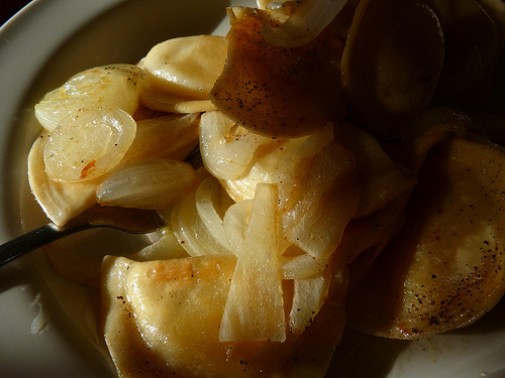 When I was but a wee lad…okay, who am I kidding I was never a wee lad. How about…when I was a young child my grandmother used to make pierogi by the dozens. She would make potato and cheese, sauerkraut, ones stuffed with meat, and even dessert ones. Being the ever inquisitive child I was (okay, okay, being the pain in the neck, nosy, kid that I was) I always wanted to help.
Finally, when they thought I was old enough, they put me on filing duty. I was supposed to place one heaping spoon of filling in the middle of each pierogi shell. Well, after the initial "one spoon for the shell, one for me" method I actually managed to do about two dozen pierogi. With my ever expanding stomach and boredom, the filling wasn't quite in the middle anymore but I was still working at it.
After another dozen, I came to realize this was more like work than play and didn't want to do it anymore. My grandmother made me stay and finish the job. I got the lecture about not starting something unless I was willing to finish it. I still have lesson ingrained into me.
Continue Reading: Pierogi memories, plus great potato and cheese pierogi recipe
Posted by James Sechrengost on 09/18, 2013 at 01:07 PM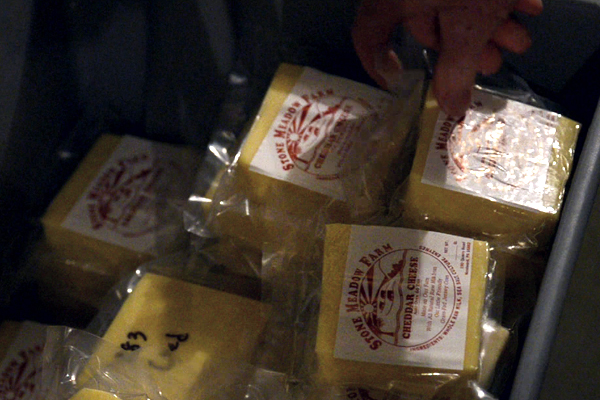 Brian Futhey talks about how his method of making cheese benefits him and his cows. Stone Meadow Farm uses seasonal farming to produce raw milk cheeses.
Continue Reading: Local Food Video: Stone Meadow Farm cheese
Posted by Jessica Paholsky on 07/19, 2013 at 12:12 PM
Tags: video | StoneMeadowFarm | cheese |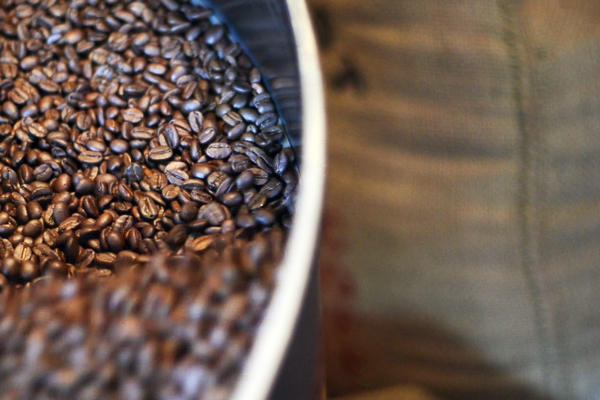 Bill Clarke talks about the importance of understanding the process of coffee production, from the country where beans grow to the coffee mug. The Cheese Shoppe, named after its original product, allows customers to see the roasting process while serving themselves to a selection of flavors from around the world.
Continue Reading: Local Food Video: The Cheese Shoppe—Locally roasted coffee beans from afar
Posted by Jessica Paholsky on 06/28, 2013 at 02:55 PM
Tags: CheeseShoppe | cheese | video |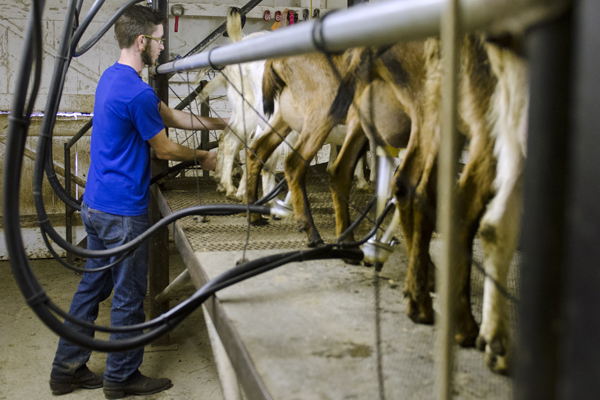 Local Food Journey is pleased to announce that Penn State student and WPSU Multimedia Intern Jessica Paholsky will be producing videos for us that will cover a variety of local food topics, places, businesses, and more. These will generally run every Friday. The first one looks at a few of the challenges of being a goat dairy farmer with Three Belle Cheese General Manager Darren Rhyne.
Continue Reading: Video: Three Belle Cheese…Milking past financial and cultural limits
Posted by Jamie Oberdick on 05/31, 2013 at 04:59 PM
Tags: ThreeBelleCheese | goats | video | JessicaPaholsky |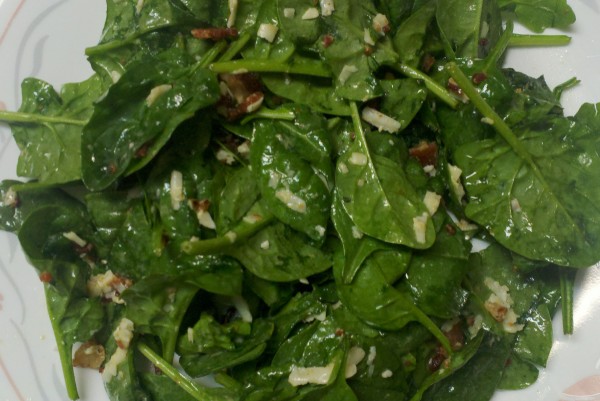 I didn't care how many times Popeye beat Bluto after downing a can of spinach, as a kid I just plain HATED spinach. But as my culinary horizons broadened as I grew up, I quickly learned that spinach didn't have to be a lifeless splatter of lumpy green on a plate. In fact, spinach has become my favorite salad green, and since it is a spring crop, we are in spinach season here in Central Pennsylvania.
Continue Reading: Recipe: Spinach salad with bacon and smoked cheese
Posted by Jamie Oberdick on 04/29, 2013 at 03:41 PM
Tags: recipe | spinach | cheese | bacon | HogsGalore | Gemellis | GootEssa | StarHollowFarm | GreenmoreGardens |
Page 1 of 1 pages