Posted by Jamie Oberdick on 11/26, 2014 at 03:12 PM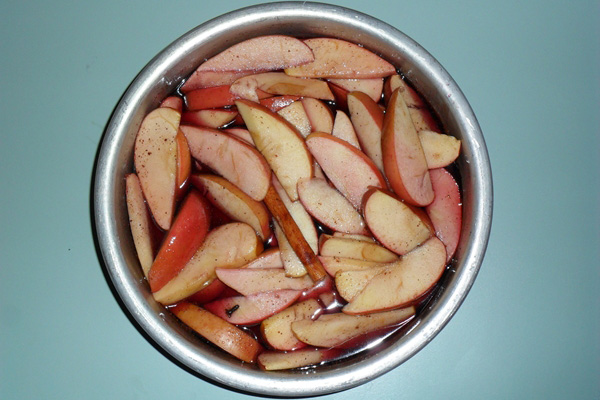 After everyone finishes their seconds tomorrow at the Thanksgiving table, you always have to make some room for dessert. After all, dessert is as much a part of the Thanksgiving spread as the turkey.
Back in late October, Way Fruit Farm held their annual Apple Pie Contest. I had the honor of judging around a dozen excellent entries and it was very difficult to decide on a winner. After the contest, I thought to myself, any of those pies would be perfect at Thanksgiving. So, I figured I'd share a few examples of the wonderful pies I sampled.
The winner, Jamie Liner of Port Matilda, and a runner up, Cathy Cohan of State College, were gracious enough to offer their apple pie recipes for you to use if you decide to bake an apple pie for Thanksgiving dessert. Enjoy!
Jamie Liner's recipe:
Crust:
2 cups flour
2/3 cup Crisco
½ tsp salt
Approx. 8 Tbsp. Water
Using a pastry blender combine flour, salt, and Crisco. Add water until moistened to form a ball.
Filling:
6-8 apples
1 cup sugar
1 tsp. cinnamon
2 heaping Tbsp. flour
Toss until combined
Bake at 425 for 15 minutes, reduce heat to 350 and bake an additional 45 minutes.
Cathy Cohan's recipe
Classic Apple Pie (adapted from Baking Illustrated)
1 recipe Basic Pie Dough
2.5 cup all purpose flour, plus more for dusting work surface
1 tsp salt
2 Tbsp sugar
½ cup vegetable shortening, chilled
12 Tbsp cold unsalted butter, cut into ¼ inch pieces
6-8 Tbsp ice water
Pie Dough
1. Process four, salt, and sugar in a food processor until combined. Add the shortening and process until the mixture has the texture of course sand, about 10 seconds. Scatter the butter pieces over the flour mixture; cut the butter into the flour until the mixture is pale yellow and resembles coarse crumbs, with butter bits no larger than small peas, about ten 1-second pulses. Turn the mixture into a medium bowl.
2. Sprinkle 6 Tbsp of the ice water over the mixture. With a rubber spatula, use a folding motion to mix. Press down on the dough with the broad side of the spatula until the dough sticks together, adding up to 2 T more ice water if the dough will not come together. Divide the dough into 2 balls and flatten each into a 4-inch disk. Wrap each in plastic and refrigerate at least 1 hour, or up to 2 days, before rolling.
Filling
2 Tbsp all-purpose flour, plus more for dusting work surface
3 large Granny Smith apples (~ 1.5 pounds) I used Northern Spy apples
4 large McIntosh apples (~ 2 pounds) I used Golden Delicious
1 Tbsp juice and 1 tsp grated zest from 1 lemon
¾ cup plus 1 Tbsp sugar
¼ tsp nutmeg
¼ tsp cinnamon
1/8 tsp ground allspice
¼ t salt
1 egg white, beaten lightly
Pie prep
1. Heat oven to 500 degrees.
2. Roll out dough on floured work surface to a 12-inch circle. Transfer dough to 9-inch pie pan. Refrigerate dough-lined pan.
3. Peel, core, and slice the apples. Toss the slices with the lemon juice and zest. In a medium bowl, mix ¾ cup of the sugar, the flour, spices, and salt. Toss the dry ingredients with the apples. Turn the fruit mixture including juices, into the chilled pie shell and mount it slightly in the center. Top with 2-3 Tbsp of butter, sliced.
4. Roll out second piece of dough and put on top. Trim the edges of the top and bottom layers to ½ inch beyond lip of pan. Pinch together and tuck under itself. Flute the edge. Cut several slits in the top. Brush the egg white on top and sprinkle with remaining 1 Tbsp sugar.
5. Place the pie on a baking sheet and lower the oven temperature to 425 degrees. Bake the pie until the top crust is golden, about 25 minutes. Rotate the pie from front to back and reduce the oven temperature to 375 degrees. Continue baking until the juices bubble and the crust is deep golden brown, 30-35 minutes longer.
6. Transfer pie to wire rack and cool to room temperature, at least 4 hours.
Author: Jamie Oberdick
Bio: Editor, Local Food Journey | Passionate about supporting local food in Central PA