Posted by Christina and Erin on 02/02, 2011 at 03:18 PM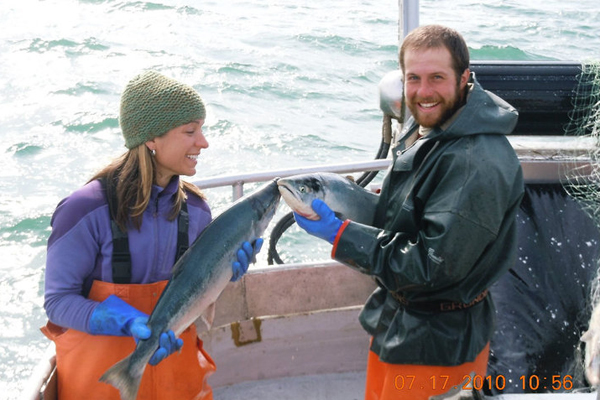 Wild For Salmon is one of the busiest vendors at the Boalsburg Farmers Market. Despite the rush of customers last Tuesday, Jenn Kurian, co-owner of Wild For Salmon, spent some time answering our questions. As customers purchased salmon salad, salmon fillets, and salmon burgers, Jenn discussed the benefits of wild salmon versus farm-raised salmon. Jenn and her husband, Steve, are from Bloomsburg and spend their summers on the Alaskan waters in order to supply us with the best sockeye salmon each year.
Continue reading to watch a video interview with Jenn Kurian, and visit their website for recipes.
Penne and Smoked Salmon Pasta Salad
2 cups Penne Rigate

6 tablespoons reduced-fat mayonnaise

1 1/2 tablespoons balsamic vinegar

1 1/2 tablespoons Dijon mustard

1 tablespoon fresh lemon juice

1 tablespoon fresh tarragon, chopped

1 medium shallot, finely chopped

1 pound asparagus, ends trimmed, blanched, cut into
 1-inch pieces
1/2 pound cold smoked salmon, cut into 1/2-inch pieces
Kosher salt and freshly ground black pepper
1/4 cup chopped chives
Cook pasta according to package directions; drain. Rinse with cold water; drain again.
Meanwhile, in a medium bowl, stir together mayonnaise, vinegar, mustard, lemon juice, and tarragon. Add chopped shallot.
In a large bowl, toss together asparagus, salmon and pasta. Add dressing; toss gently to coat. Season with salt and pepper, as desired. Sprinkle with chopped chives.
(courtesy of Wild for Salmon)
Author: Christina and Erin
Bio: Christina Barkanic is a senior at Penn State majoring in broadcast journalism and minoring in sociology. She has a passion for journalism, the outdoors, good food, and good company. Ideally, she would like to combine all four by producing her own nature meets organic cooking show one day. Erin Donahue is a senior at Penn State majoring in broadcast journalism with a minor in sociology. She's excited to share her passion for food, writing, and multimedia.