Posted by Dana Stuchul on 06/03, 2012 at 11:15 PM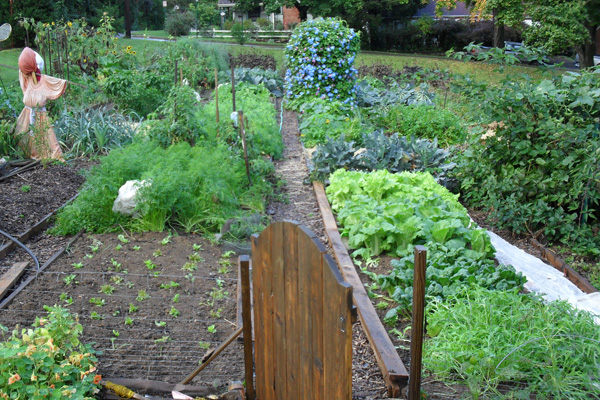 Please welcome our newest contributor, Dana Stuchul, founder of VeggieCommons—a resource for Growing Food Where We Live. At her home in State College, Dana has backyard chickens, a small apiary, a front-yard terrace garden, a backyard "mini-farm," numerous fruit trees and shrubs, a roof-top water collection system (and bici-bomba, a bicycle powered pumping system), and a wood-fired bread oven. Take it away, Dana!
Welcome to VeggieCommons!
First, an invitation to imagine. Consider a community where the grass lawns of churches, corporations, schools, government buildings, and apartments are instead well-loved, well-tended and bountiful vegetable gardens. Fruiting bushes and trees can be found in grass strips and wedges alongside roads. A place where the thoughtful harvest and storage of water draining off of structures (buildings, parking facilities, all manner of roofs) ensure that these gardens receive adequate watering. A place where a deep appreciation for the well-being of soil (through composting practices) is matched equally by a great affection for the many creatures (pollinators, predator insects, songbirds, et al.) which make its life both possible and more beautiful. And, finally, imagine the people in this community wholeheartedly related to their food—to its cultivation, its harvest, its preparation, its shared enjoyment.
Such is the vision to which VeggieCommons is devoted.
Now, what might be necessary for such a vision to be realized? Well, I suppose the first ingredient would be people. People inspired by such a vision and its potential for addressing many of the concerns facing all of us equally. Concerns such as access to affordable, non-pesticide-laden fresh food; spiraling costs of gasoline for transporting foods; uncertain weather patterns; even social isolation. People who are interested in "bread labor"—a small bit of work in exchange for the payment of large dividends (stronger muscles, fresh vegetables, sparks of friendship, embodied knowledge of seasons, heightened awareness of birds, butterflies, earthworms, etc.).
Such is the meaning of "commons" in the name, VeggieCommons. The idea of commons (once de-linked from land exclusively) is simply the recognition that we have so much in common with our neighbors—concern for our own and our family members' health and well-being, concern for meaningful activities, concern for security and peace. This is our "commons"—a common concern … concerns of a community for their community. And the question that follows—might gardening (the "veggie" in VeggieCommons) on lands (now only in grass, both privately and publicly owned) make a positive contribution to our common concerns?
My answer is "Yes!"
So, in a nutshell (or pea pod), VeggieCommons is a volunteer, State College-based non-profit that seeks vacant land and people with whom to grow community through vegetable gardening. We'd be very pleased to join with you to manifest this vision. Welcome!
Author: Dana Stuchul
Bio: Founder of VeggieCommons | Cultivator of affection ala Berry