Posted by Jamie Oberdick on 11/24, 2015 at 02:41 PM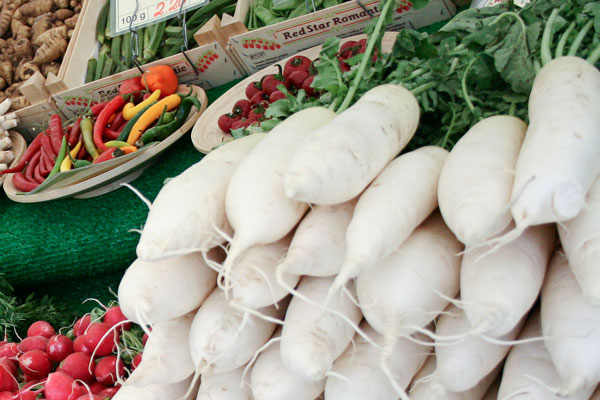 Tony Sapia, the highly skilled baker who brings us Gemelli Bakers, shares with us two things…two styles of holiday baking he's excited about and two fantastic Thanksgiving side dish recipes, including one you can make ahead of time:
We started our stollen baking. I learned from a good friend of mine whom is a third-generation German master baker in Cincinnati. This and panettone baking is what I look forward to every year. The two most ethnic diverse breads coming together for one community. It's what makes me get up in the mornings. The aromas are fragrant with nostalgia and memories of living abroad learning the craft. Bringing it back to my home town of State College, PA, where I was born and now bread…..
Here's two great Thanksgiving recipes:
Turnip gratin
Ingredients
- 2 pounds scrubbed turnips, ends removed
- 1 pound Gruyere cheese, shredded
- 1 quart half and half
- Butter, as needed
- Salt and pepper, as needed

Steps:
- Preheat oven to 400 degrees.
- Mandolin or slice turnips 1/8th inch thick crosswise.
- Butter a 9x9 inch baking dish and begin layering turnips and Gruyere cheese until both ingredients are exhausted.
- Pour half and half up to top of turnips and place in oven. Check after 35 minutes.
- Add more half and half. Keep this up for a total of 1 and 1/2 hours.
The turnips and cheese will develop this velvety texture that complement s a bountiful thanksgiving dinner. Everyone will think they are eating potatoes. This dish carries well to a hostess dinner and holds well for family get-together. It can be baked up to two days in advance and reheated at will. Enjoy.
The other recipe is a little closer to home…my Sicilian grandmother's stuffing. Believe it or not, my "little" grandmother (she stood only 4'11" but well over 6' at the stove!!) made stuffing which was delish and I make every year.
Simple Sicilian stuffing

Ingredients
- 1 loaf of crusty bread, cubed
- 3 stalks celery, sliced
- 1 onion, diced
- 1 14 oz can chicken stock
- Salt and pepper to taste
- 2 eggs, slightly whisked
- 1/2 tablespoon anise seed
- 1/4 cup sesame seeds

Steps
- Sauté, sweat the celery and onion in a little butter until soft.
- Add stock and salt/pepper. Take off heat.
- Add cubed bread and eggs and anise seeds.
- Place in casserole dish. Sprinkle with sesame seeds and bake at 350 degrees until the middle springs back when poked after 45 minutes.
Author: Jamie Oberdick
Bio: Editor, Local Food Journey | Passionate about supporting local food in Central PA