Posted by James Gherardi on 10/29, 2010 at 06:01 PM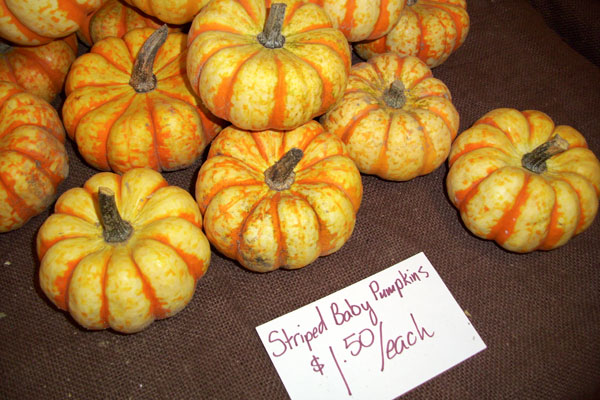 Next to Eisenhower Auditorium, on the University Park campus, sits a small garage. On Wednesdays from noon until 5:30pm, this garage opens its door and becomes the "Cellar Market," selling seasonal fruits and vegetables to students and locals passing by.
Pumpkins, gourds, and cold weather vegetables were on display this past Wednesday. I spoke with Jenn Landry, who works with the Penn State Horticulture Program and runs the market.
When did the market get started?
I don't know the exact date but the market started about six years ago, give or take.
Who sponsors the market?
The market is run by me. Besides managing the Cellar Market, I also manage the High Tunnel Research and Education Facility, which is part of the Center for Plasticulture within the Department of Horticulture.
Is everything sold at the market grown by students?
Since we grow year round at the facility, everything is not grown by students because, as you know students aren't always around. Someone is out at our facility just about every day of the year, and various classes work with the High Tunnel Facility and the Cellar Market. We also have summer interns. Currently we have two horticulture students working with us. You don't have to be a Horticulture student, however you must be willing to learn and work hard.
What is the purpose of this market?
The market has a few goals. One is to provide an opportunity for students to learn what is involved in the production and marketing of fruit, vegetables, and cut flowers. Second, the market is used as an additional outlet for our research. We often do a variety of trials, and the market puts them to an additional test. If you're going to grow something for market, it needs to sell, and so we try to make recommendations utilizing as much information as we can.
Why should people come to experience the market?
The market is a great way to see what is going on at the research farms. We have a wide array of vegetables, fruit, and flowers – some things you won't see anywhere else. One of our most popular attractions in the fall is the amazing array of apples, with typically five varieties each week. Some of these apple varieties are still going through evaluations and trials and aren't yet released commercially, so often the come from the only trees in the state. We also work really hard to offer the freshest produce we can. Most items are harvested the day before or even the day of the market. It's a great way to experience eating with the seasons. Not to mention it's locally produced, and you have a chance to support all of our efforts. We love feedback because ultimately our knowledge is returned to students and growers in our region.
What is with the various types of apples, gourds, pumpkins? There seems to be some very unique types offered!
We do have some interesting items that pop up in the market. Those are typically due to the research that happens on the farm. Growers have the potential to get top dollar for items that aren't "typical" but are in demand. These would include specialty items that have a niche market, like ethnic or gourmet fruits and vegetables. Our horticulture professors are often testing these vegetables to find out whether they are cost effective and whether there is a potential market for them. With modern farming, just being able to grow something isn't enough to "get by." You need to be a jack-of-all-trades, and marketing is more important now than ever. It's important for growers to find a way to stand out from the crowd, and sometimes these specialty items allow them to access different segments of the market.
What are some of the seasonal options sold at the market?
We have winter squash, kale, collard greens, broccoli, brussel sprouts, spinach, swiss chard, potatoes, radishes, beets, turnips, carrots, tatsoi, arugula, and parsnips, just to name a few. Many of these cold weather vegetables actually have improved flavor once they experience a little freezing weather. One of my favorites is winter-grown spinach. You can't buy this spinach in the store; you have to find a local grower or try growing it yourself. It's so sweet; it's almost like candy!
Where are the foods that are sold at the market, grown?
Everything sold at the market is grown at the Russell E. Larson Agricultural Research Center, which is located about ten miles southwest of the University Park campus. The horticulture farm and the high tunnel facility are all located here. However, the mushrooms are grown at the mushroom facility on campus.
Can people come visit the farm?
The farm is open to the public. Directions can be found on the Center for Plasticulture's website. Tours of the High Tunnel Research and Education Facility are given every August as one of the events offered at Ag Progress Days.
When is the market open until?
This year the market will close in December. During our open season, I send out a weekly email with updates about our hours and a list of items available for the week, along with recipes and news. People can sign up at the market, or by sending an email to .(JavaScript must be enabled to view this email address)
The Horticulture Department Veggie Cellar is located between Eisenhower parking garage and auditorium. It is open every Wednesday from noon until 5:30pm through December.
Author: James Gherardi
Bio: James is a senior at Penn State majoring in broadcast journalism. He spent spring 2010 in Rome, and this past summer he worked for the NBC Washington Bureau in Washington, D.C.