Posted by Jamie Oberdick on 01/23, 2014 at 02:14 PM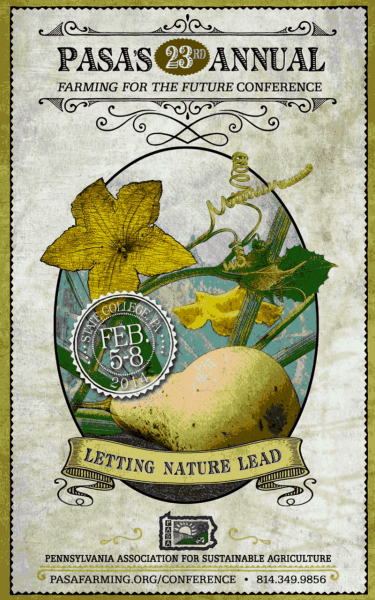 The following is a press release for the Pennsylvania Association for Sustainable Agriculture's 23rd Farming for the Future Conference. Look for more about this event on Local Food Journey in the next several weeks, as this is a major happening for our local food community…
MILLHEIM, PA January 6, 2014 – The Pennsylvania Association for Sustainable Agriculture (PASA) hosts the 23rd Annual Farming for the Future Conference next month, February 5-8 at the Penn Stater Conference Center Hotel in State College, PA. Farmers, foodies, artisans, activists and other members of the sustainable agriculture community will gather around the theme "Letting Nature Lead" as the debate over the future of agriculture continues to garner widespread attention, from dinner tables to the halls of Congress.
"Our community is part of a movement that is making waves, both at home and abroad," says Brian Snyder, PASA's Executive Director, "and the annual conference provides a chance for us to celebrate our achievements and renew ourselves for the work at hand. The gathering, with all of its attendant bustle, color and excitement, is a spirited display of why this movement toward more sustainable food systems holds such great promise for our society."
Now in its third decade, the Farming for the Future conference has grown into one of the largest and most respected gatherings on sustainable agriculture in the country—a multi-day affair comprising intensive pre-conference tracks, over 100 main conference workshops, youth education, free legal consultations, artisan cheese tasting, an heirloom seed swap, documentary screenings, a benefit auction, live music and more. Plenary sessions will feature two of the movement's leading voices, Daphne Miller, MD, author of Farmacology: What Innovative Family Farming Can Teach Us About Health and Healing and internationally acclaimed Professor of Agroecology at UC Berkeley, Miguel A. Altieri. The conference also includes an extensive trade show and a mercantile featuring local artisans and merchants.
"Whether we're talking about limiting the influence of genetic engineering in farming, sensible food safety regulation, or food security in an era of changing climate and sensitive economics, these are uncertain times," says Snyder. "But at this conference we continue to break ground for a new vision of agriculture, and to sow seeds of hope for the future."
Registration is open to the public. To register, and to view a full schedule of conference programming, visit pasafarming.org/conference.
Author: Jamie Oberdick
Bio: Editor, Local Food Journey | Passionate about supporting local food in Central PA