Posted by Emily Wiley on 10/18, 2010 at 02:21 PM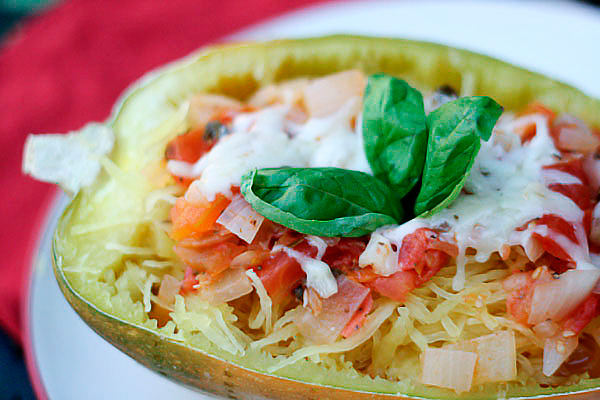 Squash is more than a front porch decoration placed alongside pumpkins and gourds. Acorn squash can be roasted with maple syrup and brown sugar; butternut squash can be baked with apples and Gorgonzola; and cooked spaghetti squash can be topped with stewed tomatoes and Parmesan cheese.
Spaghetti squash is a healthy alternative to traditional pasta. It's low in calories and high in folic acid, potassium, vitamin A, and beta carotene. It's also incredibly easy to prepare.
Simply pierce the squash several times with a fork and microwave on high for 10 minutes, flipping it halfway through the cooking process. Allow it to stand and cool for 5 minutes.
Then cut it in half lengthwise and scoop out the seeds and pulp.
Next, using a fork, scrape the insides of the squash into strands that resemble noodles, and place them in a separate bowl.
Now you can add whatever complimentary ingredients suit your fancy; we like tomatoes stewed with garlic, onions, basil, and red pepper flakes.
Add one layer of stewed tomatoes and Parmesan cheese to the empty shell, top with "spaghetti," and repeat. Scoop remaining tomatoes and cheese on top and garnish with basil leaves. Then dig in!
What's your favorite culinary use for squash?
Author: Emily Wiley
Bio: WPSU Multimedia Producer | Wife and Mother | Lover of Food and Photography | One-Half of The Culinary Couple