Posted by Jamie Oberdick on 08/12, 2014 at 12:53 PM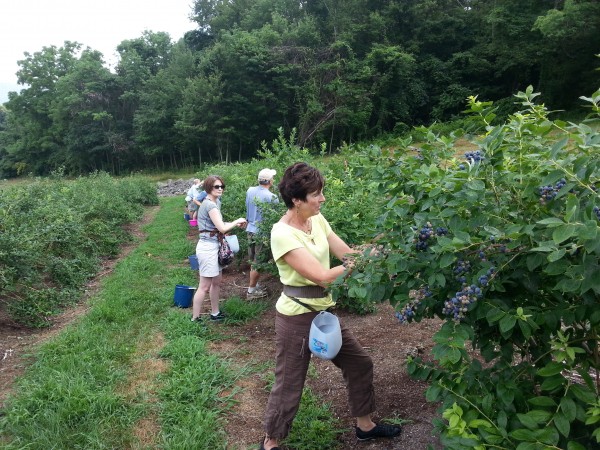 Blueberry season can last well into August here in Central Pennsylvania, and you can still find the little blue globes of greatness at farmers markets, farm stands, and pick-your-own farms like Mountainhome Farm in Julian. Blueberries have a lot of things going for them beyond taste, including lots of antioxidants.
Most people think of blueberries as a dessert food, but blueberries can be a star in savory recipes, such as salads and meat dishes. I have found that blueberries go well with meats such as pork and chicken. With this in mind, this recipe for grilled chicken thighs with honey blueberry sauce is a good introduction to the idea of blueberries as part of an entree.
Ingredients:
6 boneless or bone-in chicken thighs, from a local vendor like Beiler Family Farm
1 1/2 tablespoons olive oil
Sea salt and fresh-ground black pepper, to taste
Sauce
- 1 cups fresh local blueberries from your favorite source (also works with frozen blueberries)
- ¼ cup red wine vinegar
- ¼ cup red wine (may substitute chicken broth)
- 2 tablespoons local honey
1 tablespoon fresh finely chopped basil
Steps:
- Fire up grill and preheat grill grids.
- Combine blueberries, vinegar, wine, and honey in a saucepan; bring to a boil over high heat, stirring occasionally. Cook until thickened and reduced, about 5 minutes total. Remove from heat; set aside.
- Lightly brush chicken with oil; sprinkle with salt and pepper. Place on grill cook until no longer pink, about 4 minutes per side (longer if bone-in).
- To serve, spoon blueberry sauce over chicken, goes nicely with a rice pilaf and salad for a wonderful summer meal.
Author: Jamie Oberdick
Bio: Editor, Local Food Journey | Passionate about supporting local food in Central PA