Posted by Jamie Oberdick on 10/06, 2015 at 01:12 PM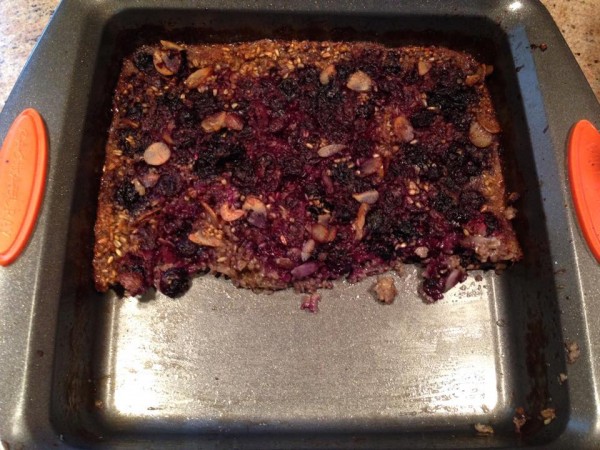 Steel cut oats have been a trendy food item for a while now, and with good reason. They have a lower glycemic index, which is good news for diabetics. They are also pretty tasty, more flavor than rolled oats and a chewy texture that many people find appealing.
They are pretty easy to make, as well. Not quite instant, but you can have a hot bowl of steel cut oats in just over a half-hour. While a bowl of steel cut oats with a little salt and brown sugar is very nice, you can do more with them. This is a pretty easy recipe that you can do much of the prep work for the night before, then pop it in the oven for an hour for a nice, hot, and delicious breakfast.
Baked Steel Cut Oats with Almonds and Blueberries
3/4 cup steel cut oatmeal (you can find these in bulk at Way Fruit Farm)
½ cup almonds, slivered are fine.
1 teaspoon baking powder
1½ teaspoons ground cinnamon
½ teaspoon salt
1-1/2 cups of blueberries
2 cups whole milk (does work with skim milk)
1/3 cup maple syrup or brown sugar
1 large egg
2 tablespoons of unsalted butter, melted and warm, not hot
2 teaspoons vanilla extract
Steps
- In a bowl, mix together the oats, almonds, baking powder, cinnamon, and salt.
- In another bowl, whisk the milk, maple syrup or brown sugar, egg, butter, and vanilla. Pour the milk mixture over the oat mixture and stir to combine.
- Put in refrigerator, covered, overnight.
- Next morning, preheat oven to 375.
- Add and spread out blueberries in a lightly greased, 8-inch baking pan.
- Pour mixture over blueberries, and stir a bit to make sure all the ingredients are evenly distributed.
- Place pan in middle rack.
- Bake for 45-60 minutes (but check after 30 minutes to make sure it isn't browning too quickly, if it is, turn down to 350 for rest of baking time).
- Remove from oven, let set for five minutes.
- Cut into six squares and serve.
Author: Jamie Oberdick
Bio: Editor, Local Food Journey | Passionate about supporting local food in Central PA