Posted by Jamie Oberdick on 11/01, 2016 at 02:27 PM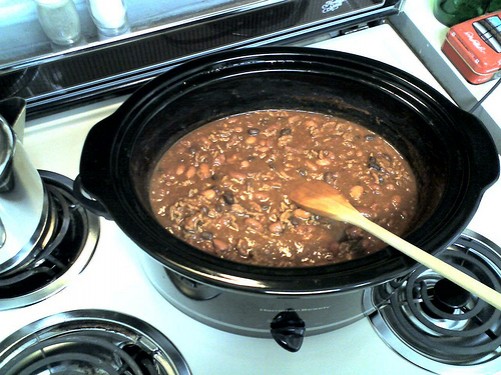 First things first…if you are one of those who run screaming from anything pumpkin because you're sick and tired of the pumpkin spice world we've been living in the last three months, take heart. There's no "pumpkin spice" in this recipe, just pumpkin. Because let's be honest, most of the "pumpkin spice" products out there have no pumpkin in them.
Second, pumpkin chili sounds strange and counter intuitive, but it's actually quite tasty. You can't really taste "pumpkin" in this recipe, just a subtle sweetness, and a very nice thickness added to the chili.
It's a great way to expand your pumpkin-eating horizons beyond pie. And, it's a pretty simple recipe.
Pumpkin Chli
Ingredients
- 1 lb of ground beef or ground turkey
- 2 cans of kidney beans, rinsed and drained
- 1 15 oz can or two cups chopped tomatoes
- 1 medium onion, diced
- 1 green or red pepper, diced
- 3 cloved of garlic, minced
- 1 bottle of lager beer or 1 1/2 cups of beef broth
- 1 15 oz can or 2 cups purred pumpkin
- 2-4 tbsp chili powder, depending on heat preference
- 1 tsp cumin
- salt/pepper to taste
Steps
- Saute in a pan until translucent onion, pepper, and garlic, with a little olive oil, set aside
- Brown ground beef/turkey, draining fat.
- Add all ingredients to a large pot, bring to boil.
- Drop heat to low and simmer for 1 1/2 to 2 hours, stirring occasionally
Serve with cheese and/or sour cream on top of bowl.
Author: Jamie Oberdick
Bio: Editor, Local Food Journey | Passionate about supporting local food in Central PA