Posted by Emily Wiley on 08/30, 2010 at 02:45 PM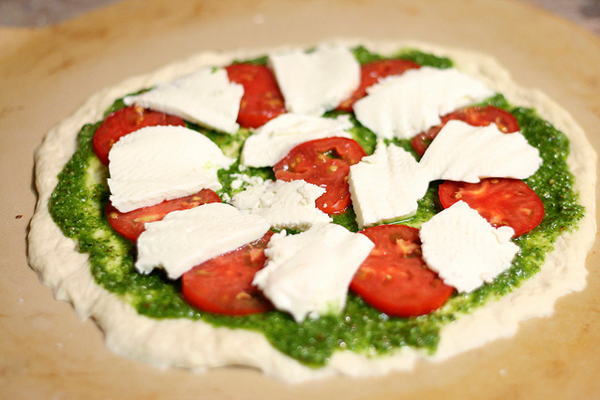 It seems like just yesterday that we planted our first garden of peppers, tomatoes, and herbs. But now, in late August, the tomato vines are browning and the basil leaves are wilting.
Before our backyard trees turn shades of auburn and gold, we celebrated the end of summer with pesto pizza.
Traditional pesto uses pine nuts, but we didn't have any on hand, so we substituted toasted almonds. We combined basil, almonds, garlic, Parmesan cheese, extra-virgin olive oil, salt, pepper, and nutmeg (yes, nutmeg!) in the food processor until a coarse paste formed.
We spread it onto pizza dough and topped it with sliced garden tomatoes and chunks of mozzarella cheese.
While the pizza baked and filled the house with the savory aroma of an Italian restaurant, we sipped homebrews and watched Steelers football. In just 20 minutes, we had hot, delicious homemade (and mostly homegrown) pizza.
How are you using up the last of your summer produce?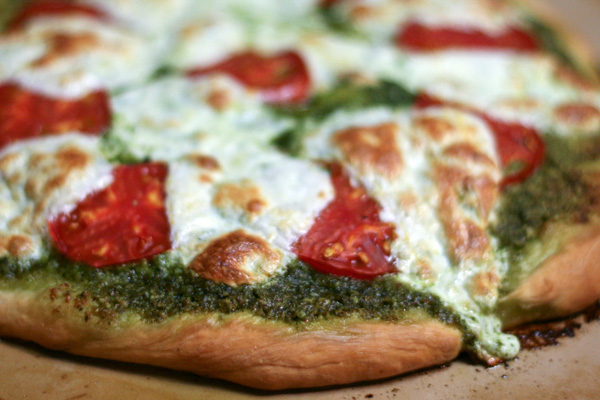 Ingredients for Pesto
1/4 cup almonds
3 cloves garlic
1 1/2 cups fresh basil leaves
3 tablespoons Parmesan cheese
1/2 cup extra-virgin olive oil
1 pinch ground nutmeg
salt and pepper to taste
Directions for Pesto
Toast almonds in a small skillet over medium heat for about 5 minutes, stirring occasionally to prevent burning. In a food processor, combine toasted almonds, garlic, basil, cheese, extra-virgin olive oil, nutmeg, salt, and pepper. Process until a coarse paste is formed.
Spread onto pizza dough or mix with your favorite pasta and enjoy!
Author: Emily Wiley
Bio: WPSU Multimedia Producer | Wife and Mother | Lover of Food and Photography | One-Half of The Culinary Couple