Posted by Jessica Reilley on 07/05, 2010 at 02:46 PM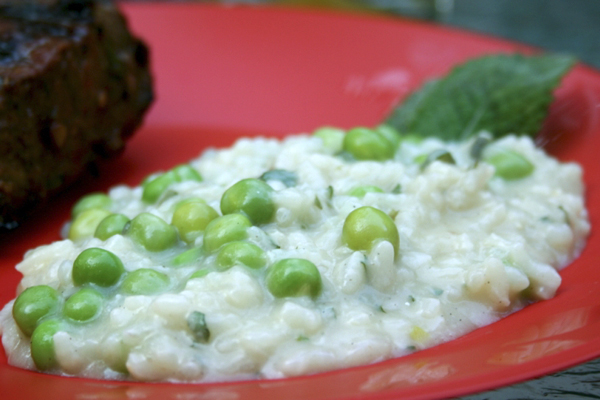 Do you have mint growing in your garden? Pair it with summer peas for a hearty risotto.
Serves: 6
Ingredients
1 tablespoon extra-virgin olive oil
2 large garlic cloves, minced
1 large shallot, minced
1 1/2 cups arborio rice
6 cups chicken stock, warmed
Salt and freshly ground pepper
3 cups fresh peas
1/2 cup Parmesan cheese, shredded
1/4 cup mint leaves, minced
Directions
In a large saucepan, heat the oil. Add the garlic and shallot, and cook over medium heat until softened, about 3 minutes.
Add the arborio rice and stir over medium heat until slightly translucent, about 2 minutes. Add 1 cup of the warmed chicken stock and cook, stirring, until nearly absorbed. Continue adding the stock, 1 cup at a time, stirring until the stock is absorbed before adding more. After adding half the stock, stir in peas. Continue adding stock.
Cook, stirring, until the rice is al dente and suspended in thick, creamy liquid, about 20 minutes total. Season with salt and pepper. Stir in Parmesan cheese and mint and serve.
(Adapted from Food and Wine)
Author: Jessica Reilley
Bio: Jessica Reilley is a Penn State grad with a passion for food, cooking, and photography. For three years, she owned a personal chef business before taking a break to spend more time with her family and young son. Jessica lives in Gilbertsville, Pa.