Posted by Emily Wiley on 06/14, 2010 at 08:04 PM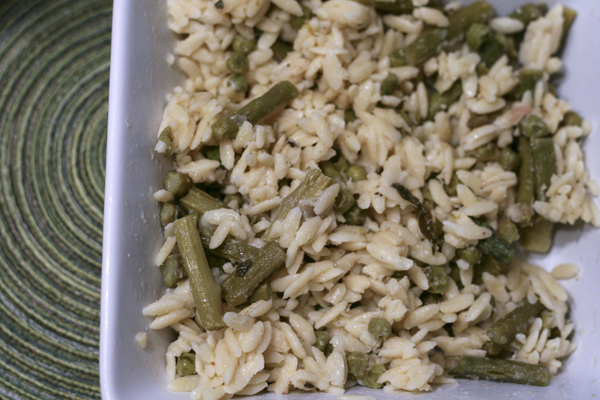 Asparagus and peas are quintessential spring produce options in central Pennsylvania. Both are available at your local farmers market through June when corn and cucumbers will take their turns.
Asparagus and peas are low in calories and low in sodium. Young asparagus shoots are a good source of dietary fiber and vitamins A, C, and E. And garden peas are rich in iron, vitamin C, and folic acid. Together, these green botanicals make a healthful, seasonal side dish to accompany grilled pork or chicken.
Ingredients
8 oz uncooked orzo
1 lb asparagus, cut into 2-inch pieces
1 cup green peas
3 oz Parmesan cheese
1/2 tsp salt
3 Tbsp fresh lemon juice
2 Tbsp extra-virgin olive oil
1/2 cup fresh basil leaves, thinly sliced
Directions
Cook orzo according to package directions. With 3 minutes of cooking time remaining, add asparagus. Cook for 1 minute, then add peas and cook for the final 2 minutes. Drain.
Whisk together salt, lemon juice, and olive oil. Toss orzo in lemon juice mixture, then add cheese and basil. Garnish with additional basil leaves.
(Adapted from myrecipes.com)
Author: Emily Wiley
Bio: WPSU Multimedia Producer | Wife and Mother | Lover of Food and Photography | One-Half of The Culinary Couple