Posted by Jamie Oberdick on 11/26, 2013 at 02:24 PM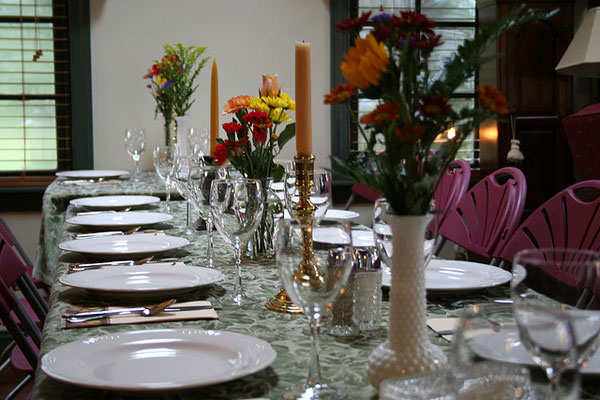 Traditionally, unless of course you are vegetarian or vegan, turkey holds top billing at the Thanksgiving table. We've all seen the classic "Freedom from Want" painting by Norman Rockwell, an image that quickly became the template for our truly American holiday, Thanksgiving. Grandma lowers the giant golden-brown bird onto the table, as all the relatives ooo and ahh.
But really, the sides are the co-stars of this culinary production, and rightfully so. While there is certainly nothing wrong with tradition, they don't have to be sugary sweet potatoes with marshmallows, green bean casserole, or "cranberry sauce a la Bart" direct from a can (Simpsons reference). With local ingredients, they can have flair and pizzazz that almost steals the show from the big turkey (not your one annoying uncle, I mean the main course).
First off, we have a recipe from Local Food Journey writer James Sechrengost, who channels one of my favorite aspects of many Thanksgiving tables; the contribution based on the family's ethnic background. I've heard people talk about anything from Indian curries to Italian meatballs along side the turkey, and Jim offers an Eastern European recipe from his family, halupki or cabbage rolls.
Halupki/Cabbage Rolls
1 head cabbage, cored
Water to cover
1/4 teaspoon salt
1 1/2 pounds lean ground beef
1 1/2 pounds ground pork
1 1/2 cups cooked white rice
1/4 cup finely chopped onion
2 tablespoons chopped fresh parsley
2 eggs, slightly beaten
2 cloves garlic finely minced or grated
1/2 teaspoon salt
1/2 teaspoon ground black pepper
1 (28 ounce) can tomato sauce
1/4 cup white vinegar
2 2/3 tablespoons white sugar
Preparation:
- Preheat the oven to 350 degrees.
- Place the cabbage in a stockpot with enough water to cover by at least an inch.
- Add 1/4 teaspoon salt to the water and cabbage.
- Bring water to a boil over medium-high heat. Turn cabbage every 2-3 minutes and remove leaves that separate from cabbage and place in a strainer to cool. Boil until all the leaves have cooked, about 15 minutes.
- Reserve 1 to 2 cups of cabbage water.
- Trim thick center vein off of bottom of each cabbage leaf.
- In a large bowl thoroughly mix together, ground beef, ground pork, rice, chopped onion, fresh parsley, egg, garlic, salt, and pepper.
- Lightly pack a small amount of meat mixture and place in the center of the cabbage leaf.
- Fold sides over the filling and start at the stem and roll the cabbage up until the meat is encased. Repeat with remaining leaves and filling.
- Cut the leftover leaves into pieces and place into the bottom of a roasting pan to prevent bruning the cabbage rolls.
- Layer the stuffed cabbage rolls over the cut leaves.
- In a bowl, mix the tomato sauce, 1 cup reserved cabbage water, white vinegar, and white sugar.
- Pour the tomato sauce mixture over the cabbage rolls.
- Cover roasting pan with aluminum foil.
- Bake in preheated oven until the ground beef mixture is no longer pink in the center, about 2 1/2 hours. Baste stuffed cabbage rolls every hour; add more of the reserved cabbage water if the liquid is getting too low.
Butternut squash is one of the best vegetables for the cold season and makes a welcome addition to Thanksgiving. Chef Harrison Schailey, the man responsible for the innovative menu at Harrison's Wine Grill and Catering, offers a delicious potato and butternut squash gratin.
Potato and Butternut Squash Gratin
2 pounds butternut squash–peeled and seeded
2 pounds russet potatoes–about three large potatoes
16 oz. local Goot Essa Sharp Cheddar – grated
1 tbsp poultry seasoning
3 cloves fresh garlic–peeled and minced
1 cup Meyer Dairy heavy cream
Salt and white pepper to taste
Preparation:
- Preheat oven to 350 degrees. Generously butter a 9 by 12 inch gratin dish.
- Slice the squash into 1/8 inch thick pieces.
- Peel the potatoes and slice them into 1/8 thick inch pieces.
- Stir the fresh minced garlic into the heavy cream in an easy to pour container.
- Layer 1/2 of potato in the bottom of the gratin dish.
- Sprinkle with 1/3 of poultry seasoning, salt and pepper, ¼ of cheese,
- Pour 1/3 of cream with garlic over this layer
- Layer 1/2 of squash on top of the first layer
- Repeat the sprinkling of seasonings, cheese, cream/garlic–in same amounts
- Layer 1/2 of potato on top of previous layer
- Repeat the sprinkling of seasonings, cheese, cream/garlic–in same amounts
- Layer remaining 1/2 of squash on top of previous layer
- Press down firmly on the layers with a spoon or your hand
- The cream should just cover the layers after pushed down (add a little milk if needed)
- Sprinkle the remaining ¼ of cheese on top of gratin
- Cover the dish with plastic wrap and then again with foil
- Bake for 45 minutes, then remove the plastic and foil–and potatoes are tender
- Bake for another 10 minutes to brown the cheese on top
- Serves approximately 8-10 as a side
WPSU producer Emily Reddy has a wonderful soup recipe that's not exactly traditional but is quite tasty, and comes from the site Big Oven. "This is one of my absolute favorite dishes to have at Thanksgiving," Emily said. "It's a West Indian Pumpkin soup, so not exactly traditional but very tasty. It's also a lot of work. I suggest making the soup part a day or two before and just making the whipped cream the day of."
West Indian Pumpkin Soup
http://www.bigoven.com/recipe/398317/west-indian-pumpkin-soup
The recipe is presented without resizing, providing 6 servings
1 3/4 pounds Calabaza or Butternut squash
2 tablespoons butter
1 onion diced
1 carrot diced
2 ribs celery diced
3 cloves garlic diced
4 cups chicken Stock
2 bay leaves
1 teaspoon dried thyme
1/4 cup fresh Italian parsley, finely chopped
Salt and pepper to taste
1/2 cup half and half
Spice-scented whipped cream:
1/2 cup whipping cream
1/4 teaspoon Ground cumin
1/4 teaspoon ground coriander
1/4 teaspoon cayenne pepper
Salt and pepper to taste
1 tablespoon fresh chives or scallions finely chopped
Preparation:
- Using a sharp knife, cut the rind off the calabaza/butternut squash. Scrape out any seeds with a spoon and cut the flesh into 1-inch pieces.
- Melt the butter in a large saucepan over medium heat. Saute the onion, carrot, and celery until soft but not brown, 3 to 4 minutes. Add the garlic and cook for 1 minute.
- Stir in the calabaza, 4 cups of the stock, the herbs, and seasonings and bring to a boil. Reduce the heat and simmer the soup, uncovered, until the vegetables are very soft, about 30 minutes. Remove the bay leaves and puree the soup in a blender or food processor.
- Return the soup to the saucepan and stir in the half and half. If the soup is too thick, add more stock. Correct the seasoning, adding salt or pepper.
- Prepare the spice-scented whipped cream: Beat the cream to soft peaks in a chilled bowl. Whip in the spices and salt and pepper.
- To serve, ladle the soup into bowls and place a dollop of the spice-scented whipped cream in the center of each. Sprinkle the cream with the chives.
Finally, local food writer Carolyne Meehan offers up a fantastic way to keep the Thanksgiving magic going the entire weekend with a sandwich that combines the best of the holiday, including side dishes, into one fantastic sandwich:
"I have a favorite day after Thanksgiving sandwich that makes leftovers disappear. Layer turkey, stuffing and cranberry sauce on fresh slices of a soft Italian roll, or better yet, Gemelli sourdough. Add a smear of mayo and enjoy hot or cold. We order our turkey from Village Acres every year and have learned to order a larger bird - ensuring there is enough to make sandwiches for everyone!"
And it's quite a colorful sandwich!: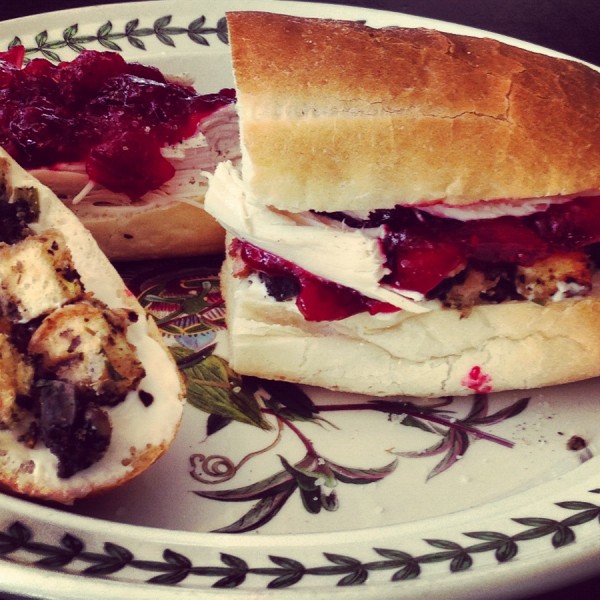 Author: Jamie Oberdick
Bio: Editor, Local Food Journey | Passionate about supporting local food in Central PA