Posted by Michele Marchetti on 08/04, 2010 at 05:37 PM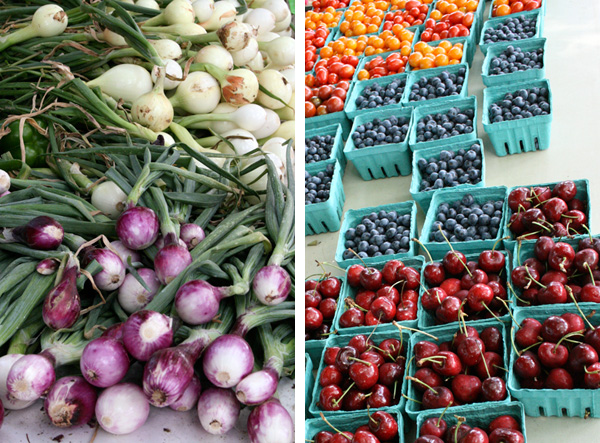 August is here, which means cranberries and pumpkins will soon replace blueberries and tomatoes. But there's still time to enjoy the final quiet days of Happy Valley's summer before football season begins. Michele Marchetti, co-founder of Homegrown Happy Valley, shares her favorite picks.
1. Connect with farmers in central Pennsylvania at the 5th Annual Central PA Farm Tour this Saturday from 12:30 - 5:00 p.m. Pack a cooler for local goodies and a camera to show your city friends what they're missing.
2. Eat a fresh-from-the-brick-oven Gemelli pizza. We've seen Gemelli's divine pies at the farmer's markets in Boalsburg and Millheim. Now you can also pick up a pie at the restaurant that just opened next door to the State College shop. Bringing home? Better buy two. Trust us, you won't get your garlic scape pesto pie past the parking lot.
3. Turn off the Food Channel and head over to Tussey Mountain's Wing Fest. Every Thursday night through August 26, local restaurants put their wings to the test. Watch the action from your blanket, then settle in for some funnel cake and live local music.
4. Spend an afternoon lifting your spirits at Mount Nittany Vineyard & Winery or Seven Mountains Wine Cellars. Both offer tastings, tours, and the requisite souvenir wine glass.
5. Enjoy a taste of Italy while supporting Fasta & Ravioli Co., a local pasta maker. Pick up some fresh pasta at the farmer's market and create your own dish. We highly recommend the raviolis, from the tried-and-true cheese to the more adventurous New Orleans Voodoo.
6. Have Saturday brunch on the farm. From build-your-own omelets to pancakes made from scratch, Way Fruit Farm does breakfast right.
7. Soak up some sun at Whipple Dam. Challenge friends to a game of Marco Polo or feed the ducks, but be sure to stop at Doan's Bones Barbecue. This family owned restaurant, located on Whipple Dam Road, has an air-conditioned dining room, picnic seating, and a take out counter. All of the family recipes are original. Try "The Whippler," a $5.25 summer treat packed with pulled pork, coleslaw, and homemade fries.
8. Enjoy a great cup of coffee while your child explores paint, clay, and other art mediums. Local Jill Seigworth holds art classes for kids ages 2-8 at Cool Beans Coffee and Tea in Bellefonte. Pick a Wednesday or Thursday session in three different time slots, broken down by age: 8:45-9:15 for 2-year-olds, 9:30-10:15 for 3- and 4-year-olds, and 10:30-11:30 for 5 to 8 year olds. To inquire about availability and fees, e-mail Jill Seigworth at .(JavaScript must be enabled to view this email address).
9. Treat your body to a Sunday "Detox Flow" at Lotus Center Yoga and a smoothie from The Enchanted Kitchen, which specializes in raw food. Stick an umbrella in your Tropical Oasis and prepare for complete relaxation.
10. Visit Homegrown Happy Valley to stay informed and — most likely — hungry.
Author: Michele Marchetti
Bio: Co-founder of Homegrown Happy Valley