Posted by Emily Wiley on 07/23, 2010 at 01:32 PM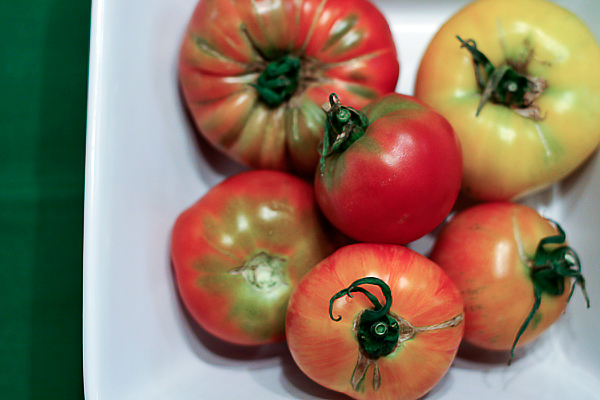 Tomatoes come in all colors, shapes, sizes, and flavors. But you may not know this if you've never looked beyond the supermarket display.
Just like a pearl necklace or pocket watch, heirloom tomato seeds are saved and shared through generations. Each variety is genetically diverse unlike its conventional commercial cousin who is bred to be perfectly round and red and able to sustain a long shelf life.
Commercial tomatoes are grown in a controlled environment and are often picked early while they're still green. They are unnaturally ripened using ethylene, and, as a result, tend to taste bland and mealy.
You haven't tasted a tomato until you've had one ripened on its own vine by the sun. Heirlooms are juicy, sweet, and tangy with names as unique as their appearances. There's the classic red Brandywine, the Cherokee Purple and the Cherokee Chocolate, the pink Mortgage Lifter, and the Green Zebra.
This week I picked up a box of heirlooms at the State College Farmers Market. I roasted them with olive oil, kosher salt, and basil from my garden and served them over basil garlic pasta from Fasta.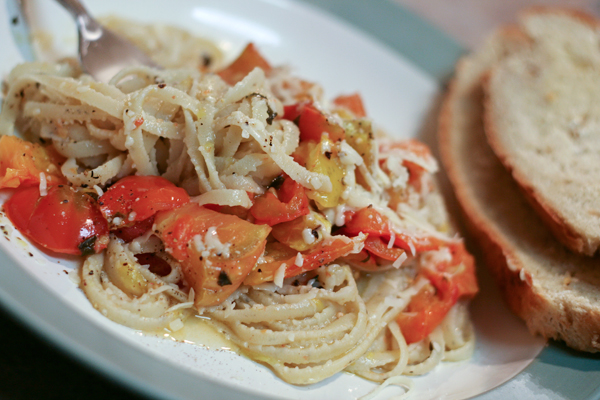 What's your favorite variety of heirloom tomato?
Author: Emily Wiley
Bio: WPSU Multimedia Producer | Wife and Mother | Lover of Food and Photography | One-Half of The Culinary Couple