Posted by Jamie Oberdick on 01/30, 2014 at 02:13 PM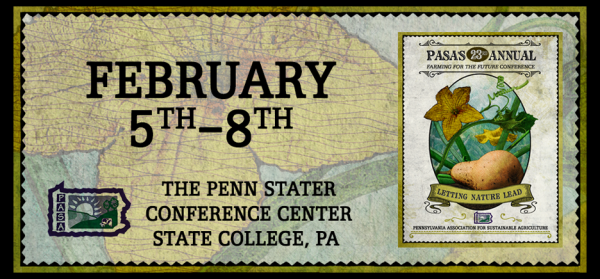 Food Entrepreneurs Will Find Wealth of Resources at Annual PASA Conference
Farmers and other food entrepreneurs are set to acquire tools for success at the Pennsylvania Association for Sustainable Agriculture's (PASA) 23rd Annual Farming for the Future Conference, Feb. 5-8 at the Penn Stater Conference Center Hotel in State College, PA.
On Feb. 6, PASA hosts "Raising Dough: Financing Your Food Based Business," an intensive, day long track aimed at farmers looking to amass capital for farm-based businesses.
Elizabeth Ü, one of the track's presenters and author of Raising Dough: The Complete Guide to Financing a Socially Responsible Food Business, described financing options available to farmers and other food entrepreneurs in an August interview with Food Sleuth Radio.
"[T]here's more money than ever before available for people who are raising financing for food companies, whether its at the farm, at the aggregator level, at the food processing/small manufacturing level or retail," said Ü, who directs the nonprofit Finance for Food. "Part of the challenge is that [farmers] don't know where to look for it."
Sponsored by AgChoice Farm Credit and MidAtlantic Farm Credit, the track will cover a variety of resources available to food entrepreneurs, including grants, loans and crowd funding.
In addition to pre-conference programming, the main conference schedule features a long list of workshops gathered under the heading, "The Business of Farming," and includes sessions devoted to topics like writing a business plan, keeping records and planning for succession.
Rebecca Thistlethwaite, farmer, food business consultant and author of Farms with a Future: Creating and Growing a Sustainable Farm Business, will present at both the pre-conference track and during the main conference.
"My overall mission is to see small and midscale family-owned farmers succeed in this country and be able to manage their businesses sustainably—stewarding the land, taking care of their people and being economically viable," Thistlethwaite told Organic Connections last July.
Now in its third decade, Farming for the Future has grown into one of the largest and most respected gatherings on sustainable agriculture in the country, a multi-day affair comprising intensive pre-conference tracks, two plenary sessions and over 100 main conference workshops. The Farming for the Future Conference is made possible in part by Opening Keynote sponsor Lady Moon Farms and PASAbilities Sponsor Kimberton Whole Foods.
Registration is open to the public. To register, and to view a full schedule of conference programming, visit pasafarming.org/conference.
Author: Jamie Oberdick
Bio: Editor, Local Food Journey | Passionate about supporting local food in Central PA