Posted by Cara McShane on 08/27, 2012 at 06:02 PM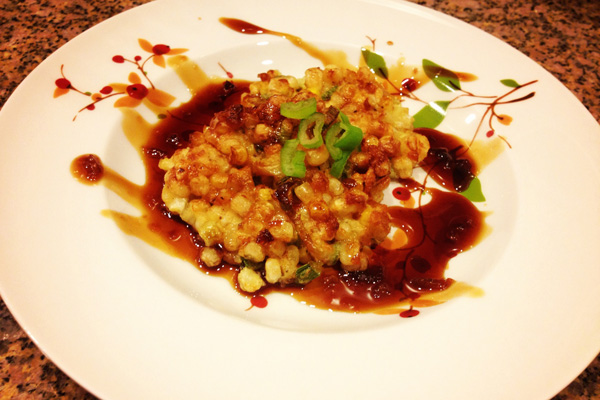 I rarely find the time to sit down and watch TV, but when I do, you better believe it is almost always going to be food-related.
I recently caught a re-run episode of The Best Thing I Ever Ate on Food Network. This particular episode was about crunchy food and featured the Indonesian Corn Fritters served with a sweet tangy chili soy sauce from E&O Trading Co. (now known as E&O Asian Kitchen) in San Francisco. They looked and sounded pretty heavenly. Since I don't have any plans to visit San Francisco in the near future, my next step was to re-create the dish in my own kitchen.
Now it's your turn. Crunch away!
Corn Fritters
4 cups fresh cut corn kernels
1/2 cup celery, diced
1/2 cup green onions, sliced
1 tsp. garlic, minced
1/2 cup all-purpose flour
1/2 tsp. fresh ground pepper
2 eggs
Vegetable or canola oil for frying
Salt, to taste
In a bowl, combine corn, celery, green onion, garlic, flour, and pepper. Mix well. Lightly beat eggs and combine with vegetable mixture. Heat 1/4" of oil in a pan. Drop spoonfuls of mixture into pan. Cook until golden brown on one side, then flip to cook the other side. Remove with a slotted spoon and transfer to a rack with paper towels below to catch excess oil. Season with salt and drizzle with Chili Soy Sauce (recipe below).
Chili Soy Sauce
1/2 cup rice vinegar (or apple cider vinegar)
1/3 cup brown sugar
1 tsp. garlic, minced
1 tsp. ground fresh chili paste
1 tbsp. fish sauce
1 tbsp. soy sauce
Place all ingredients in a pan. Stir and bring to a boil. Reduce heat to medium-low. Simmer, stirring occasionally until reduced. Remove from heat.
Author: Cara McShane
Bio: Penn State Journalism Student | Foodie & Health Enthusiast | Lover of Cooking, Music, and the Outdoors (especially when combined!)