Posted by Harrison's Fresh + Local on 08/18, 2011 at 02:08 PM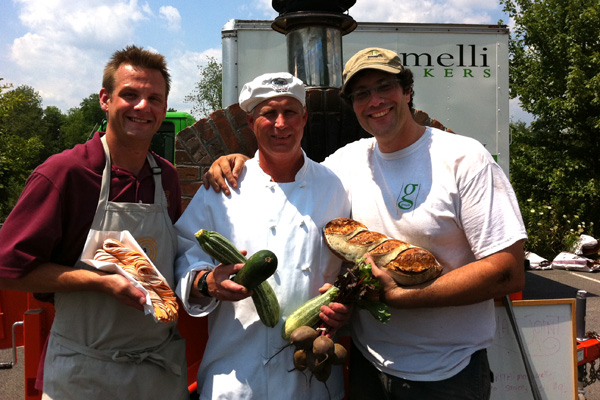 Area farmers markets provide an opportunity for locals to directly support farmers and local food purveyors. Here at Harrison's, many of those who sell at the local markets are the friends we welcome at our back door each week with delicious seasonal ingredients that we use throughout the year.
For the consumer, a farmers market is a chance to meet the person who grows the food you eat. Rather than the old adage, "matching a name with a face," we think of it as "matching a food with a farmer!"
The sense of community that is in the air at a farmers market is unlike anything you find at a grocery store, that's for sure. If you are lucky, the weather will be wonderful this time of year and strolling down the market rows is no different than waking up on Christmas and wondering what you will find under the tree.
The weekly ritual of gathering produce, meats, breads, and pasta is a wonderful sport that often ends in a new recipe created at home and shared with family and friends. Last week at the Boalsburg Farmers Market was no different for us.
We set up our booth and grill and still had time to wander the rows to visit with many partner friends like Bob Ricketts, owner of Fasta Ravioli Company, and Tony Sapia, owner of Gemelli Bakery. We shared food and cooking ideas, industry news, and good humor.
Once the shoppers arrived, we returned to our own respective booths and enjoyed the community we share with regular customers as well as new friends that come looking for fresh and delicious gifts from the land or the perfect meal to take home, providing a break from the heat of a summer kitchen. We sent many on their way with marinated mushrooms, grilled chicken, or herb vinaigrette. They then picked up fresh produce, baked bread, and other items to complete the perfect seasonal dinner.
On the national farmers market scene, the American Land Trust is offering residents of every state the opportunity to nominate and vote for their favorite market. With just a few weeks to go, they just unveiled the Top 20 Favorite Farmers Markets in all four categories: Boutique Markets, Small Markets, Medium Markets, and Large Markets. So far, none of the State College or surrounding area markets has made the list. But there is still time, the contest ends at midnight on August 31st!
Please take the time to vote for your favorite market. When you do, you'll be recognizing a wonderful local community of farmers who appreciate their relationship with the folks who purchase and eat their food – and put Centre County markets on the map.
If you aren't part of the local food movement yet, jump in right now while produce is at its very best by visiting one of these local markets:
- Boalsburg Farmers Market: Tuesdays, 2-6pm, Military Museum Parking Lot
- Bellefonte Producers Market: Saturdays, 8am-Noon, Gamble Mill Parking Lot
- Downtown State College Market: Tuesdays and Fridays, 11:30am-5:30pm, Locust Lane
- North Atherton Market: Saturdays, 10am-2pm, Home Depot Parking Lot
- Millheim Farmers Market: Saturdays 9am-1pm, Route 45, American Legion Pavilion
Author: Harrison's Fresh + Local
Bio: Fresh and Local Team from Harrison's Wine Grill & Catering