Posted by Will Nichols on 07/20, 2010 at 02:01 PM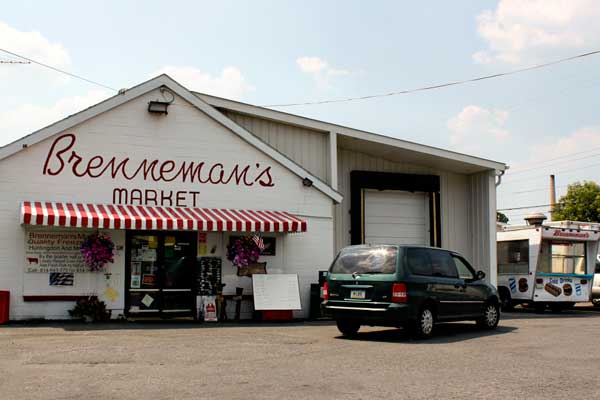 Every community has recognizable houses, families, buildings, and businesses that provide unique charm. In Huntingdon, Brenneman's Meat Market is one such institution.
Brenneman's is nestled in the heart of Smithfield – a quiet, tidy, picturesque part of Huntingdon separated from downtown by the Juniata River.
The market has been serving Huntingdon since 1946. It was first established by an uncle and grandfather and is now run by husband and wife team: Joe and Janice.
Recently, Penn State student Will Nichols chatted with Janice Brenneman about the market's success in Huntingdon County.
Q&A with Janice Brenneman
Q: What do you process?
A: We slaughter cattle and hogs every day and always have a USDA meat inspector present. We also process some lamb, goat, and deer. In addition to our custom and retail meats, we do purchase some outside products for the meat and dairy cases.
Q: Do you have a solid customer base?
A: We certainly do; we have lots of loyal, repeat customers. Raystown Lake helps tremendously. Folks like to stop on their way to the lake to stock up, and they stop again on their way out to take products home.
We also see a lot of folks from outside Huntingdon. They come from Tyrone, Lewistown, southern Huntingdon County, even Bellefonte. Certainly, word of mouth is a good thing!
Q: How have wholesalers changed your business?
A: When times were good, wholesalers abandoned local restaurants in favor of catering to their larger customers. And so local restaurants turned to us to meet their meat needs, and we obliged. But as the recession set in, wholesalers revisited every possible revenue source, including the local restaurants. This has cut into our business.
Q: What do you do differently than other meat retailers in Huntingdon?
A: In terms of customizing, other retailers are limited. Wal-Mart employees, for example, aren't allowed to even cut packaging for slicing a pork loin. Our custom work, convenience, special-ordering capabilities, and personalized service differentiate our business.
Q: What are your thoughts on consumer movements like all-natural, organic, grass-fed, and free-range?
A: A lot of people particularly ask for all-natural. And the all-natural chicken we sell is very good! As for other specialty meats, we have contacts for grass-fed beef. We don't often stock it in the case, but we can quickly make arrangements to have an animal bought and custom-butchered.
Q: How do you procure animals?
A: We try to get as many animals as possible from local farmers. If we run out of producers we know, we have contacts who can procure local animals for us.
(Note: Brenneman's is a stalwart supporter of the Huntingdon County Fair and processes many 4-H and FFA animals purchased at the Junior Livestock Sale on the Friday of the fair.)
Q: Can you provide your general perception of the meat industry today?
A: It's changed a lot – some of it for the better. We have to run tighter regulations and tests, which make it more costly, but also ensure potential problems have been addressed and handled.
As for large packers, as long as the supply and the consumer demand are there, the big guys will roll on.
It will likely become more difficult to survive in the business as a small processor.
Where to Find Brenneman's Meat Market
Huntingdon Location
211 S. 10th Street
Huntingdon, PA 16652
Phone: 814-643-2751
Monday - Thursday 7am-6pm; Friday 7am-7pm; Saturday 7am-3pm; Sunday 7-9am
Mount Union Retail Location
214 S. Jefferson Street
Mount Union, PA 17066
Monday - Friday 9am-5pm; Saturday 9am-2pm; Closed Sunday
Author: Will Nichols
Bio: I'm a senior at Penn State in animal science. I love music, but my life is with my cows and with agriculture. It will be my career.