Posted by LacCreta Holland on 08/02, 2017 at 11:29 AM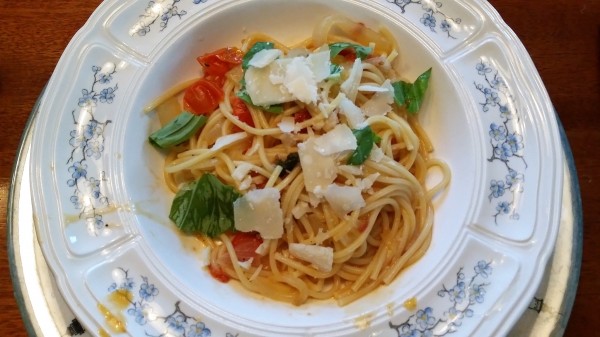 When you prepare for a beach vacation, there are so many things to think about that often, you are not thinking about that first meal you will eat when you arrive. You just tell yourself, "we'll just run to a restaurant or grab a pizza and take it to the house." Yes, a restaurant with your favorite fresh crab cakes or flounder! That's it!
But then reality hits—everyone is happy by the time you ditch the traffic and smell that sea breeze, but everyone is also ravenous! Waiting time for a meal at a restaurant will not work for little people who have been done with the day before dinner arrives. Even waiting for a pizza seems too long. What to do?
Bring with you all the ingredients for Martha Stewart's One Pan Pasta. It is quick to make, uses 12 ounces of spaghetti that will feed six VERY hungry adults, or more for smaller appetites. There are only eight ingredients, and you can pick up the fresh basil, tomatoes, and onions on your way to the shore.
The recipe could not be more simple. You can get dinner on in a flash AND you will not be waiting in a long line at a restaurant, nor will you be spending a crazy amount of money the local pizzeria is charging for a humble cheese pizza!
Martha Stewart's One Pan Pasta
(With a couple of changes by Happy Valley Learn to Cook)

Ingredients
12 ounces spaghetti
12 ounces grape, cherry, or sungold tomatoes, cut in half
1 onion, thinly sliced
1/2 teaspoon red pepper flakes
4 garlic cloves, thinly sliced
2 sprigs of basil, or more if you like, torn into pieces
2 tablespoons olive oil, plus more for serving
Salt and pepper
4 and 1/2 cups water
Freshly grated Parmesan cheese
Steps
- Combine the tomatoes, onion, garlic, red pepper flakes, basil, olive oil, 1 teaspoon salt, grindings of black pepper and the water in a large pan.
- Bring to a boil and let the mixture boil about 3 minutes
- Add the spaghetti.
- Continue cooking the pasta mixture for about eight more minutes, or until the pasta is the texture you like: al dente or softer, and the water has nearly evaporated.
- Season with salt and pepper, put some of the grated Parmesan cheese in the mixture and stir well.
Serve the pasta in bowls, with more Parmesan cheese on top and a bit more oil drizzled on top.
Author: LacCreta Holland
Bio: LaCreta Holland—views on life and food change when you have lived in Italy--believes that good smells from the kitchen make people happy---loves to teach people to cook through my business Happy Valley Learn to Cook