All Posts by Jordan Reabold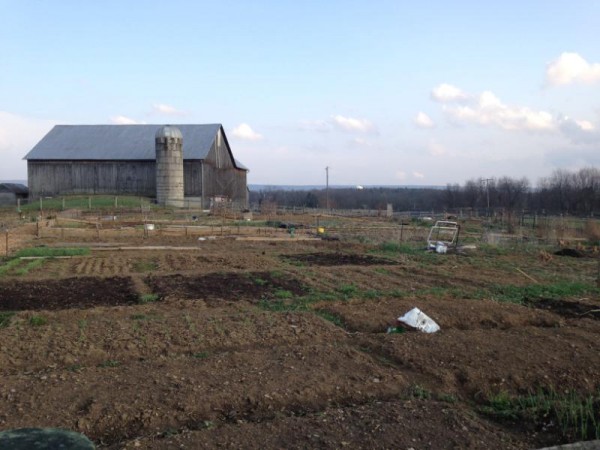 State College is chock full of restaurants, grocery stores, hotels, and countless other businesses, and it's become easy to forget that the busy college town is surrounded by vast, peaceful farmland. Thankfully, the Centre County Farmland Trust (CCFT) was formed to preserve this land, ensuring that there will never come a day where green fields become nothing but blacktop and neon lights. Sarah Walter, executive director of the CCFT, puts it this way: "Once farmland has been converted, it is very difficult if not impossible to bring it back into agricultural production, especially if the land has been covered with asphalt or concrete."
The trust was formed in 1994 as a private non-profit organization to give landowners the opportunity to protect their land, ensuring that it will not undergo any development, despite future owners. The process required to do so is referred to as an "agricultural conservation easement." Thus far, the CCFT has preserved over 1,000 acres belonging to 11 farms. According to the trust's president, Pete Schempf, "All landowners need to do to preserve their land is have the desire to never let it be developed. CCFT will take care of all the rest and set up an agricultural conservation easement at no cost to the land owner."
Continue Reading: Farmland trust plays crucial role in preserving Centre County farmland
Posted by Jordan Reabold on 04/23, 2014 at 12:29 PM
Tags: CentreCountyFarmlandTrust |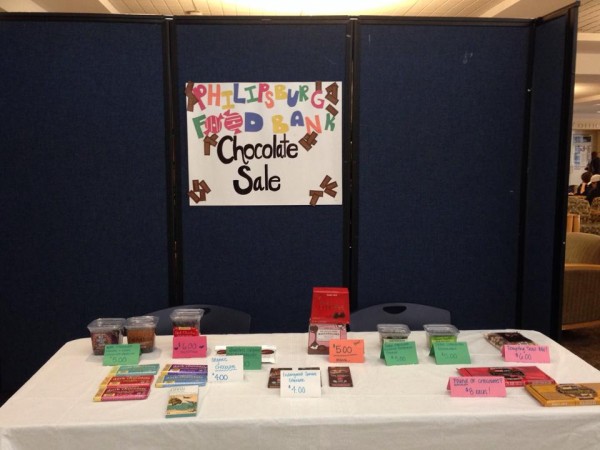 It seems as though Penn State has a club for everything—The Clown Nose Club, Beekeepers Club, Glee Club— the list goes on. While they all vary in their size, purpose, and popularity, I think it's safe to say that each club plays a significant part in helping the community. One club I hadn't heard of, until now of course, is the Community Food Security Club. Their mission "is to spread conscious eating habits to the Penn State and State College communities, to assist in the support of a local food system, and to raise awareness and support for food security." It's no surprise that college students don't have the best reputation for eating habits (Ramen noodles, anyone?), so the Community Food Security Club exists to prevent bad eating habits, not only for students, but for the community as a whole.
To begin, it's important to address what exactly "food security" is. The club describes it in this way: "Food security is having continuous access to nutritious, affordable food in order to live a healthy life." The club exists to ensure that dining halls across campus offer an array of healthy options for Penn State students. When it comes to the community, the club promotes the use of farm-grown foods by restaurants as well as people in their homes. Caroline Meehan, the Community Food Security Club president, says, "The club started a few years ago to raise awareness on food insecurity in America and to show support for sustainable agriculture and the local food system."
Continue Reading: Penn State food security club promotes healthy, local eating
Posted by Jordan Reabold on 04/15, 2014 at 12:26 PM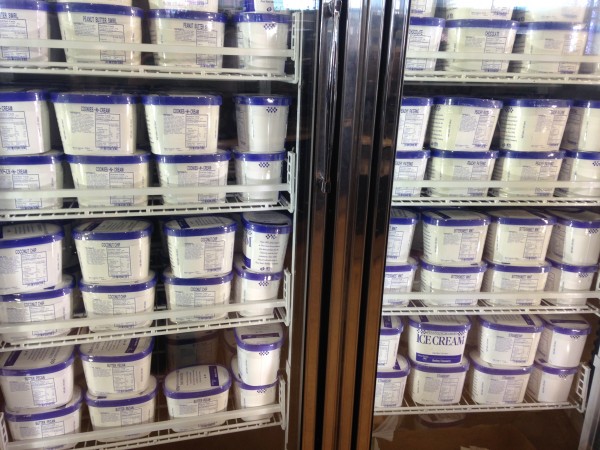 If there's one piece of advice people get when they visit State College, it's this: go to the Berkey Creamery. There's a reason why Penn State fans are lined up around the block during football weekends, willing to wait as long as they must for a cone of Peachy Paterno or a half gallon for the road. In fact, every time I visit home, I bring two half gallons with me; my family and friends can't get enough of it. While people from across the country can get Creamery ice cream delivered to them, it's a business that we'll always be proud to call local.
As often as we visit the Creamery, there's so much that a lot of people don't know about it. For instance, the proceeds from all sales contribute toward research, education, and extension programs in the Department of Food Science and the College of Agricultural Sciences. They make all dairy products on site—70 percent of the milk used comes from PSU cows, and the rest is from local farms. The milk arrives via tanker truck, and it is immediately tested for antibiotics, butterfat, and bacteria. Over 4.5 million pounds of milk is used every year on an assortment of cheeses, spreads, milk, yogurt, frozen yogurt, sherbet, and of course, ice cream. In order to ensure safety in the plant during any manufacturing process, all employees must follow the Good Manufacturing Practices.
Continue Reading: The story behind your Creamery cone
Posted by Jordan Reabold on 03/28, 2014 at 12:32 AM
Tags: Berkeycreamery | icecream |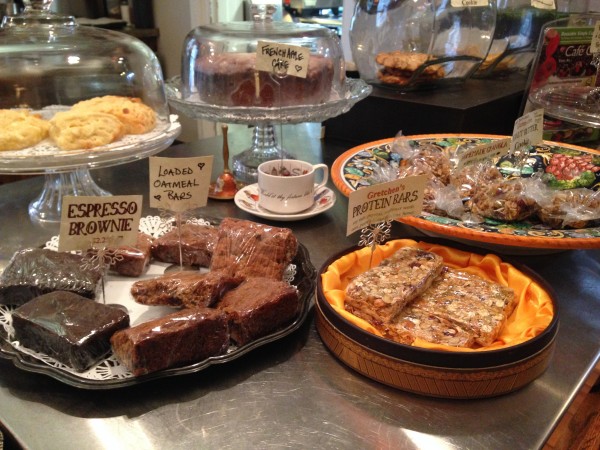 The ongoing debate for all latte-sipping, caffeine-craving coffee snobs (myself included) seems to be "which is better?" Starbucks or Dunkin Donuts? Coffee has become a necessity for so many people; we wake up, skip breakfast, grab a cup of joe to go, and get on with our day. But if you're tired of the Starbucks employees misspelling your name, or the line at Dunkin Donuts has you fed up, try a change of pace at Café Lemont. After all, owners Michael Beck and Jodi Hakes McWhirter make it a point to stand out from the rest. "There really isn't any other place quite like ours around."
While Café Lemont is unique for its special events and entertainment away from the downtown State College bustle, what makes this café special is its menu. Starting with coffee, they roast organic beans on a weekly basis, and their tea is specially blended with loose leaves by Pantheon Teas, a business nearby. If that isn't enough to pique your taste buds, their menu features light breakfasts and lunches made with ingredients from several other local businesses including Meyer Dairy, Green Heron Farm, Hogs Galore, Ye Olde College Diner, Gaffron's Sunrise Bakery, Suzie Wong's, and Belladonna Herbs. "All the rest is made from scratch by us," Michael said.
Continue Reading: Cafe Lemont offers local food and great java
Posted by Jordan Reabold on 03/25, 2014 at 12:29 PM
Tags: CafeLemont | coffee | tea |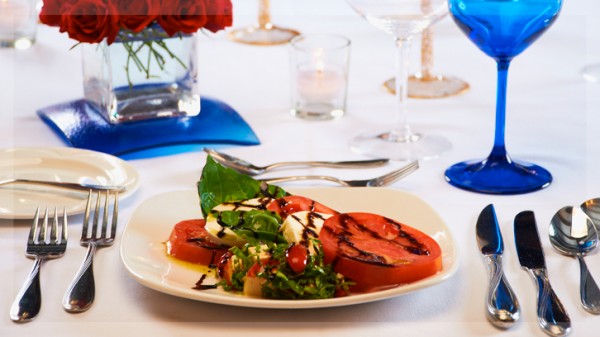 While there are plenty of restaurants in State College that pride themselves in their use of locally-made ingredients, the list continues to grow. Recently, the highly revered Nittany Lion Inn made the switch to use local ingredients in their menu with hopes of supporting other local businesses, expanding their menu, and of course, pleasing the palates of customers.
Andrew Monk, executive chef of the Nittany Lion Inn, explains the process that was necessary in order to begin serving local food. "We had to change the thought process on menus and make a list based on our needs," he said.
Specifically, Andrew addresses the importance in valuing the different needs and preferences of all customers alike, including vegetarians, vegans, and guests visiting the hotel from all over the world. Everyone has their own personal taste, and the restaurant offers an array of options. He stresses, "You want to please their needs, and you have to take as many steps as you can to get there."
Continue Reading: On the menu at the Nittany Lion Inn: Local food
Posted by Jordan Reabold on 03/05, 2014 at 03:45 PM
Tags: localfood | NittanyLionInn |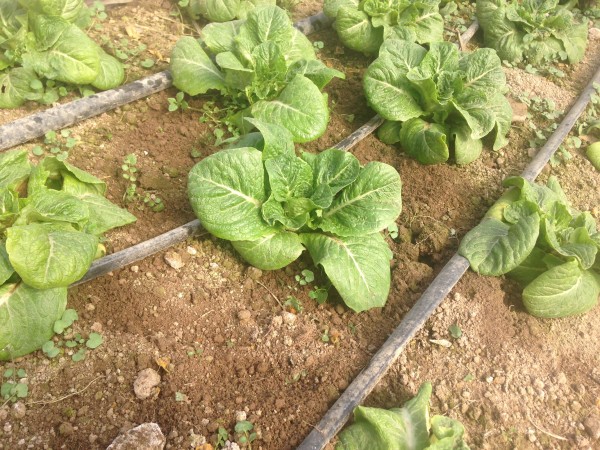 Referring to this winter as "freezing" would be an understatement. The snow was relentless, not to mention temperatures were lower than I had ever experienced. Nevertheless, as brutal as Pennsylvania winters may be, I try to remind myself, while laboriously scraping the ice off my windshield, that spring will arrive in just a short while. In fact, farmers in the area are also anticipating warm weather by planting their spring harvest right now! Greenmoore Gardens, an organic farm located just outside of State College, began planting this week in hopes of a healthy spring harvest.
Laura Zaino, an employee of Greenmoore Gardens, gives the ins and outs of preparation. "We seed onions in mid-February, which is the first of the spring crops to get seeded." Using their own potting mix, the seeds are planted in a greenhouse where the seedlings germinate and begin to grow. "Then we either put them into bigger pots or transplant them outside in the fields. The larger pots are for plants like tomatoes that need warm soil to grow," explains Laura.
She goes on to further explain that the bigger pots allow for longer time in the greenhouse, hence, more growth before being transported outside. "Other crops, like turnips, carrots and beets, we seed directly into rows in the fields," she says.
Continue Reading: Even in a tough winter, Greenmore Gardens offers community fresh, local produce
Posted by Jordan Reabold on 02/25, 2014 at 03:03 PM
Tags: GreenmoreGardens | winter | greens |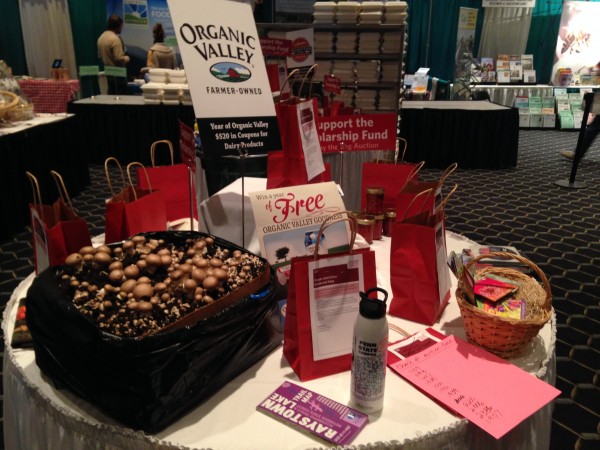 For twenty-three years, the Pennsylvania Association for Sustainable Agriculture, otherwise known as PASA, has been gathering for its very own Farming for the Future Conference. Last week vendors from all over the country congregated at the Penn Stater Hotel and Conference Center to attend workshops, participate in auctions, listen to guest speakers, receive awards, and to simply share their appreciation of farming as a whole.
Lauren Smith, director of development for PASA, says her favorite aspect of the annual conference is that it's like "a huge family reunion." Indeed, the majority of farmers and businesses in attendance have previously come to the conference, so many of them are familiar with one another. Lauren explains, "We have an amazing community of farmers. They become a network of ideas and inspiration."
Continue Reading: PASA conference is basically "a huge family reunion" for local food community
Posted by Jordan Reabold on 02/10, 2014 at 02:36 PM
Tags: PASA | FarmingfortheFuture |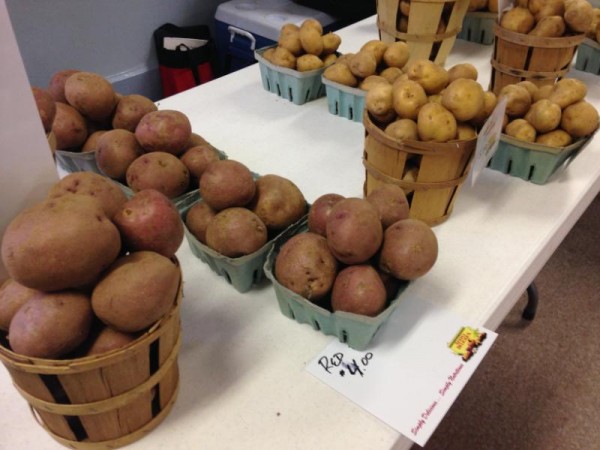 Winter certainly takes a toll on us here in Happy Valley. From below freezing temperatures to painfully bitter winds, winter weather conditions require us to adapt and prepare accordingly. While you may think that the months of December through March leave local farmers with little to harvest, this is not the case. In fact, farmers throughout Centre County are finding innovative ways to grow vegetables during the winter months, despite the chill that would typically inhibit certain plants to grow. Plus, you don't have to look far to find these vegetables available to you, for they're being sold every Tuesday at the Boalsburg Farmers Market!
Continue Reading: Taking it inside: Boalsburg market sets up shop in St. John's Church in winter months
Posted by Jordan Reabold on 02/06, 2014 at 02:03 PM
Tags: BoalsburgFarmersMarket | CloverCreekCheese | BeilerFamilyFarm |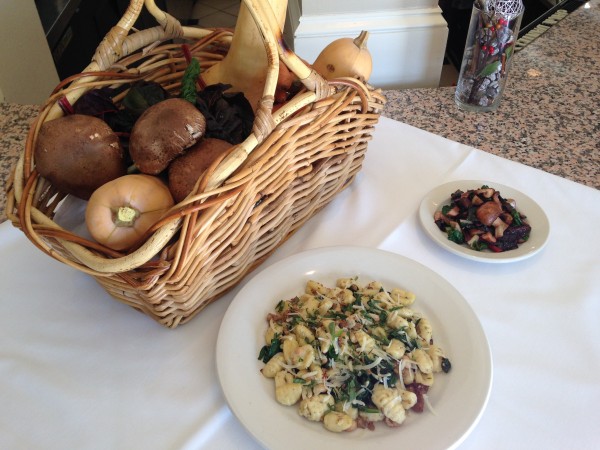 Valentine's Day is just around the corner, and love is certainly in the air at Harrison's—love for local food, that is! Harrison Schailey, owner of Harrison's Wine Grill on E. College Ave, came all the way from California as an organic farmer, hoping to bring some Left Coast influence to State College when he opened the restaurant. "After a while, I realized people didn't go for that."
What Harrison found was that people didn't want a taste of California—they wanted a taste of State College. And why wouldn't they? With the abundance of farms around the area offering a variety of options, it would be a shame not to take advantage. "It just made sense," he says.
Of course, the winter climate here in Central Pennsylvania is nothing like California, but Mr. Harrison has adapted. When it comes to vegetables especially, winter takes a toll on local produce. "It is difficult during the winter, especially now that it's been so cold, but we get what's available."
Continue Reading: Harrison's Wine Grill to share the love for local food on Valentine's Day
Posted by Jordan Reabold on 02/03, 2014 at 03:16 PM
Tags: Harrison'sWineGrill | Valentines | localfood | mushroom | butternutsquash |
Page 1 of 1 pages