All Posts including "rhubarb"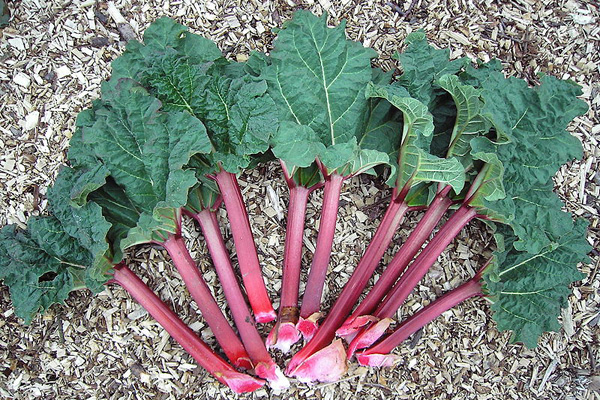 When I was just a lad, I arranged a field trip for my environmental politics class to visit Tait Farm. I'll never forget one young lass's amazement upon learning that carrots do not appear magically at the supermarket, the product of spontaneous generation in a cellophane bag. She learned that they grow in the ground! You can even pull them up, brush off the soil, and eat them.
So it's no wonder I am curious about how much some of our farmers market customers know about where rhubarb comes from. Obviously, it must be from our farm, and it sure looks like a stalk. What might not be so clear is what goes into growing it. So I'll show you thanks to the magic of pictures.
Continue Reading: Some of what you need to know about rhubarb but didn't think to ask
Posted by James Eisenstein on 05/10, 2017 at 11:44 AM
Tags: UnpaidFieldHand | farming | rhubarb |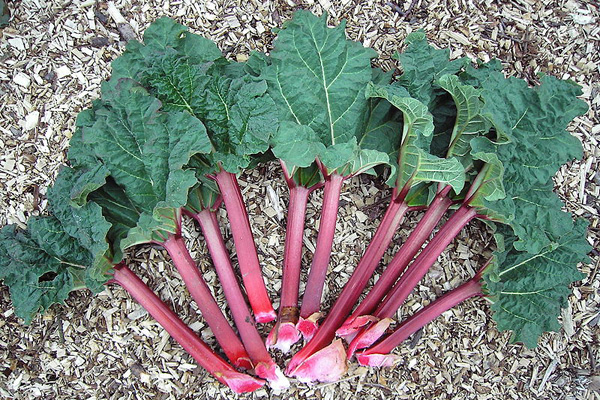 A friend of mine is something of an amateur mixologist, or cocktail creator. A year ago during a visit, I introduced him to shrubs, the delightful fruit/sugar/vinegar concoction that has made something of a comeback. Originally a way to preserve harvests in Colonial times, shrubs are definitely back in Central Pennsylvania thanks to Tait Farm Foods. Tait Farm offers a variety of shrub flavors, such as lemon, ginger, raspberry, apple, and rhubarb. The main purpose of shrubs is as part of a beverage.
Now, you don't have to drink alcohol to enjoy shrubs; in fact, they are quite nice with just tonic water or ginger ale. However, they make a great mixer for alcoholic drinks, and when my friend was visiting, we brainstormed a drink for rhubarb. It was a warm April day when he was up, so we came up with a sort of rhubarb mojito.
Continue Reading: Celebrate spring and think of summer with a rhubarb mojito
Posted by Jamie Oberdick on 03/30, 2016 at 12:43 PM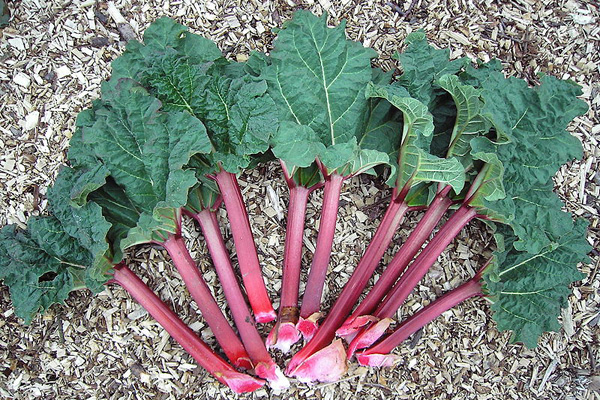 This month we selected three winners for our monthly recipe contest. Congratulations Ruth Nissly, Anne Trout, and Terri Lukens-Gable. You are the recipients of a pound of rhubarb from Jade Family Farm!
Continue reading to see recipes for rhubarb sorrel crisp, banana rhubarb pie, rhubarb torte, and more. And check back early next week for our June recipe contest!
Continue Reading: Winners of the Rhubarb Recipe Contest
Posted by Emily Wiley on 06/01, 2012 at 01:14 PM
Tags: recipe | recipecontest | spring | rhubarb |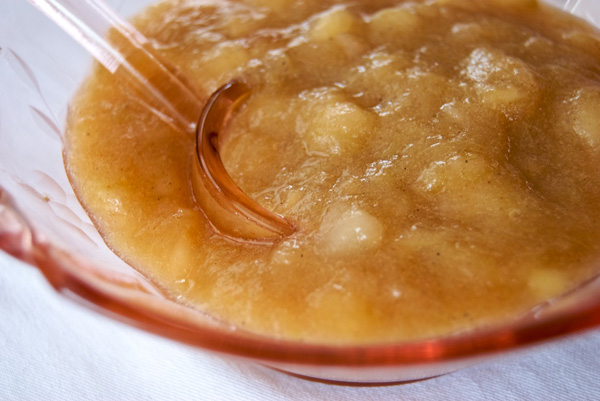 I wanted to do something slightly more savory with my recent bunch of rhubarb, which is tough because it is very tart and needs some sugar. I settled on the idea of something "applesaucey" and it was a hit with our grilled pork. It would be great with some strawberries added in (if you like the strawberry-rhubarb combo and are willing to part with your strawberries—but I'm not there yet.)
Continue Reading: Rhubarb Applesauce
Posted by Kristin Camplese on 05/30, 2012 at 10:59 AM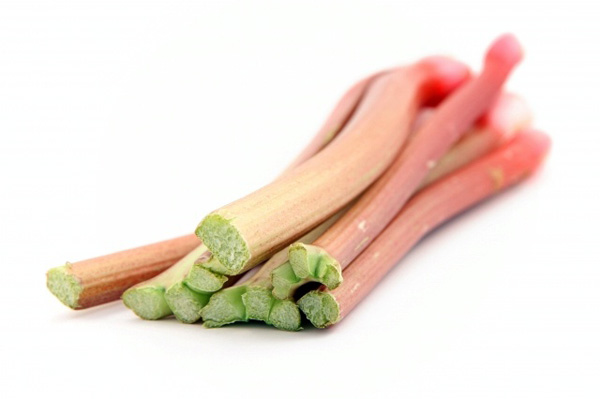 When I moved to State College in 1972 and noticed five large plants growing in my backyard in suburban Lemont, I had to ask what they were. Rhubarb, I was told. I had never heard of it. So I took out all but one of them to make room (ironically) for a strawberry patch. Who knew?
I know better now, of course. And judging from the (modest) increase in sales of our Jade Family Farm rhubarb, folks in Happy Valley are catching on, too. Now you can find it from several vendors at most local farmers markets – and sometimes in supermarkets.
Continue Reading: The Amazing (mostly unknown) Rhubarb
Posted by James Eisenstein on 05/25, 2012 at 06:52 PM
Tags: rhubarb |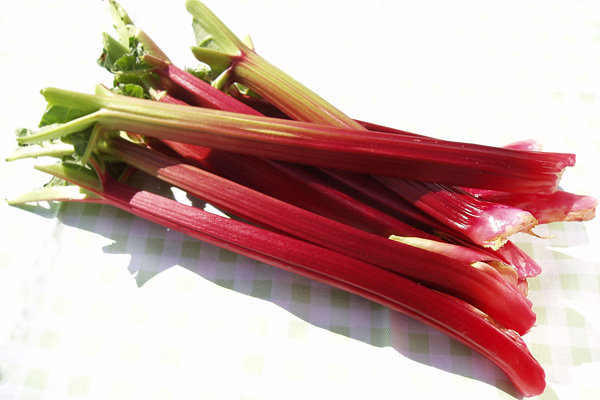 Serve this sweet and tart vinaigrette from Chef Harrison Schailey over mixed greens. Then toss with sunflower seeds or almonds and local strawberries for a satisfying spring salad. And don't forget to share your favorite rhubarb recipe!
Continue Reading: Rhubarb Vinaigrette
Posted by Kit Henshaw on 05/09, 2012 at 01:17 PM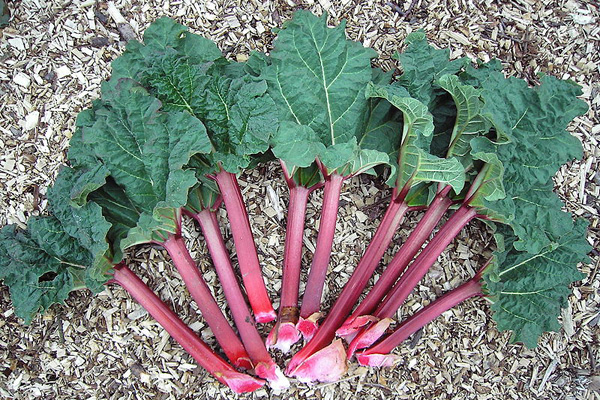 Rhubarb stalks are typically boiled with fragrant spices or a squeeze of citrus, then combined with sweet fruit to make jam, or condensed into a sauce for pie filling. What is your favorite way to prepare this spring fruit? Share your recipe by Thursday, May 31st for a chance to win a pound of rhubarb from Jade Family Farm.
Continue Reading: Rhubarb Recipe Contest
Posted by Emily Wiley on 05/07, 2012 at 01:34 PM
Tags: recipecontest | rhubarb |
Tait Farm's CSA, Community Harvest, kicked off its main season in mid-May with a bang! To see the excitement on our CSA members' faces when they picked up their "share" of asparagus, Swiss chard, salad mix, and more was so gratifying. We work hard to produce this food, and people couldn't wait to get home to eat it. Ideas spouted left and right for favorite green garlic recipes and grilled asparagus.
It's a comforting bustle of people who love being a part of our CSA. Eating is something we all have to do everyday anyway, and when the ingredients are fresh, organic, and seasonal, it adds a whole other ingredient to the meal: contentment.
Continue Reading: Field Notes: Strawberry-Rhubarb Dessert Bars
Posted by Erin McKinney on 06/03, 2011 at 01:20 PM
Tags: recipe | spring | strawberries | rhubarb | fieldnotes |
Page 1 of 1 pages