All Posts including "haluski"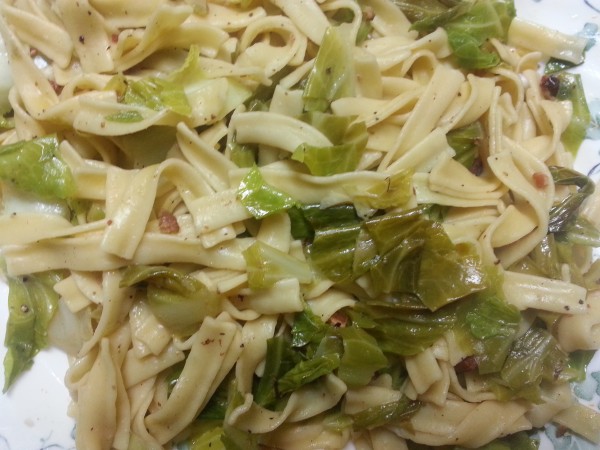 When central and eastern Europeans emigrated to Pennsylvania in the 19th and 20th Centuries, one of the dishes they brought with them was haluski (or as some spell it, halusky). The dish is a simple one with some variations. Traditionally, haluski referred to the homemade noodles/dumplings, which were potato based much like gnocchi. However, today you can either purchase dried haluski noodles in any grocery store, or use any medium-wide egg noodle.
Growing up in York County, which is Pennsylvania Dutch country, I had very limited exposure to haluski, but when I went to Pittsburgh for college and eventually to live, I was introduced to the dish at a Polish Catholic church fish fry, which is just about the best place to have your first taste of haluski. Haluski has just a few ingredients, and the one I learned to make includes noodles, cabbage, onion, bacon, butter, salt, pepper..and that's it. You can also make a vegetarian version by leaving out the bacon and a vegan version by using vegan-friendly noodles and olive oil instead of butter.
The flavors combine to make a fantastic dish, especially if you are a gardener like me and use a fresh-harvested garden cabbage that has been sweetened by frost. And speaking of frosty weather, this is a great cold-weather dish that's a snap to make.
Continue Reading: Recipe: Haluski brings a real old-country flavor to chilly fall Pennsylvania nights
Posted by Jamie Oberdick on 11/06, 2013 at 01:51 PM
Tags: recipe | garden | haluski | cabbage | vegetarian | vegan |
Page 1 of 1 pages