All Posts including "eggs"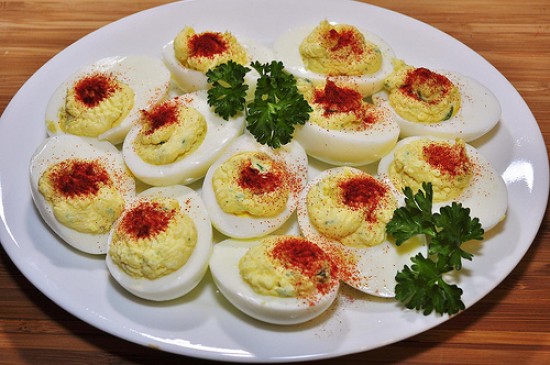 Looking for an easy dish to bring to a July 4th picnic? Deviled eggs are a standard go-to for cookouts, and while many recipes for them are basically the same, deviled eggs leave plenty of room for variations. In my hometown of York, Pa., deviled eggs are topped with Old Bay seasoning instead of paprika. Baltimore folks take that one step further, adding crab meat to the deviled egg mixture.
Our deviled egg recipe is more about land than sea, more specifically, the farm. Local eggs that you can get from farmers markets, etc. are often better than their supermarket cousins. Not just in flavor, but in color, as the deeper yellows and oranges of farm-fresh eggs make for an attractive deviled egg visual. To give an even bigger flavor boost, a few strips of local bacon, chopped fine, is added to give it a smoky kick.
Continue Reading: Farm-style deviled eggs get a flavor boost via being local
Posted by Jamie Oberdick on 06/28, 2017 at 02:36 PM
Tags: recipe | deviledeggs | cookout | July4th |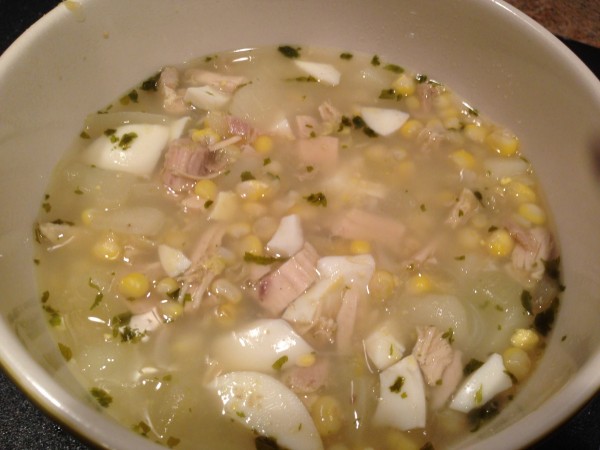 Growing up in York, I was exposed to a lot of Amish cuisine. My mother cooked a variety of Pennsylvania Dutch dishes, such as pot pie, pork and sauerkraut, and perhaps my favorite, chicken corn soup.
Believe it or not, chicken corn soup is considered a "summer soup." Made to take advantage of the bounty of fresh corn in southcentral and southeast Pennsylvania, this corn was a July-August staple in my house as a kid. My mother would make it year 'round, however, and I always looked forward to it. It's a simple soup, with subtle flavors.
Continue Reading: A summery soup for a winter evening
Posted by Jamie Oberdick on 02/05, 2016 at 04:07 PM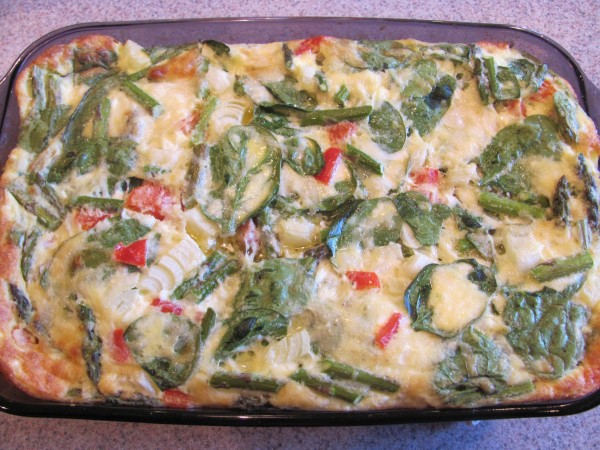 Memorial Day is over. The Northern and Southern guns at the Boalsburg Cemetery are silent, the homemade pies are eaten, and the carnival rides are gone out at Boalsburg's Memorial Day celebration. But summer is coming with all its fun and wonderful garden bounties.
As spring fades into summer, be sure to make this easy breakfast casserole filled with healthy veggies from the local farmers markets before all the fresh spring vegetables are gone. Try this for your next large group gathering, family reunion, or anytime there are lots of people (or a few teenagers) to feed!
Continue Reading: Spring veggie breakfast casserole - great for potlucks!
Posted by LacCreta Holland on 06/02, 2015 at 02:51 PM
Tags: recipe | eggs | spring | vegetables |
Spring is here! (Sort of) While the weather has been chilly and even occasionally snowy, consistent mild weather will be here soon enough. While we are still over a month away from outdoor farmers market season, the indoor farmers markets in State College, Millheim, and Boalsburg are still operating. In fact, some signs of spring such as early season greens are starting to show up, including perhaps the ultimate spring green, spinach.
This recipe pairs spinach with other items you might find at a farmers market this time of year. Frittatas are an easy meal to make and are delicious for any meal, especially a weekend brunch. This frittata combines ham, smoked gouda, and spinach to make for a tasty and quick meal.
Continue Reading: Spring farmers market frittata
Posted by Jamie Oberdick on 03/24, 2015 at 11:45 AM
Tags: recipe | farmersmarket | eggs | cheese | spinach |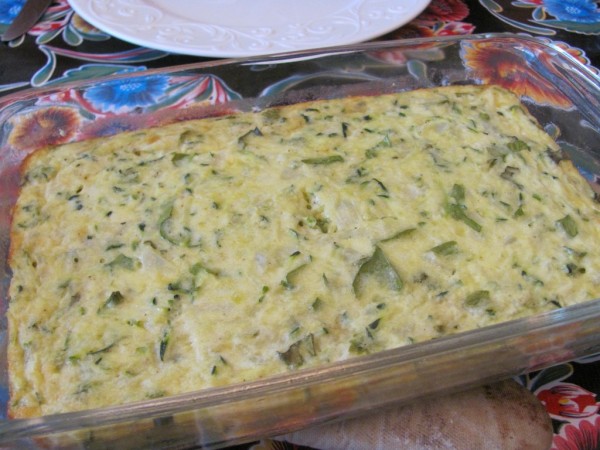 Editor's Note: We will be getting contributions to Local Food Journey from time to time from LaCreta Holland, who runs Happy Valley Learn to Cook, a local food blog, and teaches cooking classes in State College. Her first post offers up a wonderful recipe that will help you use up all those zucchinis that are coming non-stop from your garden.
We visited friends over the 4th of July holiday and they feed us very well. For brunch one morning, we were served Zucchini Egg Bake, a moist and herb-y egg creation that we could not stop eating! I had to get the recipe.
Continue Reading: Recipe: Zucchini Egg Bake a tasty solution to too many zucchinis
Posted by Local Food Journey on 08/19, 2014 at 02:31 PM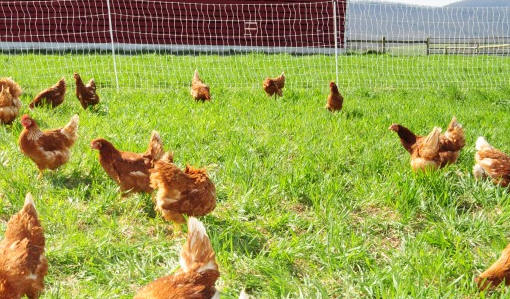 Eggs are cheap and plentiful in the grocery store, so one might wonder why you'd venture out to a local farmer's market to buy pastured eggs. An egg is an egg, right? Well, as it turns out, there are vast differences that all go back to how the chicken is raised.
I raise laying hens on pasture just outside of State College, and I just love selling that first pastured dozen to someone who tells me they've only bought eggs at the grocery before. I know exactly how much of a surprise they are in for! (I should note that "free-range" at the grocery store means that the hens are not caged and have access to the outdoors at least part of the day. How much space they have outdoors or what the surface is made of is not specified. "Cage-free" hens are raised entirely indoors, but are not confined to cages.) Here are a few surprises you might encounter if you've never tried a pastured egg before.
Continue Reading: Five very good reasons to buy pastured eggs at farmers markets
Posted by Kim Chase on 05/29, 2014 at 12:31 PM
Tags: ChaseFamilyFarm | chickens | eggs | cage-free |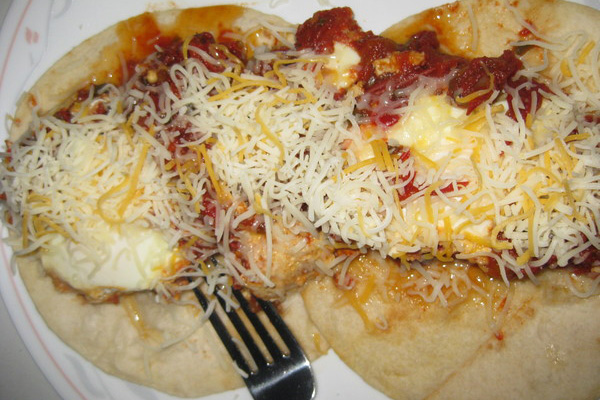 In my last post, I talked about the benefits of freezing vegetables to use in the winter. Now let's look at another way of preserving your garden harvest—canning.
Canning for me brings back memories of my mother and grandmother, who both canned. They canned stuff like pears, green beans, tomatoes, etc. Pretty much straight up, old-fashioned canning.
Continue Reading: Take a Jar of Summer off the Shelf
Posted by Jamie Oberdick on 02/22, 2012 at 06:49 PM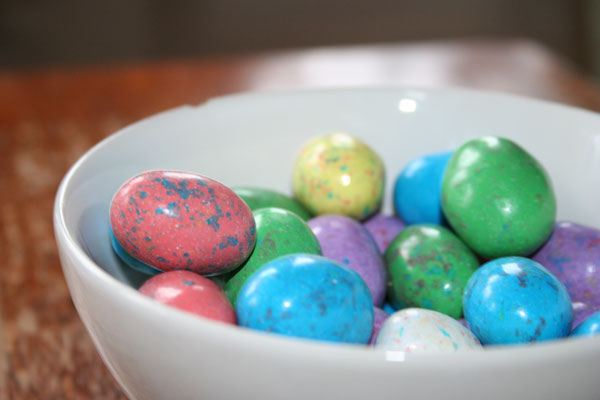 Nothing says Easter like a bowl full of brightly colored eggs! Whether you dip the eggs into blue or purple dye or paint them with pink polka dots and yellow stripes, consider buying local eggs this holiday season.
Continue Reading: Easter Eggs
Posted by Erin Donahue on 04/20, 2011 at 07:10 PM
Don't you love Saturday mornings? When mugs of coffee and magazines replace alarm clocks and commutes.
Continue Reading: Simple Saturday Morning Frittata
Posted by Emily Wiley on 07/17, 2010 at 12:59 PM
Tags: recipe | summer | breakfast | eggs | parsley | potatoes | peppers |
Page 1 of 1 pages